Community Meeting – Citywide Park and Recreation Master Plan
---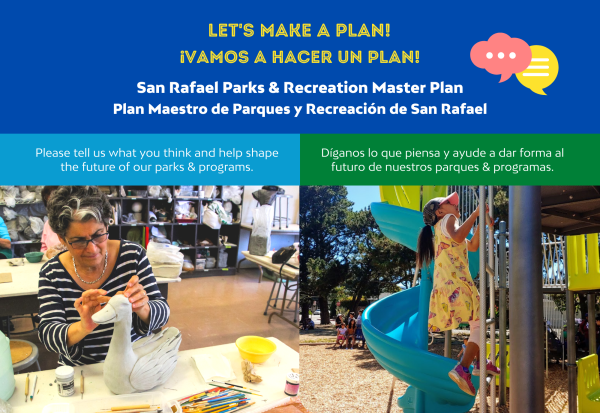 Join us for the next Citywide Park and Recreation Community Meeting
Thursday, September 8 at 6:00 p.m.
Join us via Zoom: https://tinyurl.com/CPRMP-09-08-2022
Meeting ID: 857 5131 1643
At the second community meeting we will present the results of the community outreach and identify the gaps in service based on the inventory analysis and community input. This meeting will also present initial priorities for park and facilities improvements, goals, objectives, and action items for discussion and comment.
If you are unable to attend but you would like to share your thoughts, you can also send an e-mail to: recreation@cityofsanrafael.org.
---
Acompáñenos en nuestra segunda reunión comunitaria.
Presentaremos los resultados de la campaña informativa comunitaria, discutiremos el proyecto de evaluación del inventario de parques y presentaremos las prioridades iniciales para mejorar los parques y las instalaciones.
Visite nuestra página web para obtener más detalles y para acompañarnos a través de Zoom
https://tinyurl.com/CPRMP-09-08-2022  | Identificación de la reunión: 857 5131 1643
Si no puede asistir y quiere proporcionar comentarios, por favor, envíe un correo electrónico con sus comentarios a: recreation@cityofsanrafael.org
Se pueden solicitar intérpretes completando este formulario al menos 72 horas antes de la reunión: www.cityofsanrafael.org/request-for-interpretation.