Charla de Inmigración – Immigration Talk
6:00pm
Bahia Vista Elementary School
125 Bahia Way, San Rafael, CA 94901
---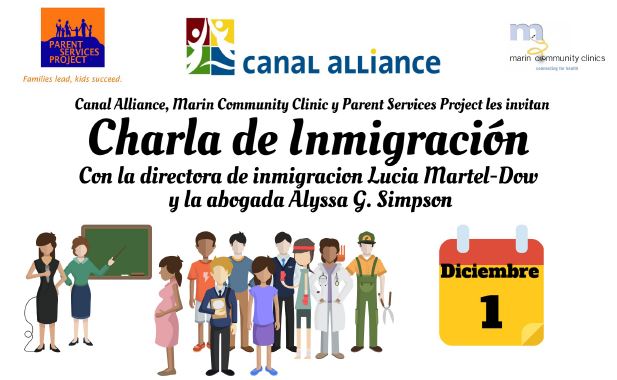 Charla de Inmigración
Jueves, 1 de diciembre de 2016 @ 6:00 p.m.
Con la directora de inmigración Lucia Martel-Dow y la abogada Alyssa G. Simpson
Venga a informarse de los posibles cambios de inmigración después de la elección presidencial. Hablaremos sobre DACA, ofreceremos información acerca de sus derechos, u cómo defenderse en caso de tener un encuentro con un agente de inmigración.
Para mas información
Llame a: 415-306-0437
Escribanos a: immigration@canalalliance.org
Immigration Talk
Thursday, December 1, 2016 at 6 p.m.
With immigration director Lucia Martel-Dow and attorney Alyssa G. Simpson
Come and find out about possible immigration changes after the presidential election. We will talk about DACA, provide information about your rights, or how to defend yourself in case of an encounter with an immigration agent.
For more information, call 415-306-0437 or email immigration@canalalliance.org.