Certify & Amplify Workshop
---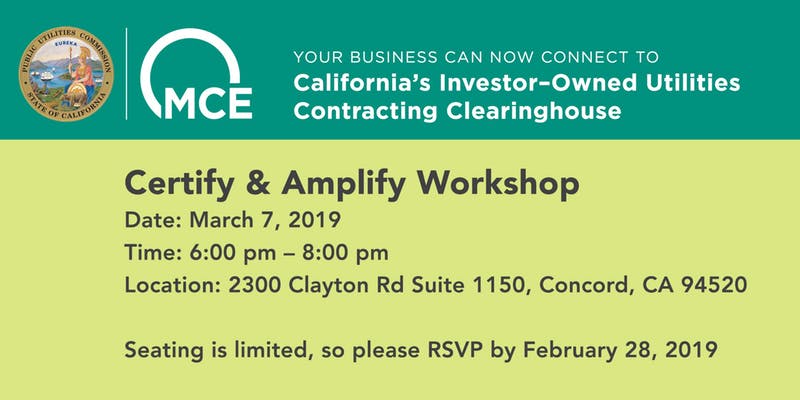 WHAT IS SUPPLIER DIVERSITY?
Commonly referred to as "Utility Supplier Diversity," General Order (GO) 156 is a California Public Utilities Commission (CPUC) program that encourages California investor–owned utilities to provide a fair proportion of total utility contracts and subcontracts to businesses that meet diversity qualifications. To qualify, business enterprises must have a majority ownership by an individual or a group of individuals who are either: women, minority, disabled veteran, and/or LGBT. That is to say, 51% diversity–owned business enterprises. Qualified businesses will be listed in the CPUC's Clearinghouse, which utilities can then access for their contracting needs.
HOW CAN MCE HELP YOU?
Supplier Diversity provides important economic investments to proactively engage businesses which may have been historically underrepresented and excluded from these industries. MCE is the local, not–for–profit Community Choice agency serving Marin, Napa, Contra Costa, and Solano counties. We want to make sure the local businesses we serve are aware of this program, know how to qualify for the Clearinghouse, and get the opportunity to access the multi–million utility industry.
WANT TO LEARN HOW EASY IT IS TO ACCESS THIS OPPORTUNITY?
MCE is hosting an informative workshop with guest speakers from the CPUC and others experienced in the Supplier Diversity Clearinghouse. Together, they will speak to the purpose, qualifications, and opportunities available to you. Refreshments will be served and parking will be validated.
Please register by February 28, 2019.