Census Job Workshop/Curso Para Trabajar En El Censo
1:00pm - 4:00pm
Al Boro Community Center
50 Canal Street, San Rafael, CA
---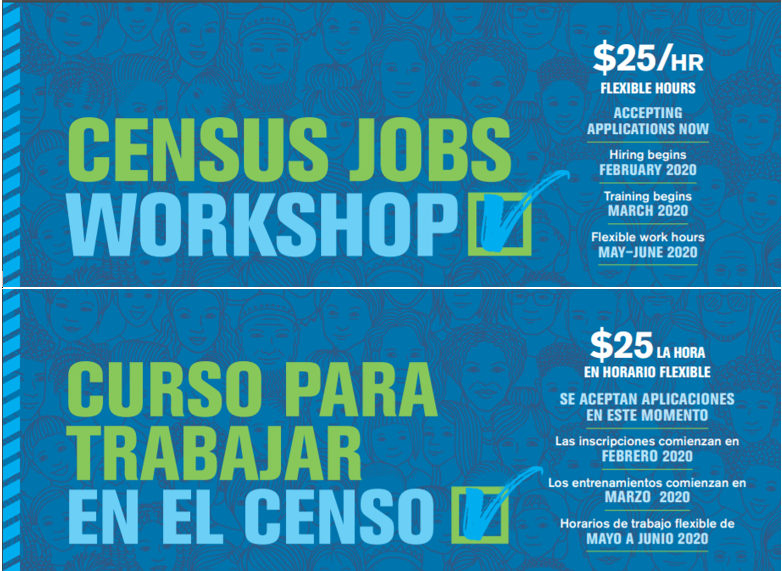 THE 2020 CENSUS will have a huge impact on funding and political representation in our community and we want to make sure everyone is counted in Marin.
The U.S. Bureau is hiring for "Enumerator" jobs to help complete census questionnaires by visiting households. We're looking for local residents, especially those who represent and sympathize with hard-to-count communities, to apply for these jobs and serve as trusted messengers.
JOIN US FOR THIS WORKSHOP TO LEARN MORE. We'll walk you through the timeline, eligibility requirements and application process.
Eligibilty
Be at least 18 years old by February 2020
Have a valid Social Security number
Be a US citizen or be bilingual with a work permit and have permission to work as an interpreter
Have a valid email address
Complete an application and answer assessment questions
Be registered with the Selective Service System or have a qualifying exemption, if you are a male born after Dec. 31, 1959
Pass a Census Bureau criminal background check
Commit to completing training
Be available to work flexible hours, which include days, evenings and/or weekends
For more information about this course visit: Marincensus2020.org/contact/ and fill out the form
YOU CAN REGISTER AT MarinCensus2020.org/jobs
_____________________________________________________________________________________________________________________
EL CENSO 2020 tendrá un gran impacto en el financiamiento y la representación política de nuestra comunidad y queremos estar seguros que todos seamos  ontados en Marin
El U.S. Bureau está contratando a "Encuestadores Bilingues" que a través de visitas a hogares recojan las respuestas del censo. Buscamos a residentes locales, especialmente a aquellos en las zonas que históricamente han sido subcontadas.
ASISTE A ESTE CURSO PARA QUE APRENDAS MAS. Te explicaremos cómo es el proceso y sus tiempos, y todos los requisitos y aplicación por internet.
Para Ser
Tener por lo menos 18 años para Febrero 2020
Tener un número de Seguridad Social
Ser ciudadano Estadounidense o ser bilingüe con permiso de trabajo, para poder ser contratado como intérprete
Tener una dirección de correo electrónico válido
Hacer la aplicación y responder la evaluación en inglés (algunas preguntas están disponibles en español)
Si eres hombre nacido después de 1959 debes estar inscrito o tener una exoneración del Selective Service System
Pasar el chequeo de record criminal del Census Bureau
Comprometerte a hacer el entrenamiento
Estar disponible para trabajar en horario flexible, que incluye de día, noche y/o fines de semana
Para mas información sobre este curso visita: Marincensus2020.org/contact/ y llena la planila Contáctanos
PUEDES REGISTRARTE EN MarinCensus2020.org/jobs