Census Enumerator Jobs Workshop
4:30pm - 6:00pm
Dominican University, Meadowlands Assembly Hall
50 Acacia Avenue, San Rafael, CA 94901
---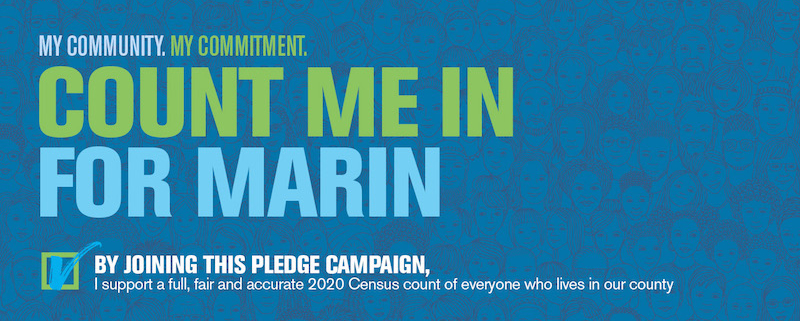 We're gathering an army of allies who support and serve hard-to-count communities to ensure all are counted in this Census. Join us to learn more.
About this Event
The 2020 Census is just a few months away, the stakes are high and results have huge implications for all Marin residents. We have to rally an army of compassionate allies NOW.
The U.S. Census Bureau is hiring for "Enumerator" jobs to help complete census questionnaires by visiting households. We're looking for local residents, especially those who represent, support, and serve hard-to-count communities, to apply for these jobs and serve as trusted messengers.
Census results determine political representation of our community in the U.S. House of Representatives and millions of dollars in federal funding for critical services like education, roads, Medicare, Medicaid, and food stamps (SNAP-Supplemental Nutritional Assistance Program). For ten years.
This will likely be the most difficult Census in recent history. Immigrant and low-income communities of color are the most at-risk of being undercounted; intimidated into hiding, with every reason not to trust the government, many do not know that they are protected by law and their participation in the Census can only help them.
Other "Hard To Count" populations include seniors, those with disabilities, and even families with young children. All have so much to gain or lose from participation.
For every single person not counted, our community could lose up to $1,000 every year for the next 10 years in federal funding for programs that serve our whole community, especially the most vulnerable.
Community Action Marin and Canal Alliance are teaming up to lead the drive for a full, fair and accurate Census 2020 count of everyone who lives in Marin County.
Join us for this workshop to learn more. Bring your heart, compassion, and commitment to stand up for those marginalized in our community. We'll teach you everything you need to know.
We'll walk you through the timeline, eligibility requirements and application process.
Bilingual job seekers especially welcome!