Reunión con el ayuntamiento | COVID-19 Town Hall in Spanish
---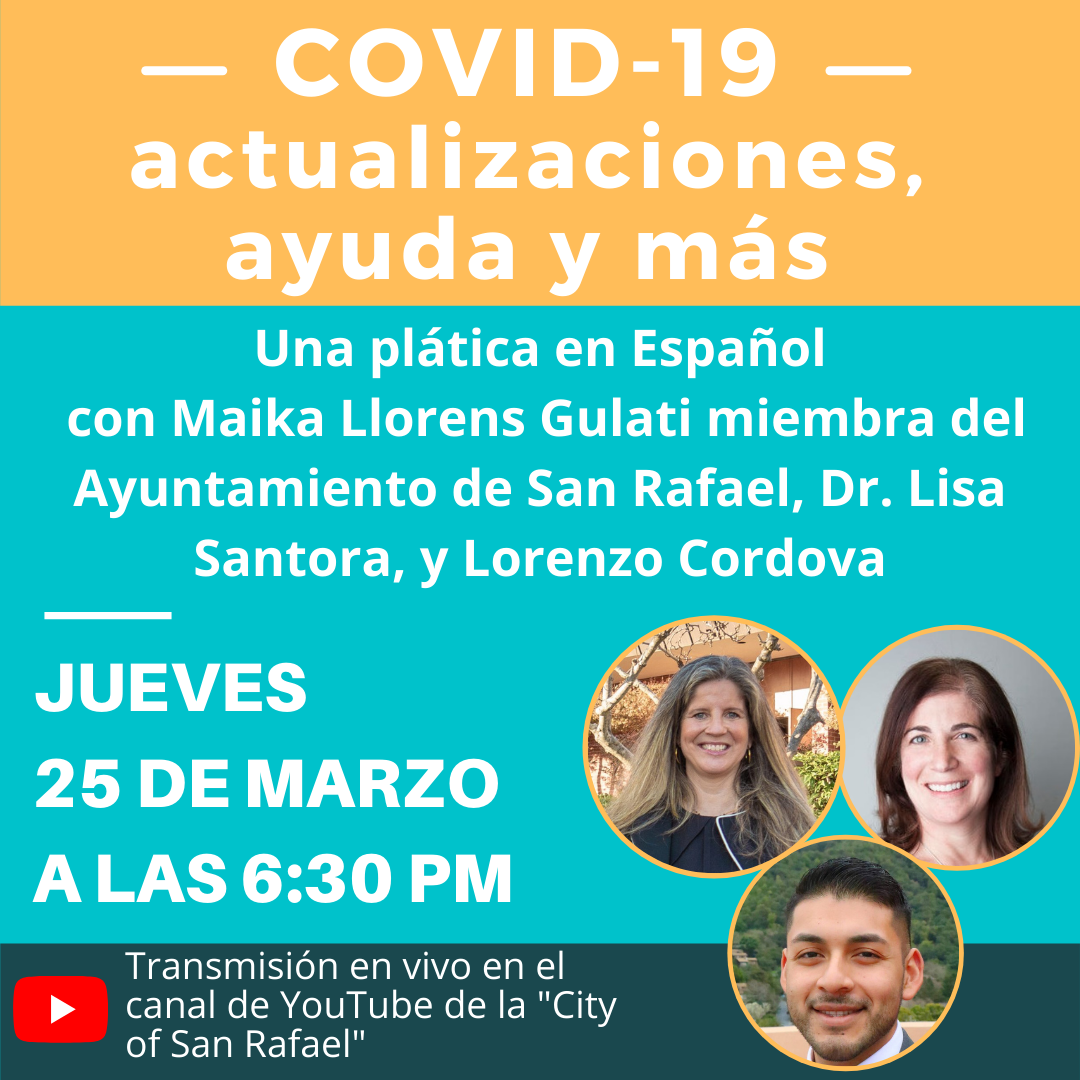 Únase a la concejal de San Rafael Maika Llorens Gulati para discutir lo último sobre COVID-19, oportunidades de asistencia de alquiler y asistencia financiera para las pequeñas empresas de San Rafael. ¿Tiene alguna pregunta sobre COVID-19, las vacunas, apoyo de rentas, sobre la ciudad de San Rafael, o cualquier otro tema? ¡Haga sus preguntas aquí e intentaremos contestaras durante la reunión virtual del 25 de Marzo de 6:30 a 7:30.
Cuando: jueves, 25 de marzo a las 6:30 pm – 7:30 pm
Dónde: Mire en vivo en el canal de YouTube de la Ciudad de San Rafael.
Invitados especiales:
Dr. Lisa Santora, Suboficial de salud
Lorenzo Cordova, Asistente del Condado de Marin.
---
Join San Rafael Councilwoman Maika Llorens Gulati to discuss the latest on COVID-19, rental assistance opportunities, and financial assistance for San Rafael small businesses. Have a question about COVID-19, vaccines, rent support, the city of San Rafael, or any other topic? Ask your questions here and we will try to answer you during the virtual meeting on March 25 from 6:30 to 7:30.
When: Thursday, March 25 from 6:30 pm – 7:30 pm
Where: Watch live on the City of San Rafael's YouTube Channel.
Special guests:
Dr. Lisa Santora, Deputy Public Health Officer
Lorenzo Cordova, Senior Aide to Marin County Supervisor Dennis Rodoni