Art and Culture Master Plan Kick-Off Meeting
3:00pm - 5:00pm
Marin Center Exhibit Hall
10 Avenue of the Flags, San Rafael, CA 94903
---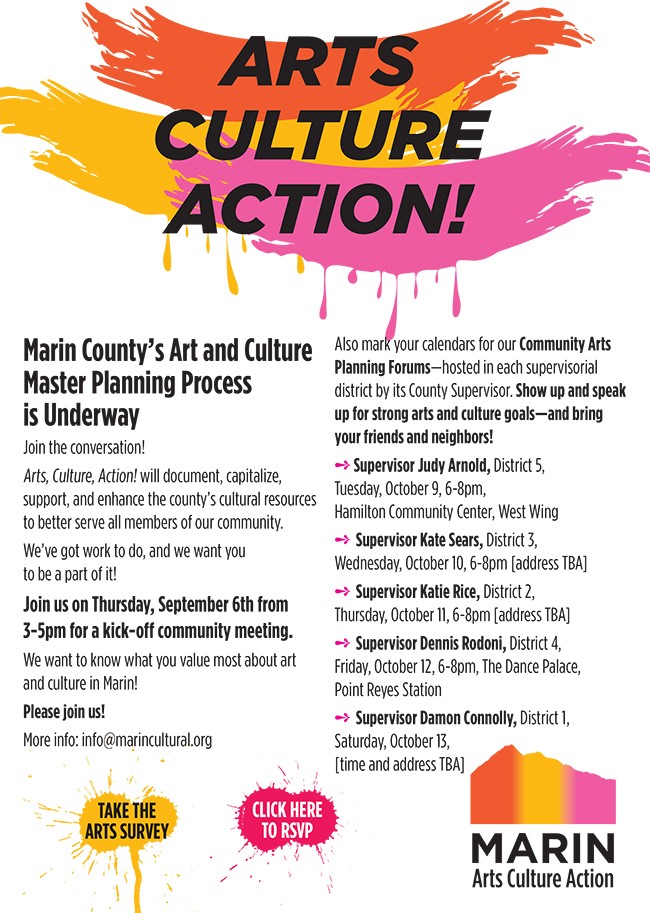 The Department of Cultural Services, in partnership with the Marin Cultural Association, the Marin Coalition for the Arts, and arts leaders from all over the County, is developing an arts and culture master plan for Marin County.
The richness of Marin County's creative sector is among the proudest elements of our communal identity. Arts, Culture, Action! will document, capitalize, support and enhance the county's creative sector to maximize its benefits to all members of our community.
Join the conversation!
From world-renowned musicians, to prolific fine artists and arts and crafts traditions, to cutting-edge film, performance and youth arts programs, Marin County has an incredible cultural history. Yet currently, our county's vast cultural resources are diffused and disconnected, functioning without a cohesive vision and the necessary supports to truly thrive.
We've got work to do, and we want you to be a part of it!
Events
Join us on Thursday, September 6, 2018 from 3-5 p.m. for a kick-off community meeting: free Registration through Eventbrite.
Marin Center Exhibit Hall
10 Avenue of the Flags
San Rafael, CA 94903
Also, mark your calendars for our Community Arts Planning Forums—Hosted in each supervisorial district by its County Supervisor. Show up and speak up for strong arts and culture goals—and bring your friends and neighbors!
Supervisor Judy Arnold, District 5, Tuesday October 9, 6-8pm, Hamilton Community Center, West Wing

Supervisor Kate Sears, District 3, Wednesday, October 10, 6-8 p.m. [address TBA]

Supervisor Katie Rice, District 2, Thursday, October 11, 6-8 p.m. [address TBA]

Supervisor Dennis Rodoni, District 4, Friday, October 12, 6-8 p.m., The Dance Palace, Point Reyes Station

Supervisor Damon Connolly, District 1, Saturday, October 13, [time and address TBA]