5:30pm - 7:00pm
Whistlestop
930 Tamalpais Avenue, San Rafael, CA 94901
---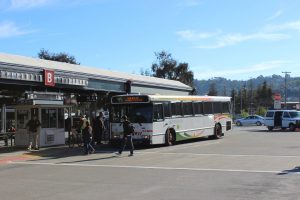 The Golden Gate Bridge, Highway & Transportation District will hold a public meeting on Tuesday, June 12, from 5:30-7:00 PM at Whistlestop to talk about the future of the San Rafael Transit Center.
Come learn about concepts that are being considered for the transit center and provide feedback. Your input is vital in designing a new facility that will best serve our community.
The new Transit Center will create improved mobility for San Rafael residents and employees. It will also improve transit connections throughout Marin County. Join us to help shape the new Transit Center.
El Puente Golden Gate y el Distrito de Transporte y Carreteras celebrará una reunión pública el martes, 12 de junio, de 5:30 a 7:00 PM en Whistlestop para hablar sobre el futuro del Centro de Tránsito de San Rafael.
Venga a conocer los conceptos que se están considerando para el centro de tránsito y háganos saber sus comentarios. Su aportación es vital en el diseño de una nueva instalación que servirá mejor a nuestra comunidad.
El nuevo Centro de Tránsito creará una mejora en la movilidad para los residentes y empleados de San Rafael. También mejorará las conexiones de tránsito en todo el condado de Marín. Únase a nosotros para ayudar a perfilar el nuevo Centro de Tránsito.