We are thrilled to see the construction teams make huge progress at all three Essential Facilities projects.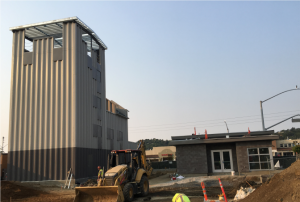 At Fire Station #52, the Training Tower erection has been completed.  Minor electrical and mechanical work is to follow and is scheduled to be completed by the end of August.  The Training Classroom is now completely watertight and interior finishes such as drywall, tape, and mud work are well underway.  At the Fire Station building, interior wall framing is ongoing.  MEP rough-in and fireproofing activities have been completed.  The Contractor is working in all three buildings concurrently with installation of site utilities.  The site work is evident throughout, with excavations for storm drain on the south side and for electrical and other utilities on the north side of the site.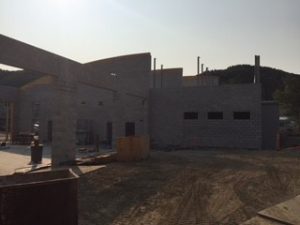 At Fire Station #57, the contractor has completed most of the concrete masonry block walls for the Fire Station building.  The structural steel was delivered at the end of July and the contractor quickly mobilized an erection crew and got the steel installed in only four days.  Steel erection for the second floor and low roof and decking has allowed first floor framing to start.  The contractor will also start to prepare and layout site work at Civic Center Drive and at the median in front of the entrance to the Station.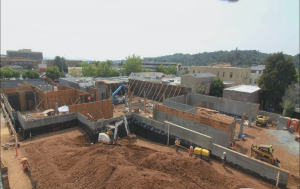 The Public Safety Center team has also put in place an amazing amount of work in the last five weeks.  The Contractor has been busy pouring concrete and placing shotcrete walls.  They have placed most of the perimeter walls and some interior shotcrete walls.  In the next couple of weeks, we are going to see the last portion of the basement walls completed, at the south west corner of the site, where the future apparatus bay will be located.