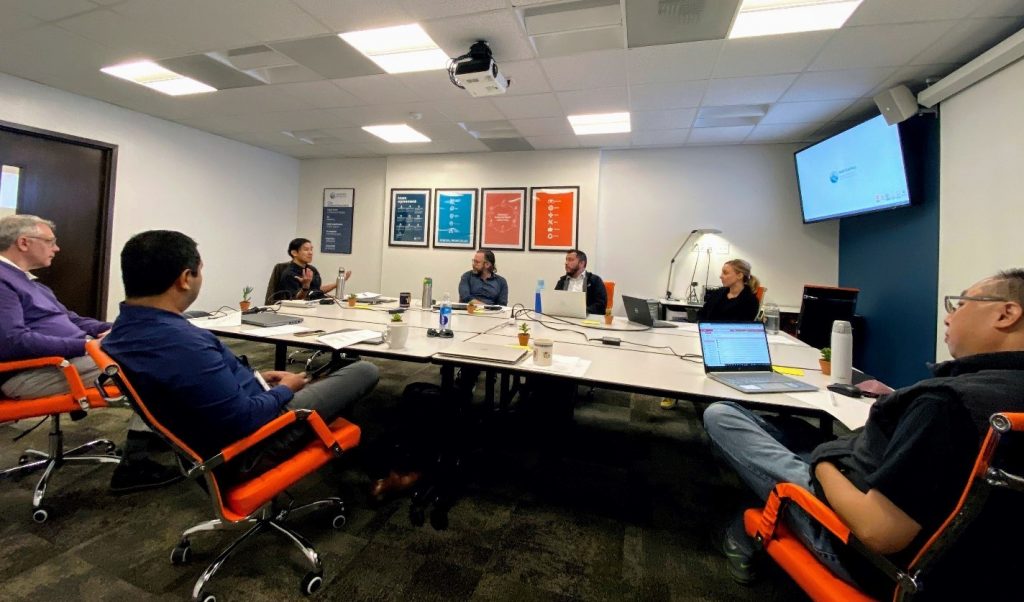 We are a 21st century government with a goal of making City services easy to use and work for everyone.   
About us:
The Department of Digital Service & Open Government blends the City's traditional IT capabilities with modern digital practices in a supportive start-up environment. We move fast and test new ideas, aren't afraid to try new things, and always focus on creating a delightful experience for our residents and colleagues. 
Our Guiding Principles
Everything we do is human-centered

 

We prioritize outcomes and impact over process

 

We promote a culture of curiosity through agile and data-driven practices

 

We apply digital principles to solving our City's greatest needs




 
Some of Our Current Projects:
Increasing Digital Equity through Public WiFi 

 

A data-informed approach to re-housing efforts and homelessness

 

Building a Downtown Fiber Network

 

Delivering digital permitting

 

Citywide Communications and Community Engagement Strategy

 

Upgrading Citywide ERP System and Business Processes

 

Rolling Out a Software Training and Adoption Program

 

Launching a New Citizen Request Management System

 
The Opportunity
The City of San Rafael Department of Digital Service and Open Government is seeking a full-time/fixed-term Enterprise Technology Manager. Continued appointment in this position is contingent upon funding and job performance. This is an "at will" position. Fixed-Term appointments may be made for up to a three-year period.
At the San Rafael Department of Digital Service and Open Government, we don't just deliver software and support IT—we believe that we're here to help the City solve problems and modernize City services for a digital age. As an Enterprise Technology Manager, you'll work with City departments to enable smart uses of technology that our employees and community need. Digital Service and Open Government enables municipal services through business systems, resident facing digital products, productivity and collaboration tools, and expert strategy and planning.
You will have the rare opportunity to help transform critical, public-facing services, while ensuring that we're building the right thing at the right time for everyone who needs it. On any given day, you might be conducting user research, process mapping, using evidence and analytics to make technical decisions, collaborating with service designers to do rapid prototyping, or managing the delivery of a product roadmap for key City services.
We're looking for an Enterprise Technology Manager who has high ethical standards, is excited to work in the public interest, and serve the City staff and residents of San Rafael with humility, respect, and transparency.
---
Duties:
This position performs the following essential job duties (including but not limited to):
Develop, define, and manage the vision and roadmap for internally and externally facing software products.
Develop and share clarity around exactly what problem a product is solving and for whom.
Build services with a strong equity lens to support everyone who needs access to our services, ensuring that our products work for all members of the public without experience gaps.
Support multi-department and cross-department service challenges.
Defines and delivers soluti9ons that boost internal productivity and efficiencies as well as world class customer experience for members of the public.
Serves as a subject matter expert and interacts with customers, senior management, City teams, and vendor partners.
Leads modernization, digital transformation, workflow automation, and related process re-engineering efforts by educating the user community on features and capabilities through presentations and demonstrations.
Oversees governance and project management activities for the productivity and collaboration product line to ensure user adoption, while simultaneously providing standardization necessary for security, compliance, and discoverability.
Creates compelling end user adoption strategies.
Leads and develops team members.
Works with product owners, stakeholders, and developers to define and deliver high-value features.
Partner closely with City staff with the department, across other departments, and outside of the organization (such as consultants and vendors) to ensure timely and efficient delivery of the product.
Advocate diplomatically for your product's users and their needs within the team and the wider organization.
Embed human-centered design principles into every aspect of how we're building the product.
Performs related duties as required.
You are a great fit for this role if you:
Have three (3) or more years of experience architecting and implementing successful software and productivity or collaboration tools.
Have advanced knowledge and experience managing digital content/document management tools, collaboration tools, productivity tools and business process automation tools.
Have deep technical and architectural understanding of administration and functional capabilities of municipal, financial, permitting, and reporting software, as well as Microsoft SharePoint, Exchange, Office365, and other parts of the Microsoft ecosystem.
Have proven ability to lead business solution projects to successful conclusion with diverse teams to effectively achieve high adoption and user satisfaction of productivity and collaboration solutions.
Have proven ability to lead and address business process automation efforts that improves efficiencies across the enterprise.
Have first-rate writing, graphical and in-person communication skills, and ae excellent at communicating with designers, developers, engineers, and non-technical audiences.
Are comfortable defining a compelling vision and designing a measurable strategy to achieve that vision.
Know how to motivate cross-functional teams to build the right thing.
---
About San Rafael
San Rafael is focused on enhancing our community members' quality of life through well-designed services and a positive workplace culture. San Rafael is the economic and cultural heart of Marin County, and its high quality of life is centered on its commercial districts, engaged neighborhoods, active lifestyle, and natural environment. San Rafael (population 59,000) is a full-service city with a city council/city manager form of government with 12 departments, more than 400 employees, and an annual budget of $100 million. The City's vision is to be a vibrant economic and cultural center reflective of its diversity. The City Council is engaged and seeks to strengthen the urban and commercial areas as well as sustain the beautiful natural environment.
San Rafael's Organizational culture framework is an initiative called "Together San Rafael." City employees are our greatest asset, and we seek talented individuals with diverse backgrounds who are creative, curious, and excited about a challenge. We are a results-driven team focused on the needs of community members. The Together San Rafael initiative is focused on modernizing City services and increasing the engagement of employees. This initiative recognizes the interconnectedness of the customer and employee experience.