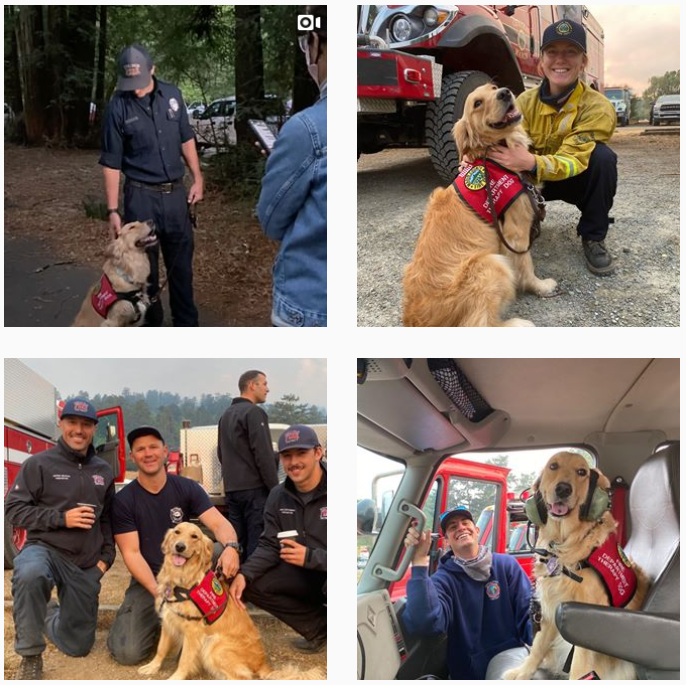 Have you heard of Kerith the Golden Retriever? She's an adventurous, trail running therapy dog that has been visiting the 428 dedicated fire personnel battling the Woodward fire at Point Reyes National Seashore—makes us happy that she's out there comforting the ones fighting to keep us safe. Kerith just received Good Morning America's Pet of the Week mention 😍 Sometimes, it's the little things that keep us going. 
There are currently 12 crews, 19 engines, five helicopters, two water-scooping planes stationed at the San Geronimo base camp. To date, the Woodward Fire has burned 2,860 acres and is and 8% contained. According to the Northern Rockies National Incident Management Update, a marine layer that's been hovering over the area has aided in moderating the fire's ability to aggressively spread. Visit the Woodward Fire Incident Page for incident highlights, fire size, and containment updates.  
Please avoid the area of West Marin. Public safety officials ask that coastal traffic be limited to local traffic only. There are very few evacuation routes from West Marin and there are multiple fire resources utilizing the roadways. It is imperative that roadways remain open in the event of an evacuation order. 
---
California's Blueprint for Reducing COVID-19
In a live press conference today Governor Newsom announced a four-tier framework to measure counties in loosening and tightening restrictions on activities and business operations. Marin County's current risk level is categorized as "widespread" (Tier 4). At this status level, Marin can reopen indoor shopping centers at 25% capacity, and starting August 31, hair salons and barbershops can open indoors. You can view the status of Marin industries on the State's Blueprint for a Safer Economy page.  
What does this mean for schools? 
Under the current status, schools cannot open for in-person learning unless they receive a waiver from their local health department for transitional kindergarten through sixth grade. Once Marin achieves Tier 2 status, schools will be allowed to reopen for in-person learning.  
Read the full press release from Marin County.
---
State
 Testing Guidelines
 Remain Unchanged
Earlier this week, the Center for Disease Control (CDC), released new testing guidelines that do not require people who have come into contact with someone who contracted COVID-19 to get tested. The State of California, however, is not changing statewide current testing guidelines which prioritize individuals who have COVID-19 symptoms as well as individuals without symptoms who fall into high-risk categories, including people who live and work in nursing homes, homeless shelters, healthcare workers, prisons, and patients in hospitals. 
Visit Marin Health and Human Services' testing webpage for information on who should get tested and where. 
GOVERNOR NEWSOM PRESS CONFERENCE
---
PG&E 
Power Shutoff Resources
Check out the improvements and updates PG&E has implemented so we can best situate our homes, families, and ourselves this wildfire season: 
---
Reminders
This month

, Marin Transit 

added more bus service to certain routes

 in Marin County to allow for physical distancing on buses to protect drivers and riders from potential spread of COVID-19. The supplemental routes operate Monday-Saturday.