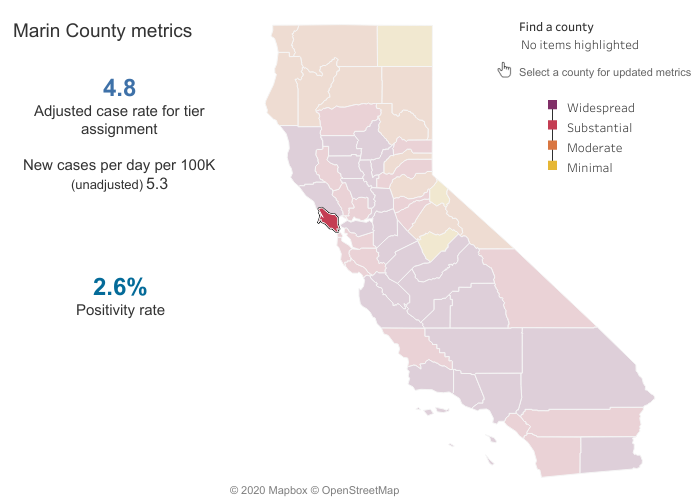 Yesterday, the State of California provided its weekly update on the Blueprint for a Safer Economy framework. This framework lays out the measures that each county must meet, based on indicators that capture disease burden, testing, and health equity on a weekly basis. Marin's September 22nd assessment allows us to remain in Tier 2 (red status).  
As the COVID-19 pandemic continues to be an evolving situation and new evidence and understanding emerges, the State will continue to reassess metric thresholds. The disease transmission chart displays the framework metrics as set according to tiers based on risk of community disease transmission.   
To advance to the next tier: 
A county must have been in the current tier for a minimum of three weeks.

 

A county must meet criteria for the next less restrictive tier for both measures for the prior 

two 

consecutive weeks in order to progress to the next tier.  

 

In addition, the 

S

tate will establish health equity measures that demonstrate a county's ability to address the most impacted communities within a county.

 
Marin's testing positivity rate already meets the Tier 3 (orange status) criteria, falling within the 2 – 4.9% threshold. Our current case rate is at 4.8.  
Let's continue to work together to minimize the spread of COVID-19 and move through this framework.  
---
Tenant Protections
During their weekly meeting, the Marin County Board of Supervisors (BOS) received an update from the Community Development Agency (CDA) about tenant and landlord rights and requirements, and information about the eviction ban laws that have been passed at the local, state and federal levels.  
The State of California's Assembly Bill 3088 provides protections against eviction for tenants that have been unable to pay rent due to financial impact related to COVID-19 through January 31, 2021. For someone to take advantage of this bill, tenants must submit a declaration form and pay 25% of rent owed between September and January. Rent that came due between March and August is still due to landlords but cannot be used as the basis for evictions. 
---
PG&E New Watch and Warning Notifications
Pacific Gas & Electric Company (PG&E) has implemented new Watch and Warning notifications this year to provide customers with more notice of a public safety power shutoff.  
Watch Alert 
Whenever possible, an initial Watch notification will be sent two days in advance of a potential public safety power shutoff, followed by an additional Watch notification one day before the potential public safety power shutoff event, notifying customers of the possibility of a public safety power shutoff event in their area based on forecasted conditions. 
Warning Alert 
A public safety power shutoff Watch will be upgraded to a Warning when forecasted conditions show that a safety shutoff will be needed, and that it is going to happen soon. Whenever possible, Warning notifications will be sent approximately four to 12 hours in advance of the power being shutoff. 
The Watch and Warning alert notifications are directly tied to weather, so things have the potential to change rapidly. PG&E will provide these notification to customers through automated calls, texts and emails. 
---
Reminders
Legal services are available

 to 

tenants who have incurred back-rent due to non-payment as a result of the coronavirus pandemic.

 

To report a business in violation of the Public Health Order in San Rafael please email

 

SIPviolations@cityofsanrafael.org

.

 

Marin

Together

 is an initiative championing a public-private partnership to bring face 

masks to essential workers living in the Canal neighborhood, made by residents in the Canal—

donate today!