Background
Para obtener el documento conteniendo la información en español, oprima aquí.
East San Rafael is characterized by densely populated neighborhoods and high parking demands, making parking a daily challenge. Several years ago the City Council supported a 6-month study to evaluate existing East San Rafael parking conditions and better prepare parking solutions the City could implement. The study showed parking occupancy rates to be well over 100%, meaning some cars were not parking according to parking regulations. During the study, the City worked closely with residents and businesses compiling feedback and suggestions from surveys and public meetings – including a large public meeting at the Albert J. Boro Community Center –  on possible parking solutions. The study identified both short, medium, and long-term solutions – classified based on their time and ease to implement. Based on feedback from the community and studied successful examples in other communities, the City is first pursuing a short-term strategy of implementing time-limited parking.
Click here for a copy of the letter sent to East San Rafael residents informing them about upcoming parking changes.
Parking Changes
As part of the short-term strategy identified in the study, the City has implemented time-limited parking throughout East San Rafael. Time limits will be enforced in the following areas (see map for zone boundaries):
Residential zones (24-hour limits): Canal, Bahia, and Spinnaker & Baypoint neighborhoods
Commercial zones (4-hour limits): Commercial and Kerner neighborhoods
Residential: parking will be restricted to 24 hours instead of the current 72 maximum hours;
Commercial: parking will be limited to 4 hours from 8AM to 6PM;
All new parking restrictions will be enforced 7 days a week, including weekends.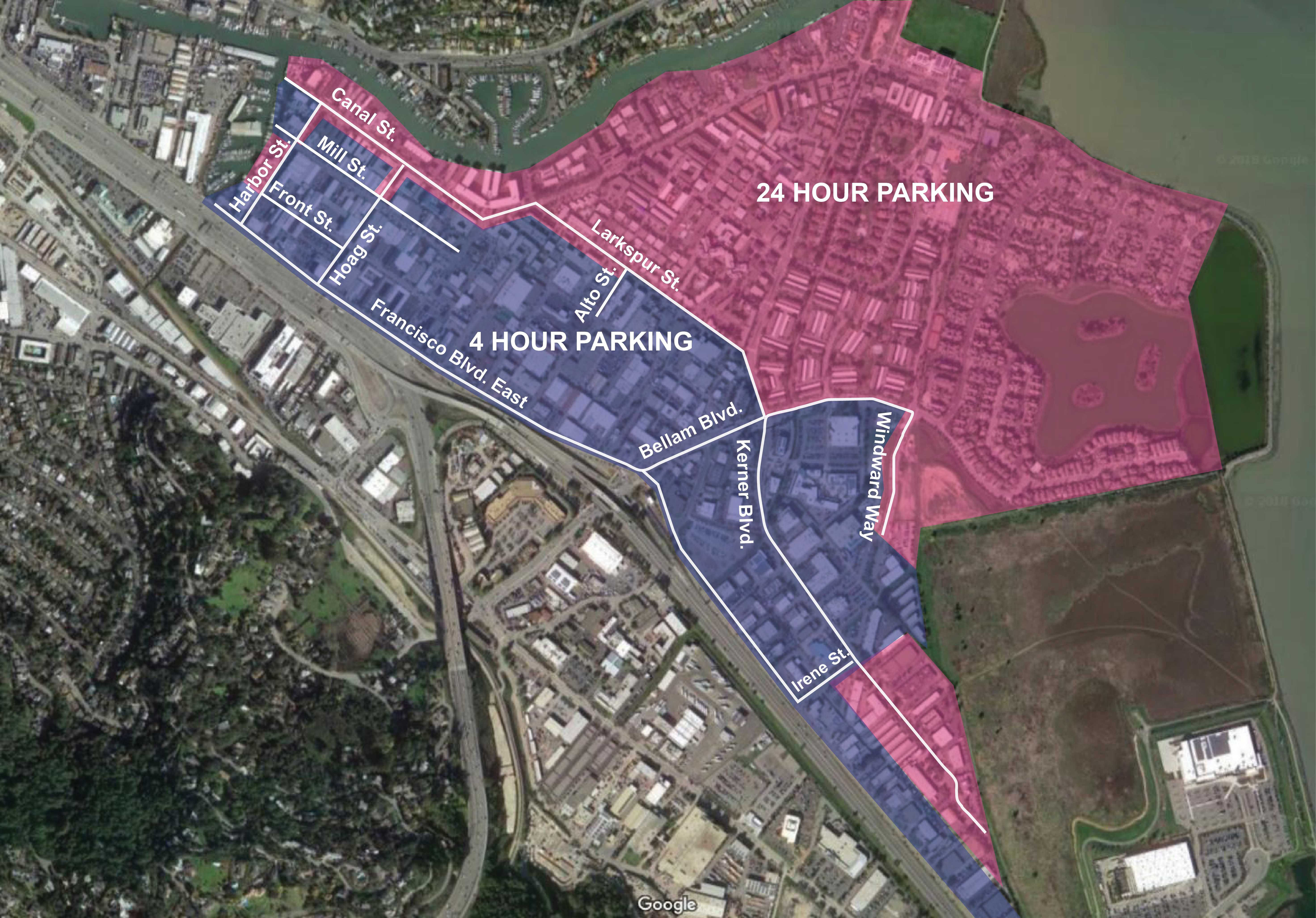 For all inquiries and or feedback please see our FAQs, or contact:
Public Works, (415) 485-3355, for sign installation and placement inquiries;
Parking Services, (415) 458-5333, for parking enforcement and a map of the affected blocks.