East San Rafael Parking
Background
Para obtener el documento conteniendo la información en español, oprima aquí.
East San Rafael is characterized by densely populated neighborhoods and high parking demands, making parking a daily challenge. Last year, City Council supported a 6-month study to evaluate existing East San Rafael parking conditions and better prepare parking solutions the City could implement. The study showed parking occupancy rates to be well over 100%, meaning some cars were not parking according to parking regulations.
During the study, the City worked closely with residents and businesses compiling feedback and suggestions from surveys and public meetings – including a large public meeting at the Albert J. Boro Community Center –  on possible parking solutions. The study identified both short, medium, and long-term solutions – classified based on their time and ease to implement. Based on feedback from the community and studied successful examples in other communities, the City is first pursuing a short-term strategy of implementing time-limited parking.
Parking Changes
As part of the short-term strategy identified in the study, the City will first begin by implementing time-limited parking throughout East San Rafael. New time limits will be enforced in the following areas (see map for zone boundaries):
Residential zones (24-hour limits): Canal, Bahia, and Spinnaker & Baypoint neighborhoods
Commercial zones (4-hour limits): Commercial and Kerner neighborhoods
This means time-limitations in posted areas of East San Rafael will change to reflect the following:
Residential: parking will be restricted to 24 hours instead of the current 72 maximum hours;
Commercial: parking will be limited to 4 hours from 8AM to 6PM;
All new parking restrictions will be enforced 7 days a week, including weekends.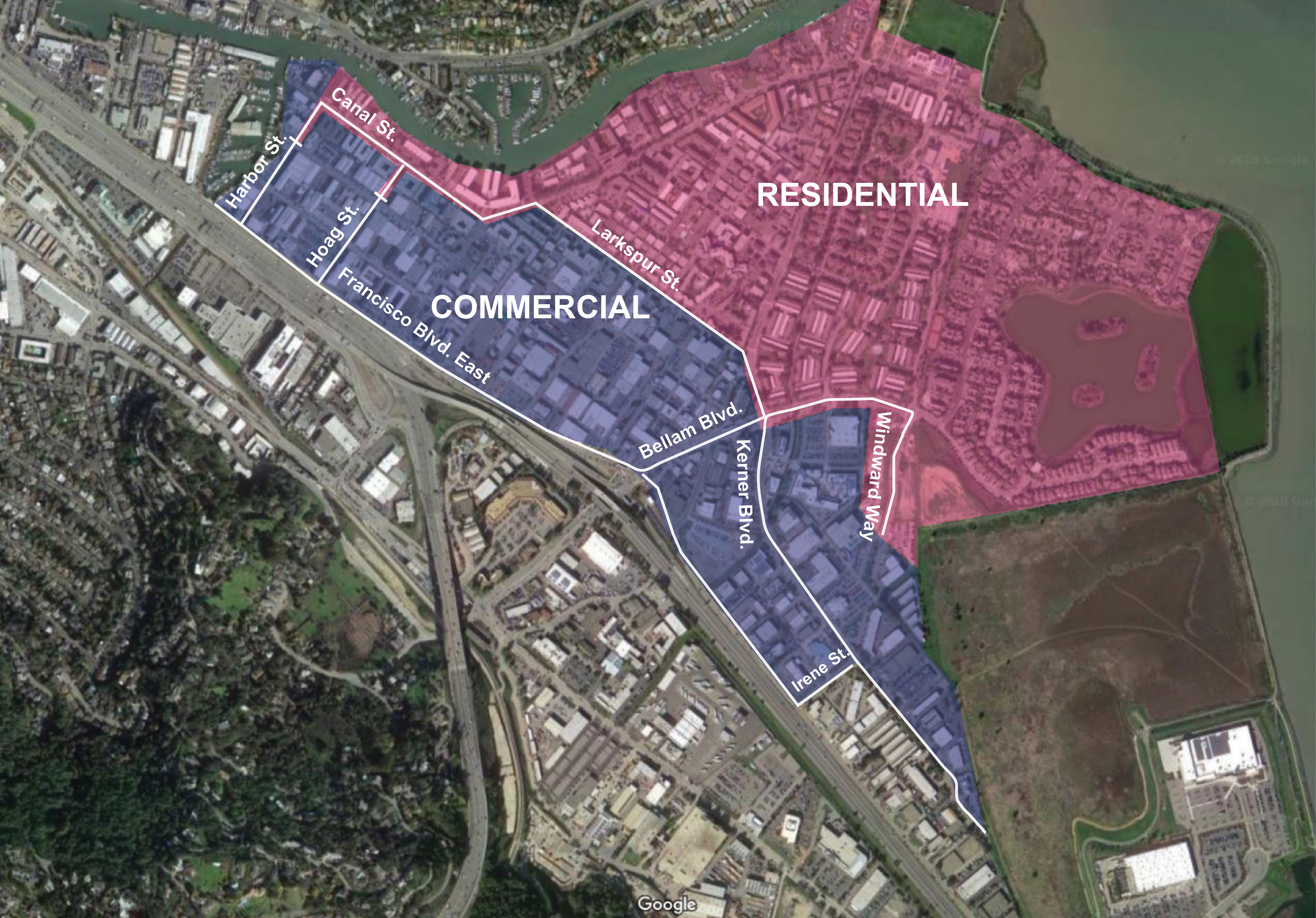 Estimated Sign Installation Timeline
Residents can expect new parking sign installations of the image included below to begin in the month of July 2018 and continue through September 2018. City staff will install the signs as scheduling permits in addition to their regular summer duties. Exact locations where signs will be installed have been marked by a white circled "X". The estimated sign installation and parking enforcement timeline is as follows:
July to September – new parking signs will be installed;
October – parking services will issue citations warnings with no payment required for one month;
November 1st – fined citations will be issued after this date.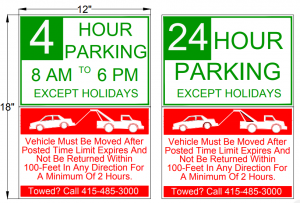 For all inquiries and or feedback please see our FAQs, or contact:
Public Works, (415) 485-3355, for sign installation and placement inquiries;
Parking Services, (415) 458-5333, for parking enforcement and a map of the affected blocks.