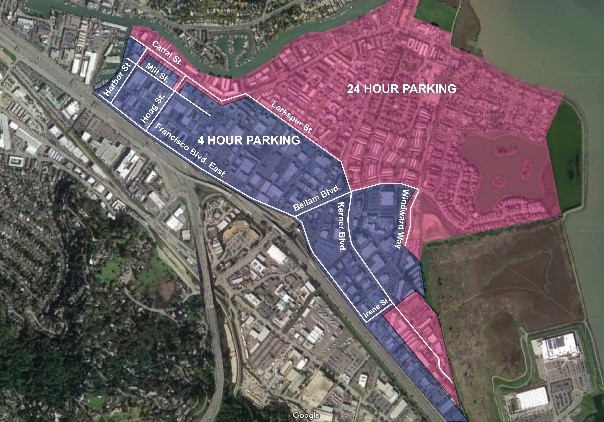 In anticipation of the new time-limited parking changes coming to East San Rafael, the City recently sent over 4,000 letters to residents, businesses, and property owners in the area. Public Works spent the past few weeks marking locations of poles that will be installed to hang the new signs associated with the parking changes. These locations are denoted by a circle and an "x" through it, giving residents the opportunity to see the location of the new poles prior to installation. Great effort was taken to place new poles in locations that had the least impact on residents while remaining effective for motorist to see. Staff has, and will continue to work with residents to adjust the location of poles when requested. Installation of signs will begin on July 24, 2018.
When posted, time-limited parking in East San Rafael will be as follows:
Residential areas: Parking will be restricted to 24 hours instead of the current 72 maximum hours
Commercial areas: Parking will be limited to 4 hours from 8 am to 6 pm
All new parking restrictions will be enforced 7 days a week, including weekends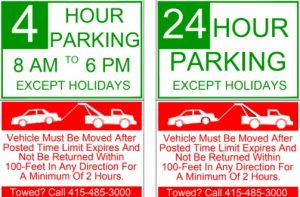 Beginning October 1st, Parking Services will issue parking citation warnings with no payment required for one month. Real citations requiring payment of a fine will begin on November 1st.
For more information and to see a copy of the letter please visit our East SR Parking page, www.cityofsanrafael.org/eastsanrafaelparking/, or call:
Public Works, (415) 485-3355, for sign installation and placement inquires;
Parking Services, (415) 458-5333, for parking enforcement.