Background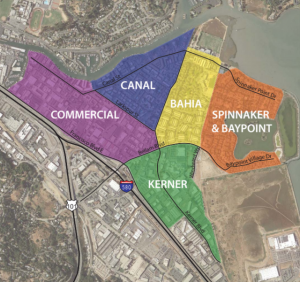 High parking demand, densely populated neighborhoods and long-term storage of vehicles on the street have caused a lack of available on-street parking in East San Rafael, and residents and business owners in the area have called for some relief. While some solutions were identified by the residents such as an increased supply, permitting, and/or stricter parking enforcement, City Council and Public Works recognized a need for more information and solutions and authorized the City Manager to enter into a professional service agreement with W-Trans to prepare parking study for East San Rafael on  October 17, 2016.
The purpose of the study was to evaluate the existing parking conditions within East San Rafael and determine the most appropriate solutions that, if implemented, could relieve the area of some of the high parking demands. Prior parking surveys as well as public comments were reviewed in preparing the study.
In December 2016, W-Trans met with a variety of community groups and distributed online and in-person hard copy surveys in both English and Spanish. A total of 424 people responded to the survey. Several members of the City Council and Public Works staff heard additional feedback from the community on July 12, 2017 when the results of the study were presented to the public. The culmination of these discussions and proposed solutions were presented to City Council on September 18, 2017 at a study session.
Next Steps
After extensive community input and review of the prepared study Council directed staff to look at implementing short term solutions while long term solutions were being developed. A short term solution recommended in the report and supported by Council was developing time limited parking in East San Rafael in order to increase turnover and decrease the number of vehicles being stored on City streets.
In preparation of potentially implementing these short term solutions, staff modified the City of San Rafael parking ordinance and presented the modified ordinance presented to Council on November 20, 2017. The ordinance was changed in order to allow the City to better enforce the current municipal code. The ordinance was approved in its first reading and will be on the agenda at the December 4, 2017 City Council meeting for consideration for adoption at the second reading.
Staff is also studying the possibility of adding pavement markings (T's and L's) to help motorist more easily identify spaces and to prevent vehicles from occupying more than one space. 
Materials and Resources
Time-Limited Parking Ordinance: November 20,2017 Council Meeting Update to Council on Report and Community Meeting: September 18, 2017 Council Study Session Community Meeting: July 12, 2017 Albert J. Boro Community Center East San Rafael Parking Study: July 2017 Professional Services Agreement with Consultant: October 17, 2016 Council Meeting