Dredging continues in San Rafael Canal
The US Army Corps of Engineer's and City of San Rafael's dredging contractor, The Dutra Group, will continue dredging operations in the San Rafael Canal in the month of January, 2023. Dredging will soon continue in the San Rafael Canal from 7:00 a.m. to 10 p.m. in reach 3 of the Canal, and 24/7 in reach 4 of the Canal.
Reach 3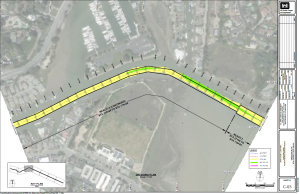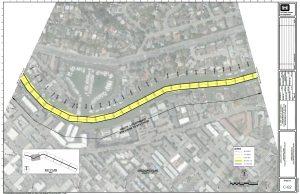 Reach 4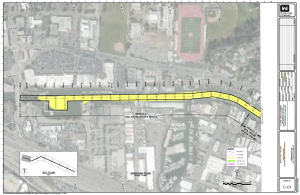 Please keep in mind the following Boater precautions:
Boaters must exercise caution when passing the dredge in the channel. The Dredge DB‐Beaver is available on Channel 80 and slacks its anchor wires for vessel traffic in and out of the channel. The anchor wires sit on the bottom of the channel. At low tide levels, in shallow portions of the channel, sailboats with deep keels must exercise extra caution. A keel that will penetrate the mudline will not clear an Anchor Wire on the bottom (see photo for illustration).
Additional safety tips when boating, swimming, kayaking or other Marine activities in the Canal:
When you see a dredge, remember that it's there for a reason. The Canal is shallow. Watch out for:
Sand bars that the dredge is working on
Cables as the dredge swings its cutter head from side to side.
Submerged pipe
Backhoes that are rotating on pontoons
Common-Sense Precautions:
Stay away. Boat somewhere else. If you must be on the Canal when the dredge and barge is visible, go slow around dredges, especially when coming from the rear.
Leave plenty of room between yourself and the dredge.
Stay as far from them as you can.
Remember: they have equipment that swings from side to side. It's guided by cables that you may not see until it's too late.
Make eye contact with the dredge's operators. They're focused on their work and not looking for you.
Don't create a wake that will rock their boats, barges, pontoons or pipelines.
Don't expect them to get out of your way; they can't maneuver like you.
For more information on the dredging project, visit: https://www.cityofsanrafael.org/dredging/
If you have questions, comments or concerns regarding dredging in the San Rafael Canal, please email dredging@cityofsanrafael.org.