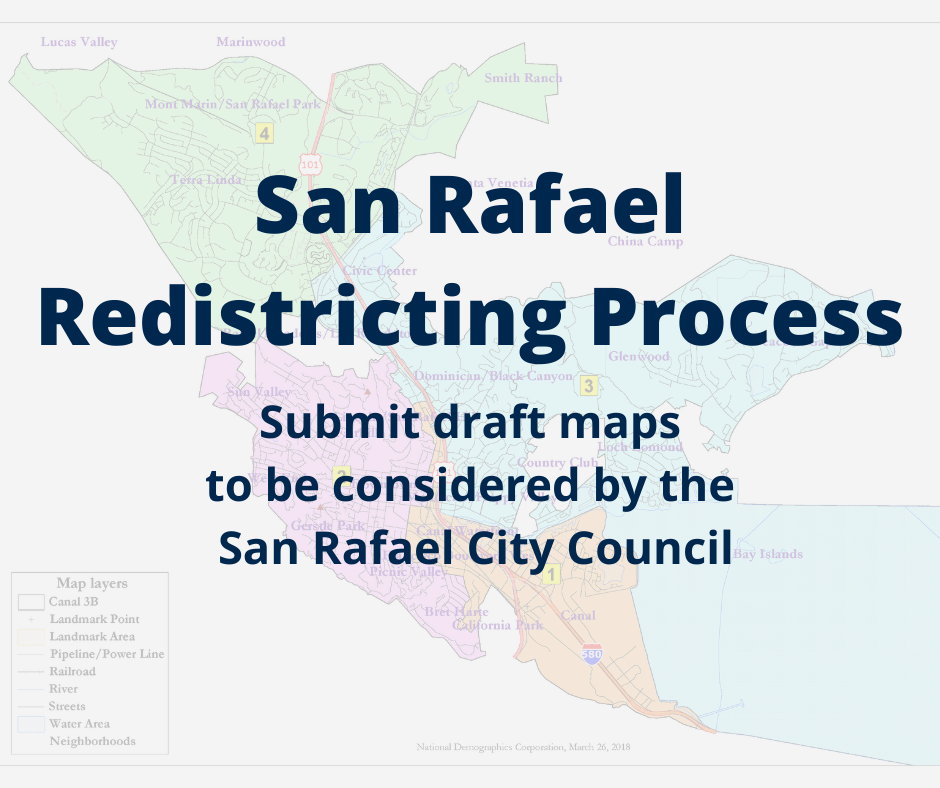 Map-drawing tool & paper maps available / Una herramienta para dibujar mapas está disponible en línea ahora
(Español abajo)
The City of San Rafael is currently in the process of redrawing its City Council election district boundaries and we want to hear from you! New census data is used every 10 years to redraw district lines to reflect how the local population has changed so that each district remains substantially equal in population.
Help reshape San Rafael's voting district by drawing and submitting your own draft district map using the online district map-drawing tool or paper map. Completed paper maps may also be submitted by email to city.clerk@cityofsanrafael.org or mailed/dropped off to:
ATTN: City Clerk
1400 Fifth Avenue, Room 209
San Rafael, CA 94901
City of San Rafael
To allow ample time for Council consideration, draft maps should be submitted no later than March 7, 2022. Maps submitted after that date will not be rejected but may not receive full consideration because of legal deadlines the City must meet.
All maps will be published on the City's website at least five days before the next redistricting public hearing, and a draft map must be published on the website for at least seven days before being adopted as a final map. The redistricting process must be completed by April 17, 2022.
The City Council will consider all valid maps at upcoming public hearings before adopting a final map. Public hearings are scheduled for February 22 and March 21 at 7:30 pm. At this time, all meetings are being held virtually via Zoom, and information on how to participate is available with each agenda packet and posted at https://www.cityofsanrafael.org/city-council-meetings/.
Map-drawing tools, including demographic information and a detailed user guide to assist with the drawing of district boundaries, are available at https://redistrictsanrafael.org/.
española
La ciudad de San Rafael está en proceso de rediseñar los límites de los distritos electorales del Consejo de la Ciudad y queremos escuchar su opinión. Los nuevos datos del censo se utilizan cada 10 años para rediseñar las líneas de los distritos con el fin de reflejar cómo ha cambiado la población local, de manera que cada distrito siga siendo sustancialmente igual en población.
Ayude a remodelar el distrito electoral de San Rafael dibujando y enviando su propio diseño de mapa de distritos utilizando la herramienta de diseño de mapas en línea o en papel. Los mapas en papel completados también pueden enviarse por correo electrónico a city.clerk@cityofsanrafael.org o enviarse por correo o entregarse a:
ATTN: City Clerk
Ciudad de San Rafael 1400 Quinta Avenida, Sala 209 San Rafael, CA 94901
Para que haya tiempo suficiente para que el Consejo lo considere, los diseños de mapas deben presentarse a más tardar el 7 de marzo de 2022. Los mapas presentados después de esa fecha no serán rechazados, pero es posible que no reciban una consideración completa debido a los plazos legales que la Ciudad debe cumplir.
Todos los mapas se publicarán en el sitio web de la ciudad al menos cinco días antes de la siguiente audiencia pública de redistribución de distritos, y un posible mapa debe publicarse en el sitio web al menos siete días antes de ser adoptado como mapa definitivo. El proceso de redistribución de distritos debe completarse antes del 17 de abril de 2022.
El Consejo de la Ciudad considerará todos los mapas válidos en las próximas audiencias públicas antes de adoptar un mapa final. Las audiencias públicas están programadas para el 22 de febrero y el 21 de marzo a las 7:30 pm. En este momento, todas las reuniones se realizan virtualmente a través de Zoom, y la información sobre cómo participar está disponible con cada paquete de la agenda y publicado en https://www.cityofsanrafael.org/city-council-meetings/.
Las herramientas de diseño de mapas, incluyendo la información demográfica y una guía de usuario detallada para ayudar a dibujar los límites del distrito, están disponibles en https://redistrictsanrafael.org/.