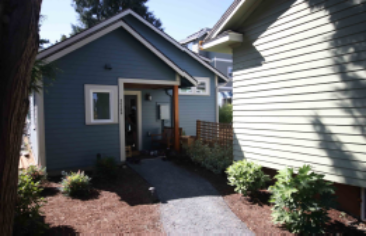 In response to the new State housing laws regarding Accessory Dwelling Units (ADUs) that became effective on January 1, 2020, the City of San Rafael has prepared a Draft ADU ordinance.  The Draft ADU ordinance will make it easier to develop an ADU and will streamline the permit review process, which will further encourage and facilitate ADU start-ups as a source of affordable housing.
Highlights of regulations in Government Code Section 65852.150
An ADU that complies with certain standards shall be ministerially approved within 60 days
Multifamily properties are now allowed to have at least one ADU. The ADU does not count towards the allowable, zoning density limit.
Any lot zoned for residential use, regardless of lot size, is allowed to add an ADU.
A nonconforming structure can be rebuilt in the same location for an ADU use.
A JADU can be converted from any space within the walls of the main residence, including the garage.
The required setback for an attached or detached ADU is 4 feet with a maximum height of 16 feet.
When converting a garage space, parking can be replaced in any manner (tandem, uncovered, etc.).
No limit to the size of an ADU without an adopted ordinance.
Property owner occupancy of either the main dwelling unit or the ADU can no longer be required.
The regulations give local municipalities the ability to place some further limitations on ADU proposals. We are proposing:
Maximum size would be 1,000 sqft or 50% of the primary dwelling unit for an attached unit
ADUs will be prohibited on certain, hillside residential streets where the travel lanes are less than 14 feet in width, road maneuvering is difficult, and parking is challenging.
Height restrictions will be in effect on homes in the Eichler-Alliance overlay (-EA)
Certain allowances can be made through discretionary review.
We created an ADU webpage – check it out, review the Draft ADU Ordinance and send us your comments and questions.  Public comments will be brought to the Commission on February 23, 2021 for it's first round of reviews.
Department Contacts:

Alicia Giudice
Planning Manager
(415)485-3092
alicia.giudice@cityofsanrafael.org

Michele Ginn
Permit Services Coordinator, Planning
(415)485-3116
michele.ginn@cityofsanrafael.org