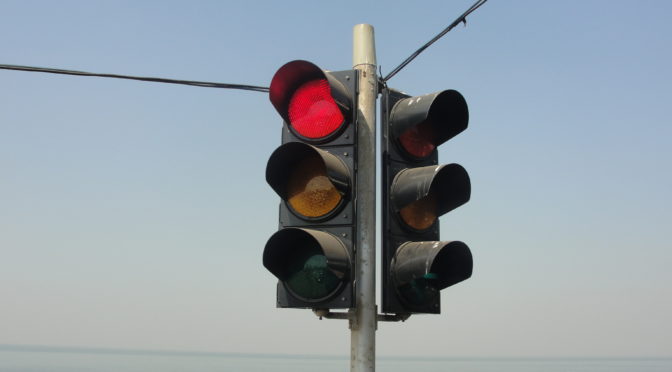 On Wednesday, May 16 the City began the timing adjusting of 54 signalized intersections in downtown San Rafael, from Union Street out to Miracle Mile, and from Mission Ave down to 2nd Street. The retiming will reduce travel time between intersections, meaning hitting fewer red lights coming down major arterials in San Rafael such as 2nd and 3rd Street, and Irwin and Hetherton. Reduced delay and minimized stopping also has the enhanced benefit of reducing greenhouse gas emissions from idling cars at red lights.
Importantly, the signal retiming will also improve bicycle and pedestrian safety by increasing overall cycle length of the traffic signals. The new, longer cycles lengths are required by new State regulations. There will be no new infrastructure installed or construction taking place, all retiming work will be adjustments to the programming of the signals.
The City began the signal re-timing last week (May 16).  The majority of the retiming has been completed, and for the next couple of weeks staff will be observing and fine-tuning the timing and coordination of the traffic signals. This fine tuning is important and complex, as the 54 signals are on multiple different systems. We appreciate your patience in this important project which will ultimately improve traffic flow through our City.
Once the re-timing is complete, the travel time on major arterials in central San Rafael should be noticeably improved. The City received a $161,265 grant from MTC for this project.
You may contact us directly with any specific questions, comments, or concerns about the project at:
www.cityofsanrafael.org/contactDPW
415-485-3355