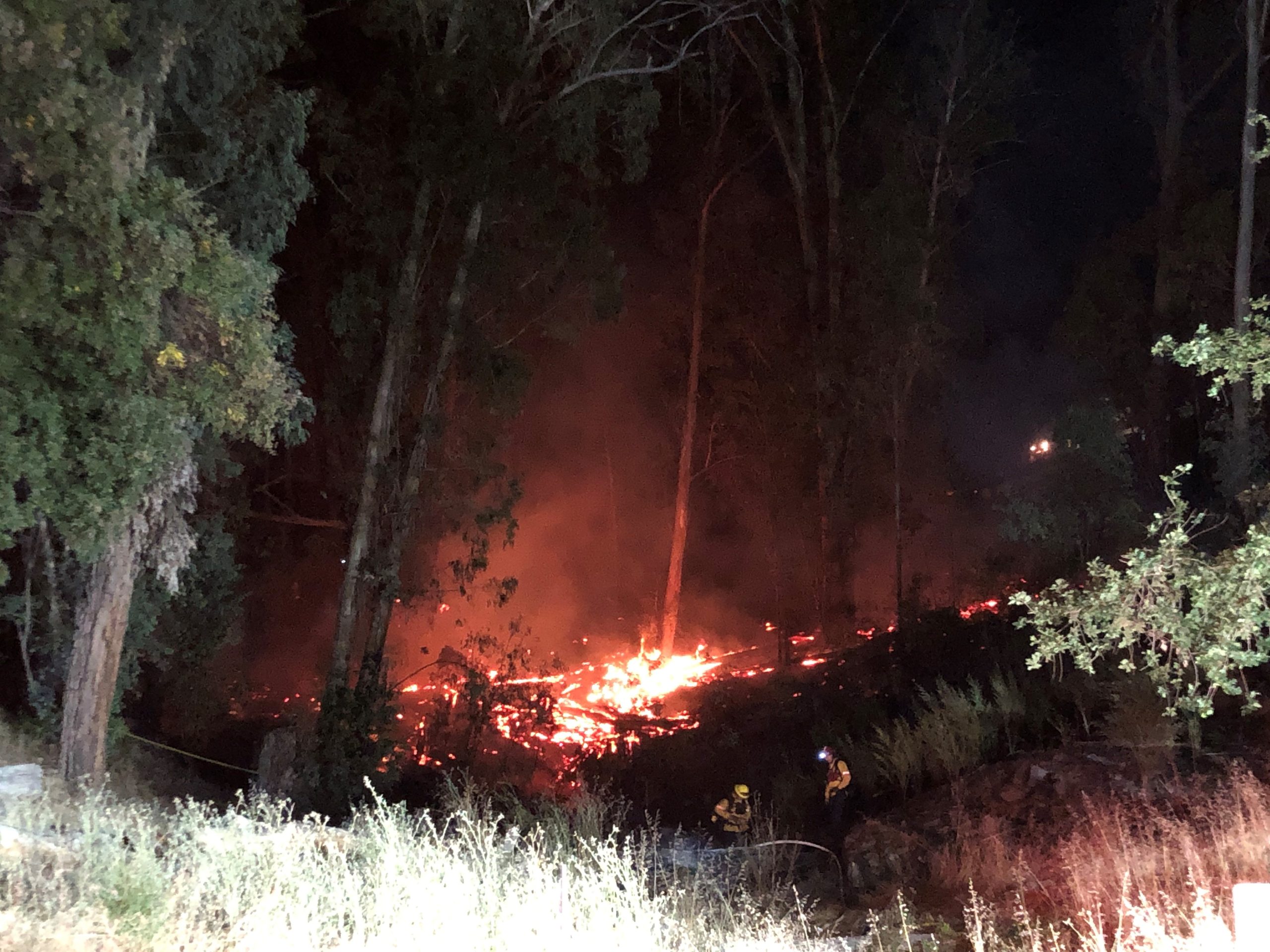 June 7, 2022
Around 9:50pm on Monday evening reports for a brush fire behind Dominican University, off Deer Park road were reported. Fire and Law Enforcement immediately responded to the scene and requested additional support. In total, 19 engines from multiple Marin Fire agencies responded, while other units mobilized to assure routine emergency coverage remained across the County. Law Enforcement conducted door to door evacuations for about 5 homes, while others in the immediate area were put under an evacuation warning.
The fire traveled up hill in a mix of grasses, shrubs and Eucalyptus trees. Aided by calm weather and recent rains, crews were able to stop the forward progress of the fire by 11:00pm and were pleased to report no injuries or damage to homes or property. Evacuation warnings and orders were removed, and all residents were able to return home before midnight, while fire crews remained on scene throughout the night. Mop up continues today, Tuesday June 7th.
The main fire was held to just over an acre, but an ember caused spot fire burned another .4 acres. Crews were able to prevent the spot fire from spreading or causing property damage in part thanks to recent mitigation actions taken by the property owner to cut the grasses and weeds. The cause of the fire undetermined.
Residents were kept informed on the fire via Alert Marin, Nixle, Social Media and the Marin Emergency Portal (emergency.marincounty.org). It is important that all residents opt in to the County Emergency Alerting system, Alert Marin (alertmarin.org), to stay informed during emergencies.
This fire serves as an important reminder that all residents need to take steps to adapt to wildfire and be prepared for emergencies and disasters. The City and County offer a variety of resources to support residents in these efforts, including free defensible space evaluations, free chipper services, and grants to support defensible space and home hardening. Information on all these services as well as information on steps the City and County are taking to reduce wildfire risk are available at SRFD.org. Residents should visit SROES.org and ReadyMarin.org for information on all hazard preparedness, including information on having a personal emergency plan, go-bag, and evacuation plan.
San Rafael would like to thank all of our partners who directly and indirectly supported this response, as well as the residents who followed the direction of first responders. In partnership, the fire was contained without injury or property damage.