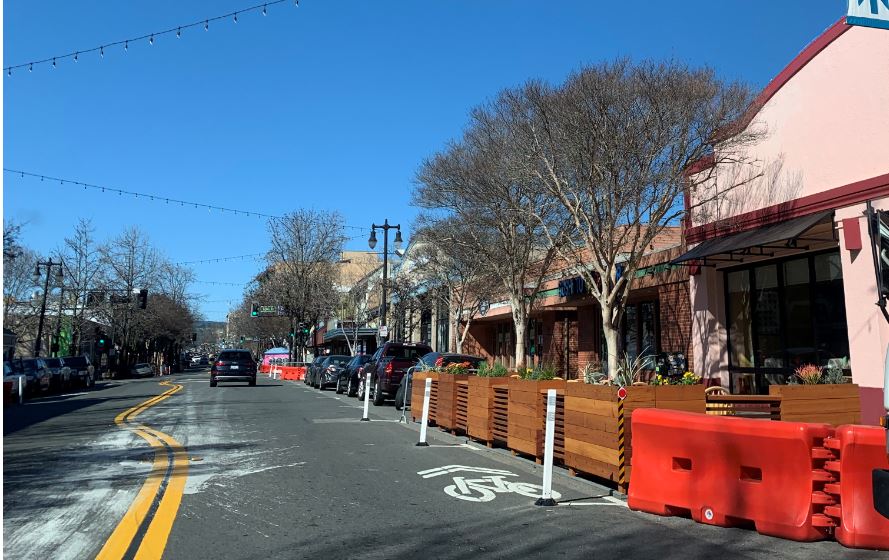 All current permits for COVID outdoor dining now automatically valid through November 30, 2022.
City officials have approved all temporary and semi-permanent structures built in the parking lane, as a part of the current COVID Outdoor Dining program, to remain at least until November 30, 2022. The City and elected officials listened to the restaurant community and heard from them that the significant capital investment of building a semi-permanent structure was only worthwhile if restaurants were allowed to continue to operate in the space for an additional year beyond the original November 1, 2021 expiration date the City initially provided.
Therefore, City officials are pleased at this time to inform both all restaurants that have already constructed a semi-permanent structure, and restaurants considering constructing a semi-permanent structure that the structures may remain in place through at least November 30, 2022. The intent of this extension is to provide additional incentive to restaurants seeking to invest in semi-permanent construction and beautify their outdoor dining spaces in the parking lane — beyond the temporary metal barricades provided by the City.
The process for any restaurant considering building a semi-permanent outdoor dining area in the parking lane continues to be to submit an application online on the COVID Outdoor Dining program webpage. Important: any restaurant that is currently utilizing only temporary barricades/planters, but would like to construct a more substantive semi-permanent space with walls/platform, etc., must submit a new application on the webpage with their plans for semi-permanent construction.
Applications are not automatically approved, and are being reviewed on an individual basis by City staff.
Restaurants that already have a valid permit for their semi-permanent outdoor dining area do not need to take any action — the expiration date in their valid permit will be automatically updated to November 30, 2022.
Over the next six months, City staff will be working closely with elected officials and the downtown business community including the Chamber of Commerce and the Business Improvement District to develop concrete guidance on determining criteria for how semi-permanent structures can either be transitioned to permanent "parklets" after November 2022, or returned to parking spaces.
The following restaurants are currently utilizing (or have been approved for) outdoor dining within the right of way (public parking spaces):
Amici's
Aroma Cafe
Bangkok Thai
California Gold
Caribbean Spices
Double Rainbow
El Palmar
El Lucerito
Gala Mexican
George's
Johnny's Doughnuts
Pint Size
La Vier
Los Moles
Lotus Indian
My Thai
Pond Farm Brewing
Pupuseria
Revel & Roost
Shiro Kuma Sushi
Stateroom
Taj of Marin
The Kitchen Table
Theresa & Johnny's
Uchiwa Ramen
Vin Antico
Whipper Snapper
Yet Wah