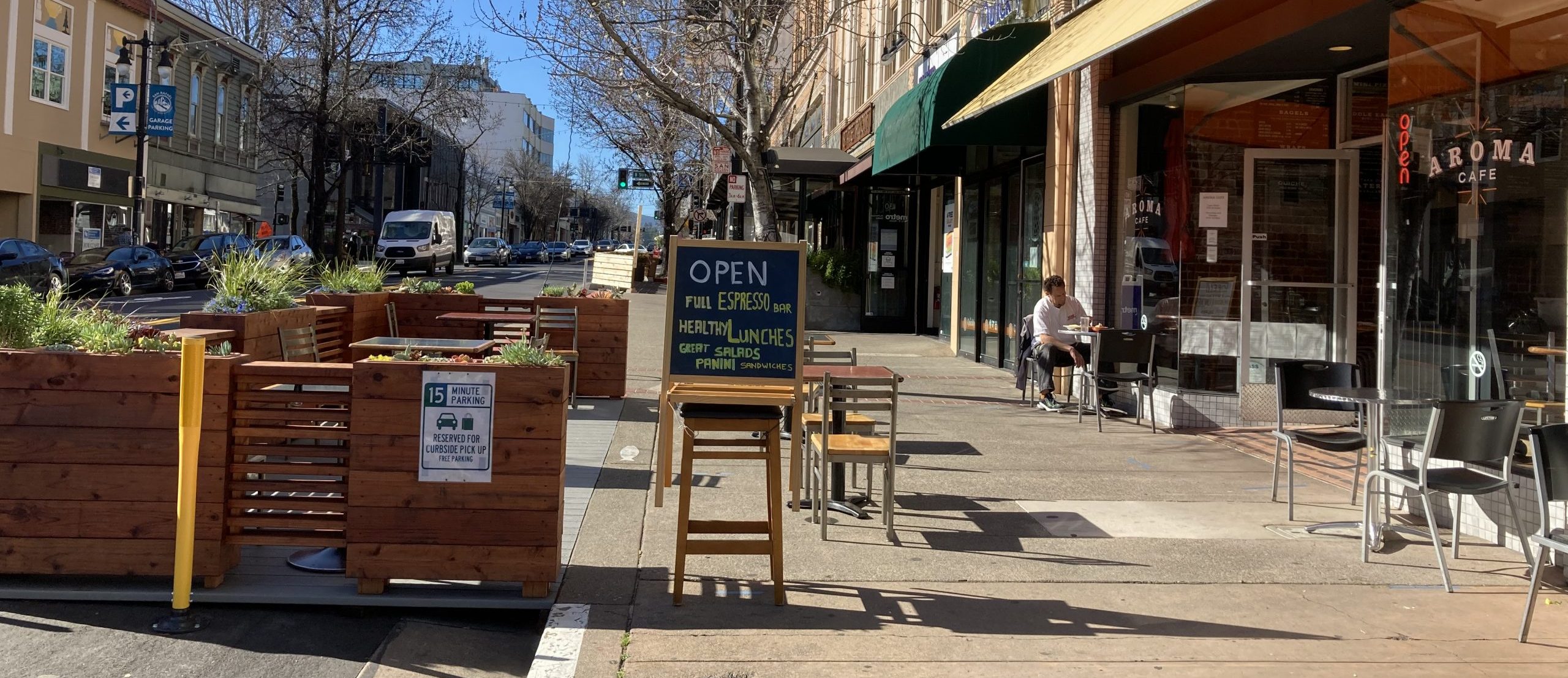 Who decides what when it comes to what is allowed?

| | |
| --- | --- |
| COVID tier for Marin County (shelter in place order, purple, red, etc.) | State of California |
| Whether restaurants are allowed to operate indoors, outdoor only, or takeout only | Marin County Public Health (based on State COVID tier) |
| Reopening guidelines for businesses and Site Specific Protection Plan | Marin County Public Health |
| Whether your restaurant's open windows, retractable roof, etc. qualify as "outdoor dining" | Marin County Public Health |
| Guidelines for operating in the public sidewalk, parking spaces, etc. | City of San Rafael |
| Design guidelines for construction of any semi-permanent outdoor dining spaces | City of San Rafael |
Overview

Free, temporary permits to use the sidewalk or parking lane for business operations, like seating, dining, or personal care services.

**New** All approved permits are now valid through November 30, 2022.

All businesses are required to post a Site-Specific Protection Plan and adhere to the industry-specific requirements outlined in the Marin County public health orders.

Public property outdoor area - sidewalk or parking lane

Businesses are responsible for costs of construction of all semi-permanent structures in the parking lane. Exception: The City will provide and place simple metal barricades as well as two water-filled orange barricades at the end of the dining area in the direction of oncoming traffic and reflective plastic delineators along the outer edge of the area.

To apply for the installation of a semi-permanent structures in the parking lane, fill out application form below. You must upload a proposed construction design/rendering in "Site Plan" as a part of your application. Use this template: COVID Outdoor Dining Site Plan.

Private property outdoor area - private parking lots, mall parking lots, etc.

You must confirm your landlord (the property owner) has agreed. City approval of the temporary outdoor dining/retail on private property does not replace or supersede any private lease or contractual agreements between your business and the property owner.

Ready to apply?

Review the guidelines on this page and fill out the Application at the bottom of the page with your requested use of the parking space(s). If approved, the Department of Public Works will issue a temporary encroachment. If there is no overhead component to the dining area (platforms, walls OK) - no further action is needed and construction or set-up may commence.

When is a Building Permit

also

required?

Any outdoor dining area in the parking lane with a constructed overhead roof or trellis must also apply for a City of San Rafael Building Permit. This building permit will have no fees associated with it.  Engineered or architectural plans for the overhead structure must be submitted in order for the permit to be processed.

The Building department has now added a special type of permit for restaurants seeking to apply for their overhead roof/trellis structure: "Temporary Outdoor Dining Area (Commercial Parklet)". To apply, visit the Building Permits webpage, watch the How to Apply for a Building Permit Online video, then click on the link for "Temp. Outdoor Dining Area (Commercial Parklet)" permits.

Restaurants are free to set up tents <400 sq ft or canopies <700 sq ft without any additional permit.
Requirements for your outdoor area

General
Businesses may request to utilize any parking spaces fully or partially within their store frontage.


Safety

Air flow must be maintained
A minimum, unobstructed width of 4' must be permanently maintained for public pedestrian passage on the sidewalk

Maintain access to all street and sidewalk ground utilities  (e.g. manholes)

A

1

'

buffer from

edge of the parking lane dining area and the a

djacent 

traffic 

lane must be maintained at all times

Do not block visibility for required street signs, crosswalks, and intersections.  Dining area including walls and/or tent overheads sh

ould not block view of traffic

 

from 200

' 

away (about ½ a block)

 

All building exits and exit pathways must be kept clear
Access to building fire protection equipment (PIV, FDC, Riser) and sidewalk fire hydrants must be kept clear.  A fire extinguisher inside the building must be quickly accessible. 

15' clearance from either side of a fire hydrant must be maintained in the parking lane

Movable racks and furniture must be adequately secured, so that they do not roll or are easily tipped over
No stacking of furnishings in outdoor areas
For dining areas set up on private property (e.g. mall parking lots), all fire lane drive aisles should be kept clear.  Also safe drive aisles and pedestrian access to and from the building should be maintained.
For salons, the use of a tent, canopy, or sun shade is required, with no more than one side closed (or two parallel sides closed)

ADA

Restaurants must maintain at least one sidewalk seating, or one of the seatings in the parking space for ADA access. Parking space ADA seatings must include the installation of a temporary ramp from the curb to the parking space
Retail must offer associate assistance to ADA customers for any retail on display in the parking space

In the Parking Lane only: Base
Using the

s

treet surface

 as 

the

base

 

Surface must be accessible by 

an 

ADA ramp from curb

 (maximum slop of 8.3% & raised side rails)

 

or

 

establishment m

ust maintain

 an

 ADA accessible table on the sidewalk

 at all times

 

Plan for how rain may flow in the gutter along your space

Constructing a platform as the base 

Platform base should not be higher than 30" from street surface

 

Platform base must be flush with curb

, gap must not be >½

"

 or a vertical separation >¼

"

 

 

Platforms should allow for curbside drainage flo

w: a

 6

"

 x 6

"

 minimum clear gutter space must be provided along the entire length of the platform

 adjacent to the curb

 

ADA accessibility: maximum cross slop (perpendicular to sidewalk or curb) cannot exceed

 2%. Maximum running slop (parallel to curb) cannot exceed 2%

 

In the Parking Lane only: Barriers/Walls
Simple

barriers

 

C

rowd control barricades must be placed 

between the

 dining area

and adjacent traffic line. Contact Talia.Smith@cityofsanrafael.org or include a request in your application for the City to drop off crowd control barriers for your outdoor dining area. They will be placed by City Maintenance staff free of charge.

Sturdy planters at least 36" high may also be used

 

around dining area

Constructed walls 

Walls

 should range between 

36-42" tall for side parallel to curb, and 17

"

 minimum for sides perpendicular to curb

. 

Full height of structure

 (including posts or framed open windows)

 should not be more than 10' tall

 

Must maintain an minimum 48" wide entry into dining area

 

Edges must be marked with high intensity retro-reflective tape (three, 3" strips) or reflectors to be visible at night

 

Note: The City will install 2 water wall barriers at the end of the dining area that faces oncoming traffic and reflective plastic delineators along the outer edge of the area.

Overhead

 

Tents

or canopies

 

Tent vs. canopy

Tent = closed on 2 sides (no more than 2 sides may be closed)

 

Canopy =

closed

on 1 or no sides

 

A 

permit (from the Fire Department)

 is 

only required when

 tent is >400 

sq

 ft or canopy is >700 

sq

 ft. 

E

stablishments may set up tents

 or canopie

s above dining area that are below these 

thresholds

 without a permit

 

Tents cannot block exit doors or impede access from adjacent buildings

 

Roofs or trellis  overhead

All roof and trellis overhead structures will require a building permit application in addition to the Outdoor Dining Area application below. Visit Building Division webpage and watch the "How to Apply for a Building Permit Online" video to get started. The building permit type is a General Permit. The ordinary building permit fee will be waived for on-street dining structure roofs and trellises.

Construction of any roof

 for your semi-permanent outdoor dining area

, including temporary, must 

comply with the Building Code, and 

require 

approv

al by a

 

licensed

 design professional (engineer or architect)

 in California

 

O

verhead 

cross-beams to hold

 heaters and/or lighting

, or trellis-type structures require 

licensed design professional-

approved plans

 

CA licensed 

design professional

 will need to develop

 plans

 themselves

 or write letter 

that they have approved the plans submitted

 by the establishment

 

Utilities

 

Electrical

 

Battery operated LEDs or solar powered lighting preferred

 

Cords must be rated for outdoor use and meet needed amperage

 

Use a single cord with proper gauge size – do not plug cords together

 

Plug into GFI 

receptacles

 

All cords on the ground must be 

cover

ed

 with heavy duty ADA safe cover

 

Overhead cords must be supported per CA Electrical Code

 

DO NOT staple or nail anything

 

 

Heaters 

For tents and canopies requiring a 

Fire Department permit

, refer to guidance in the permit

 

For tents and canopies not requiring a Fire Department permit, electrical and propane heaters 

may be installed without a permit

. 

Propane heaters 

installed 

must 

have ov

erhead clearances that conform to the manufacturer's specifications from combustibles

 (typically 3

'

 above and on all sides)

 

No heaters shall be placed in the 1

'

 buffer between the dining area and the 

driving lane

 

Unused propane or fuel tanks shall be stored outdoors in a secured area; not stored inside the restaurant

 

Heaters must be secured and 

stabilized

 to prevent tipping over, and must be placed on a flat surface

External links for additional guidance

 

City of San Francisco's Shared Spaces Design Guidelines

 

Jersey City Parklet Guide – utilizes wooden pallets 

Parkcade Guide to Parklets & Streeteries – images for installation of temporary platforms 
New Alcohol Beverage Control (ABC) Regulatory Relief for Restaurants
ABC's COVID-19 Temporary Catering Authorization authorizes on-sale privileges to a property that is adjacent to the licensed premises so long as the property is under the control of the licensee, and where bona fide meals are being served and in accordance with state and local health and safety directives. Learn more.
Restaurants that wish to expand their permitted alcohol sales may do so by filing both of the following forms:
These forms may be turned into an ABC office via mail or in person. A check or money order of $100 will be accepted, no credit card payments.
See ABC's FAQ here and additional guidance by license type here.
DISCLAIMER: The Temporary Outdoor Dining, Retail and Salon permit applications are pilot programs and subject to change or termination at any time in the discretion of the City of San Rafael.  Individual permits may also be revoked by the City if the City determines the applicant is in violation of the permit requirements. The conditional temporary permits authorized by these pilot programs are subject to all provisions of San Rafael Municipal Code Section 11.04.030, including the duty to indemnify the City of San Rafael for injuries to persons or damage to public or private property as set forth in Section 11.04.030.040.
Application for Outdoor Dining Area (NOT Building Permit application)