The current public health state of emergency due to COVID-19 has created severe financial burdens for the City's residents and businesses, as it has all across the country and globe. The restrictions put into place through the public health order have taken an unprecedented toll on our federal, state, and local economy.
As of April 30, it is preliminarily projected that over the next 16 months, the City will experience reductions in revenue in the range of approximately $11,790,000, which is 14% of the City's General Fund budget. The breakdown of this financial hit is as follows: 71% of the revenue reductions are due to loss of sales and TUT, 10% is attributed to TOT, 6% is attributed to business licenses and the remaining 13% is an accumulation of several smaller revenue generating sources.
Economists are predicting cities such as San Rafael who are heavily reliant on sales tax, transaction and use tax (TUT), and transient occupancy tax (TOT) will endure the hardest financial hit.
While the fiscal year 2019-20 general fund budget for operating expenses was more than $80 million, approximately $43 million or more than 53% was for the funding of public safety operations. Although staff is recommending reductions to these operations, the majority is planned to come from the non-public safety operating budget. Theoretically, if staff was asked to make cuts of $12 million solely in non-public safety areas, it would take closing down the libraries, eliminating all recreation activities, cutting community development services and we still would not get to the target amount.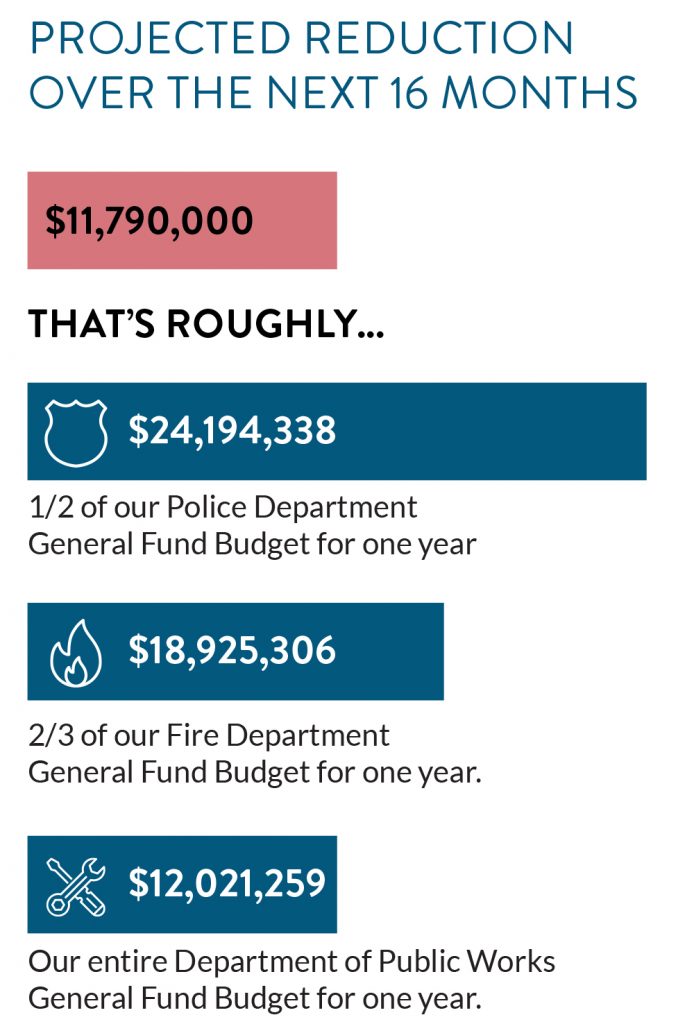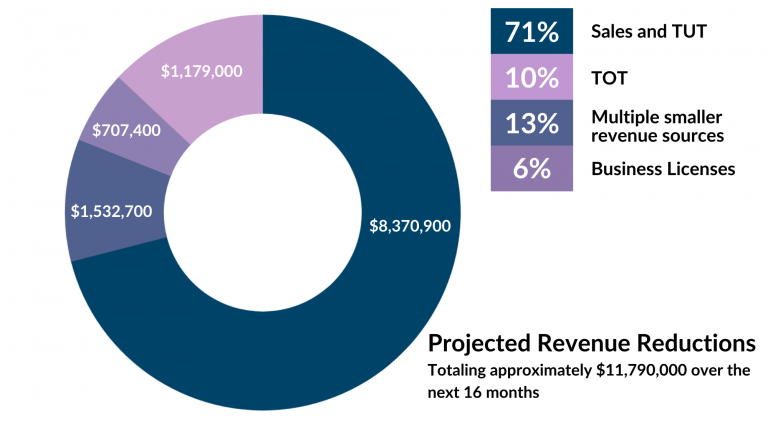 The economic impacts of the pandemic and shelter in place orders have a direct negative impact on our local businesses and the revenues used to operate our city. To meet our financial challenges, the City is taking steps that will create a balanced budget for fiscal year 2020-21 in line with the City Council's goals and strategies. Budget development is guided by tenets such as:
Continually assess and improve efficiency in the delivery of services.
Manage the size and compensation of the workforce to best deliver services given our current and anticipated financial realities.
Seek additional revenues from all sources to meet the community's expectations of a high level of service.
Collaborate with other Marin governmental agencies to consider partnerships and/or regionalized services to leverage resources and improve efficiency.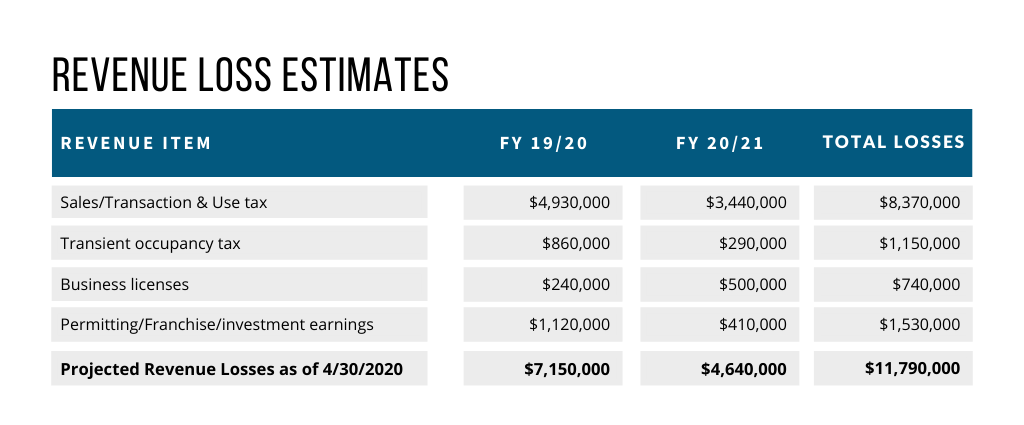 There are a number of efforts and programs that will be necessary to reduce expenses and increase revenues. In an effort to meet the revenue loss estimates, the below table lists current and potential future actions. A hiring freeze has already been instituted which would result in approximately $1.4 million in savings annually. The City Council approved a mandatory furlough program for non-safety employees which is expected to save approximately $700,000 for the year. This would reduce non-public safety compensation by 5%. The City Council also approved a Voluntary Retirement Separation Program which will result in on-going salary and benefit savings to the City by not filling the vacant positions or restructuring around the vacancies. This program is expected to yield approximately $600,000 but it is completely dependent upon the number of applications and selections.
The Council additionally approved a Voluntary Work Hours Reduction Program. This program will depend upon the number and position of the employees participating and would lower that employee's base annual pay for a period of time. These measures will significantly help to address the projected General Fund deficit, however additional efforts will be needed including using one-time funds available from the prior year and use of the City's Emergency Reserve.
Following the Great Recession, the City has been able to build its Emergency Reserves from less than 3% to meet its policy of 10%. While a reserve figure of 15% or 20% would be optimal, the below chart illustrates reducing our reserve by a total of 5% (bringing it to 5%) through Fiscal Year 20/21. Even with these reductions, an additional $4.2 million could be needed to meet the estimated revenue losses.