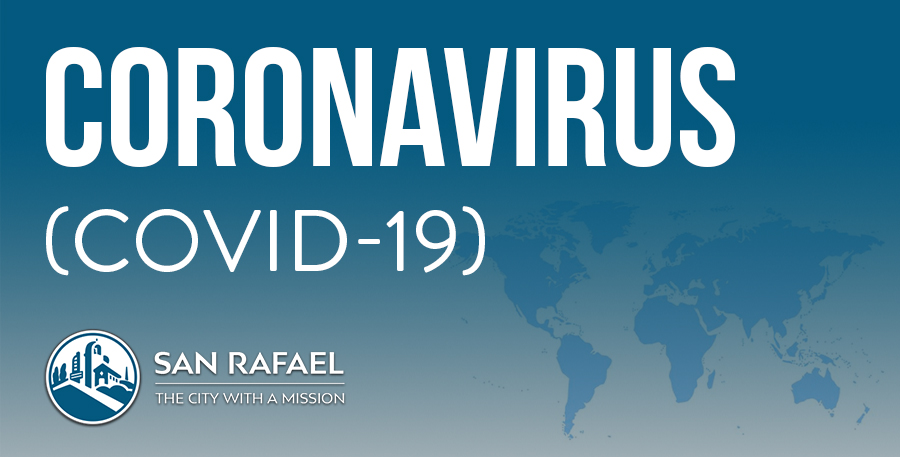 DESPLAZARSE HACIO ABAJO PARA ESPAÑOL
City of San Rafael staff is continuing to respond to the impacts of the shelter-in-place order due to the Coronavirus (COVID-19). Over the past few days we have been working with community and partner agencies to find solutions to serve San Rafael's most vulnerable populations. We are also continuing to develop alternatives to deliver City services digitally or in a way that helps protect the health of the public and our staff.
Watch Video Updates from Marin HHS:
COVID-19 Video updates from Marin HHS are available on YouTube.
Subscribe to be alerted when they post a new video.
COVID-19 Updates   |    Frequently Asked Questions
---
What Businesses are Open?
We have been working in coordination with the Chamber of Commerce and Downtown Business Improvement District to maintain a list of San Rafael businesses that are open for service including take-out and delivery. We will continue to update this list as the situation evolves. Residents are encouraged to call before going as business availability will likely change throughout this event.
Find Open Businesses in San Rafael
---
Resources for Aging Population, Disabled, and Low-Income
Aging and Adult Services
Marin Health and Human Services is supporting essential services for older adults, disabled, and low-income members of the public. Their hotline is staffed by trained social workers and they are working on mobile food distribution and medication delivery. Whistlestop  is also continuing to provide vital services such as home delivered meals, takeout meals from the Jackson Café, and providing specialized transportation services.
Information and Assistance – for older adults, persons with disabilities, and family caregivers: (415) 457 INFO (415-457-4636)
Learn More: https://www.marinhhs.org/aging-adult-services
---
Meals for Kids
San Rafael City Schools (SRCS) will be hosting a food pantry for SRCS families every Friday starting March 20th, 2020. Food distribution is being scheduled by school and families have been notified by San Rafael City Schools on scheduling and food distribution rules that follow guidelines for social distancing.
Information and updates are available at the SRCS website: https://www.srcs.org/
---
Assistance for Residents in the Canal Neighborhood
The City has been collaborating with Canal Alliance and other partner agencies working in the Canal neighborhood to provide assistance and services. Canal Alliance is also operating a Crisis Communication Center and serving the community through outreach and phone services. They are working hard to help communicate with the canal community and to help with food services, legal services, financial assistance and technology assistance during the COVID-19 pandemic.
---
Supporting Individuals Experiencing Homelessness
Multiple efforts are underway to protect the health, safety, and continuity of services for our most vulnerable population.
Food – We are working with the County of Marin to distribute food for our individuals who are experiencing homelessness. Bagged lunches will be distributed  daily from 11:00am-1:00pm at St. Vincent de Paul.
Mobile Showers –We are setting up mobile showers twice a week at the San Rafael Community Center. Showers will be available Monday  and  Thursday  12:00pm – 3:00pm (starting Thursday, March 18, 2020).
Portable Toilets – We are distributing ADA compliant, portable restrooms to strategic locations to support those who typically rely on public restrooms.
Handwashing Stations – We have set up handwashing stations throughout the City at the San Rafael Public Library, Boyd Park, St. Vincent de Paul, and at Bellam and E. Francisco Blvd. (across from Burger King).
---
How Can You Help? – Volunteer Opportunities
The Center for Volunteer and Non Profit Leadership (CVNL) is actively looking for volunteers. Volunteers should be healthy and not at increased risk of infection for COVID-19. Volunteers are urgently needed to help our local communities in Sonoma, Napa, Marin, Solano and other Bay Area counties to stay healthy by engaging in activities such as:
helping to pack boxes of nonperishable food at food bank warehouses
picking up and delivering meals for homebound older adults
delivering supplies to assisted living facilities
Learn more about volunteering with CVNL at:
---
Where Can I Find Information and Updates?
Updates on Coronavirus in Marin County
For the most up-to-date information on COVID-19 in Marin County please visit the Marin Health and Human Services Website :
https://coronavirus.marinhhs.org/  |   Marin County COVID-19  FAQs
---
COVID-19 Hotline and Public Health Email
Call: 415-473-7191
Email: COVID-19@marincounty.org
---
City of San Rafael Coronavirus Information
https://www.cityofsanrafael.org/coronavirus
---
City of San Rafael COVID-19 Business Resources
https://www.cityofsanrafael.org/coronavirus-business-resources/
Actualización diaria
El personal de la Ciudad de San Rafael continúa respondiendo a los impactos de la orden de refugio en el lugar debido al Coronavirus (COVID-19). En los últimos días, hemos estado trabajando con agencias comunitarias y colaboradoras para encontrar soluciones que sirvan a las poblaciones más vulnerables de San Rafael. También continuamos desarrollando alternativas para brindar servicios municipales digitalmente o de una manera que ayude a proteger la salud del público y de nuestro personal. 
Vea las actualizaciones de video de Marin HHS: 
COVID-19 Las actualizaciones de video de Marin HHS están disponibles en YouTube. 
Suscríbase para recibir alertas cuando publiquen un nuevo video.

Actualizaciones de COVID-19 
---
¿Qué negocios están abiertos?
Hemos estado trabajando en coordinación con la Cámara de Comercio y el Distrito de Mejoramiento Comercial del Centro para mantener una lista de las empresas de San Rafael que están abiertas para el servicio, incluyendo la entrega de alimentos y para llevar. Continuaremos actualizando esta lista a medida que evolucione la situación. Se recomienda a los residentes que llamen antes de ir, ya que la disponibilidad comercial probablemente cambiará durante este evento. 
---
Recursos para el envejecimiento de la población, discapacitados y de bajos ingresos
Envejecimiento y servicios para adultos
Marin Health and Human Services apoya servicios esenciales para adultos mayores, discapacitados y miembros del público de bajos ingresos. Su línea directa cuenta con trabajadores sociales capacitados y trabajan en la distribución móvil de alimentos y la entrega d
---
e medicamentos. Whistlestop también continúa brindando servicios vitales como comidas a domicilio, comidas para llevar del Jackson Café y servicios de transporte especializados. 
Información y asistencia: para adultos mayores, personas con discapacidades y cuidadores familiares: (415) 457 INFO (415-457-4636) 
Aprende Más: https://www.marinhhs.org/aging-adult-services 
---
Comidas para Niños
Las Escuelas de la Ciudad de San Rafael (SRCS) organizarán una despensa de alimentos para las familias de SRCS todos los viernes a partir del 20 de marzo de 2020. La escuela está programando la distribución de alimentos y las Escuelas de la Ciudad de San Rafael han notificado a las familias sobre la programación y las reglas de distribución de alimentos que siguen las pautas para el distanciamiento social. 
La información y las actualizaciones están disponibles en el sitio web de SRCS: https://www.srcs.org/ 
---
Asistencia para residentes en el vecindario del Canal
La Ciudad ha estado colaborando con Canal Alliance y otras agencias asociadas que trabajan en el vecindario del Canal para proporcionar asistencia y servicios. Canal Alliance también opera un Centro de Comunicación de Crisis y sirve a la comunidad a través de servicios de extensión y telefónicos. Están trabajando arduamente para ayudar a comunicarse con la comunidad del canal y para ayudar con los servicios de alimentos, servicios legales, asistencia financiera y asistencia tecnológica durante la pandemia de COVID-19.
---
Apoyando a las personas que experimentan la falta de vivienda
Se están realizando múltiples esfuerzos para proteger la salud, la seguridad y la continuidad de los servicios para nuestra población más vulnerable. 
Comida – Estamos trabajando con el Condado de Marin para distribuir alimentos para nuestros individuos que están sin hogar. Los almuerzos en bolsas se distribuirán diariamente de 11:00 a.m. a 1:00 p.m. en St. Vincent de Paul.
Duchas móviles – Estamos organizando duchas móviles dos veces por semana en el Centro Comunitario de San Rafael. Las duchas estarán disponibles de lunes a jueves de 12:00 p.m. a 3:00 p.m. (a partir del jueves 18 de marzo de 2020).
Baños Portátiles– Estamos distribuyendo baños portátiles que cumplen con ADA a ubicaciones estratégicas para apoyar a aquellos que generalmente dependen de los baños públicos. 
Estaciones de lavado de manos – Hemos establecido estaciones de lavado de manos en toda la ciudad en la Biblioteca Pública de San Rafael, Boyd Park, St. Vincent de Paul y en Bellam y E. Francisco Blvd. (Frente a Burger King). 
---
¿Como puedes ayudar? – Oportunidades para voluntarios
El Centro de Liderazgo Voluntario y Sin Fines de Lucro (CVNL) está buscando voluntarios de manera activa. Los voluntarios deben estar sanos y no tener un mayor riesgo de infección por COVID-19. Se necesitan urgentemente voluntarios para ayudar a nuestras comunidades locales en Sonoma, Napa, Marin, Solano y otros condados del Área de la Bahía a mantenerse saludables al participar en actividades tales como: 
ayudar a empacar cajas de alimentos no perecederos en los almacenes de los bancos de alimentos

 

recoger y entregar comidas para adultos mayores confinados en su hogar

 

entrega de suministros a instalaciones de vivienda asistida

 
Obtenga más información sobre el voluntariado con CVNL en: https://cvnl.org/covid19help 
---
¿Dónde puedo encontrar información y actualizaciones?  
Actualizaciones sobre Coronavirus en el Condado de Marin   
Para obtener la información más actualizada sobre COVID-19 en el Condado de Marin, visite el sitio web de Salud y Servicios Humanos de Marin: https://coronavirus.marinhhs.org/  
Línea directa COVID-19 y correo electrónico de salud pública  
llame: 415-473-7191
correo electrónico: COVID-19@marincounty.org  
---
Preguntas frecuentes sobre la orden de salud pública  
El Condado de Marin ha desarrollado una lista de Preguntas frecuentes y está trabajando para actualizar esta lista a medida que haya más información disponible. Este es el mejor recurso para aclarar cómo debe responder a la orden de refugio en el lugar y qué empresas y servicios se ven afectados.  
Preguntas frecuentes sobre el Condado de Marin COVID-19
---
Información sobre coronavirus en la ciudad de San Rafael  
Estamos trabajando diariamente para desarrollar soluciones para la continuidad del servicio y el acceso remoto a los servicios de la Ciudad. Continuaremos actualizando la información a medida que esté disponible en nuestro sitio web de Coronavirus.  
Para obtener información sobre los impactos en los servicios de la Ciudad de San Rafael, enlaces a recursos relacionados y preguntas frecuentes, visite: https://www.cityofsanrafael.org/coronavirus  
---
Ciudad de San Rafael COVID-19 Recursos empresariales  
Estamos trabajando para reunir recursos para apoyar a nuestras empresas locales y sus empleados. Continuaremos actualizando esta página a medida que haya más recursos disponibles.  
https://www.cityofsanrafael.org/coronavirus-business-resources/