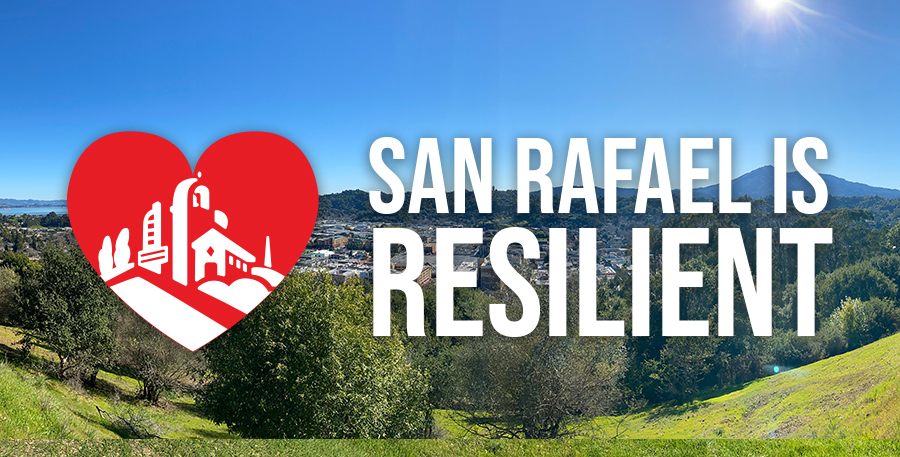 DESPLAZARSE HACIO ABAJO PARA ESPAÑOL
Every year during the second week of April, the telecommunications personnel in the public safety community are honored. National Public Safety Telecommunications week began in 1981, in the Bay Area! It's a time to recognize and thank those who dedicate their lives to serving the public, even during the most difficult of times.  
We honor our San Rafael Police and Fire Department 911 Dispatchers who are the calm and steady link that make our public safety departments work. Our telecommunicators are often the lifeline between citizens in need of assistance and the first responders who will provide that help. Should you ever need to dial 9-1-1, rest assured that in a time of emergency, you will always be in the hands of the most dedicated and caring professionals anywhere.
Thank you, Dispatchers!
---
San Rafael COVID-19 Disaster Relief Fund 
A San Rafael Small Business COVID-19 Disaster Relief Fund (the "Relief Fund") has been created to help small businesses struggling to maintain cash flow and financial solvency during these unprecedented times. 
Read about the Disaster Relief Fund to review eligibility requirements and complete the application by visiting our Coronavirus Business Resource page. 
On Friday, April 17, San Rafael Mayor Gary Phillips will discuss the relief fund created through a public-private partnership to help small business in San Rafael who have been affected by the coronavirus pandemic. Joining Mayor Phillips will be Danielle O'Leary, San Rafael Economic Development Director and Russell Colombo, President and CEO of Bank of Marin.  
Subscribe to our YouTube Channel to get notified when the discussion gets posted! 
MORE INFO AND ONLINE APPLICATION
---
Update on COVID-19 Fund of MCF 
The Marin Community Foundation established the COVID-19 Fund of MCF to provide financial support to individuals and families who are in most immediate need. Thanks to quick-response support from donors and generous Marin residents, over $1,000,000 has been contributed to the fund! 
Moving forward, all donations to the fund will be dedicated to providing rental assistance to the most vulnerable members of our community. Please consider donating to help keep Marin residents housed during this challenging time! 
---
Dr. Matt Willis Video + COVID-19

Data

Updates
Dr. Matt Willis is back with another video update. He provides an update on COVID-19 activity in Marin and breaks down the latest numbers. Data related to confirmed cases in the county is publicly available and updated daily on the Marin Health and Human Services website. Dr. Willis also expresses gratitude for your well-wishes during his recovery from COVID-19. 
---
County Fair Cancelled
The 2020 Marin County Fair: The Soaring 2020s will not take place this year. The Marin Center Campus and Fairgrounds have been reserved as a resource for the COVID-19 emergency. The decision was made in conversation with Marin County Public Health as a part of a community-wide effort to flatten the curve of the pandemic. The Marin County Fair has been a summer staple for celebration and community since 1946. We look forward to coming together again in July 2021. 
---
Reusable Bags Prohibited 
If you've ventured to the grocery store since the March 31 updated order, you've likely noticed some significant changes. As part of the update, essential businesses were required to adopt and post a host of new measures to ensure social distancing, increase sanitation, and prevent unnecessary contact. One of these measures is prohibiting customers from bringing reusable items such as mugs and bags. Leave your trusty stash of reusable bags at home, and don't forget to thank our grocery store workers! 
---
REMINDERS 
TONIGHT:

Marin

Telephone Town Hall to provide the latest updates on our response to the coronavirus

, 6:30 p.m.

 
How to attend: 

Dial 844-767-5679, enter code 204015 and follow the prompts. You will be connected to the live town hall via telephone and you will be able to listen to the speakers providing critical updates.

The town hall will be limited to the first 1,000 participants.

 

How to ask a question and get involved with the Town Hall:

 Email your questions and comments in advance and in real time during the telephone

town hall to: 

Senator.McGuire@Senate.ca.gov

 
---
Miercoles, Abril 15, 2020
Todos los años, durante la segunda semana de abril, se honra al personal de telecomunicaciones de la comunidad de seguridad pública. ¡La semana nacional de telecomunicaciones de seguridad pública comenzó en 1981, en el área de la bahía! Es un momento para reconocer y agradecer a quienes dedican sus vidas a servir al público, incluso en los momentos más difíciles.
Honramos a nuestros Despachadores del 911 del Departamento de Bomberos y Policía de San Rafael, que son el vínculo tranquilo y constante que hace que nuestros departamentos de seguridad pública funcionen. Nuestros telecomunicadores son a menudo la línea de vida entre los ciudadanos que necesitan asistencia y los primeros en responder que brindarán esa ayuda. Si alguna vez necesita marcar 9-1-1, puede estar seguro de que en caso de emergencia, siempre estará en manos de los profesionales más dedicados y atentos en cualquier lugar.
¡Gracias despachadores!
---
Fondo de ayuda para desastres de San Rafael COVID-19
Se creó un Fondo de Ayuda para Desastres COVID-19 para Pequeñas Empresas de San Rafael (el "Fondo de Ayuda") para ayudar a las pequeñas empresas que luchan por mantener el flujo de efectivo y la solvencia financiera durante estos tiempos sin precedentes.
Lea sobre el Fondo de Ayuda para Desastres para revisar los requisitos de elegibilidad y completar la solicitud visitando nuestra página de Recursos Comerciales de Coronavirus.
El viernes 17 de abril, el alcalde de San Rafael, Gary Phillips, discutirá el fondo de ayuda creado a través de una asociación público-privada para ayudar a las pequeñas empresas en San Rafael que han sido afectadas por la pandemia de coronavirus. Se unirán al alcalde Phillips Danielle O'Leary, directora de desarrollo económico de San Rafael y Russell Colombo, presidente y director ejecutivo de Bank of Marin.
¡Suscríbase a nuestro canal de YouTube para recibir notificaciones cuando se publique la discusión!
MÁS INFORMACIÓN Y APLICACIÓN EN LÍNEA
---
Actualización sobre el Fondo COVID-19 de MCF
La Marin Community Foundation estableció el Fondo COVID-19 de MCF para brindar apoyo financiero a las personas y familias que tienen una necesidad más inmediata. Gracias al apoyo de respuesta rápida de los donantes y los generosos residentes de Marin, ¡se han contribuido más de $ 1,000,000 al fondo!
En el futuro, todas las donaciones al fondo se dedicarán a proporcionar asistencia de alquiler a los miembros más vulnerables de nuestra comunidad. ¡Considere donar para ayudar a mantener a los residentes de Marin alojados durante este momento difícil!
---
Dr. Matt Willis Video + Actualizaciones de datos COVID-19
El Dr. Matt Willis regresó con otra actualización de video. Proporciona una actualización sobre la actividad de COVID-19 en Marin y desglosa los últimos números. Los datos relacionados con casos confirmados en el condado están disponibles públicamente y se actualizan diariamente en el sitio web de Marin Health and Human Services. El Dr. Willis también expresa gratitud por sus buenos deseos durante su recuperación de COVID-19.
---
Feria del Condado cancelada
La Feria del Condado de Marin 2020: The Soaring 2020s no tendrá lugar este año. El campus del Marin Center y el recinto ferial se han reservado como un recurso para la emergencia COVID-19. La decisión se tomó en conversación con el Departamento de Salud Pública del Condado de Marin como parte de un esfuerzo de toda la comunidad para aplanar la curva de la pandemia. La Feria del Condado de Marin ha sido un elemento básico de verano para la celebración y la comunidad desde 1946. Esperamos reunirnos nuevamente en julio de 2021.
---
Bolsas reutilizables prohibidas
Si se ha aventurado en la tienda de comestibles desde el pedido actualizado el 31 de marzo, es probable que haya notado algunos cambios significativos. Como parte de la actualización, las empresas esenciales debían adoptar y publicar una serie de nuevas medidas para garantizar el distanciamiento social, aumentar el saneamiento y evitar contactos innecesarios. Una de estas medidas es prohibir que los clientes traigan artículos reutilizables como tazas y bolsas. ¡Deje su confiable alijo de bolsas reutilizables en casa y no se olvide de agradecer a nuestros trabajadores de supermercados!
---
RECORDATORIOS
ESTA NOCHE: Marin Telephone Town Hall para proporcionar las últimas actualizaciones sobre nuestra respuesta al coronavirus, 6:30 p.m.
Cómo asistir: marque 844-767-5679, ingrese el código 204015 y siga las indicaciones. Se lo conectará al ayuntamiento en vivo por teléfono y podrá escuchar a los oradores que brindan actualizaciones críticas. El ayuntamiento estará limitado a los primeros 1,000 participantes.  
Cómo hacer una pregunta e involucrarse con el Ayuntamiento: envíe sus preguntas y comentarios por correo electrónico con anticipación y en tiempo real durante el ayuntamiento por teléfono a:  

Senator.McGuire@Senate.ca.gov

 
---