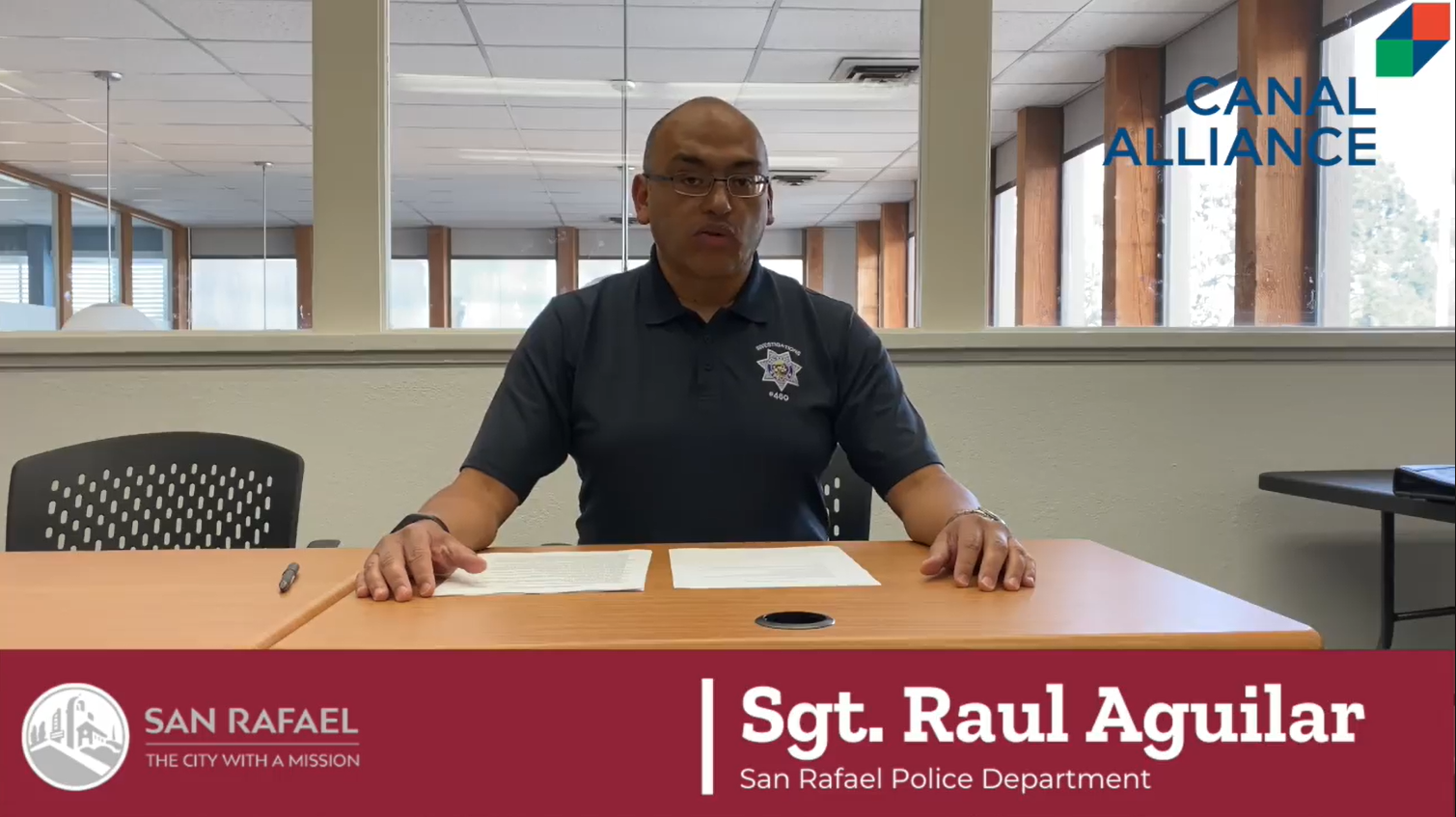 DESPLAZARSE HACIO ABAJO PARA ESPAÑOL
The Marin Health and Human Services website has been the hub for the most up-date information regarding the Coronavirus (COVID-19) pandemic. Over the weekend, they updated their frequently asked questions to reflect the most common questions asked over the last week, from what trades may continue working to riding public transit, and what to do if you're feeling sick. They have expanded it significantly, so if you have a question, you are likely to find the answer there.
MarinHHS also created a data website which displays a breakdown of confirmed cases by age or gender using simple graphs to depict this data, this information is updated at the end of each day.
Video Updates
COVID-19 Video updates from Marin HHS are available on YouTube. These are updated regularly to keep our community informed. Click "subscribe" on their YouTube channel to be alerted when a new video is posted.
---
Do You Know What Today Is?

 
Monday, March 30 is not just another day, it's widely recognized as National Doctors' Day in honor of medical professionals for their dedication and contributions to the communities they serve. Doctor's Day has been in observance since March 30, 1933. So, as we find ourselves in this unprecedented medical crisis, we thank the women and men who risk their lives to help others, we are grateful—today and every day. 
---
Remote Family Time
For some of us, the shelter in place order has disrupted anticipated travel plans to spend time with family, such as over Easter weekend. Remember that by staying home, you are protecting those you love most.  
Take advantage of video calling via free platforms such as Zoom, Google Duo or Skype. Need help getting started with your platform of choice? San Rafael Public Library staff are available to help via the library chat! 
---
Social Distancing & Parks

 

 
To better help community members understand the importance of social distancing and our parks, the San Rafael Police Department created informational videos in English and Spanish. They remind us to shelter in place, leaving only for essential travel, such as going to the doctor or making a trip to the grocery store. If you want to exercise or get some fresh air, enjoy a neighborhood walk or jog. Parks are closed to vehicular access. Remember to maintain the social distancing guidelines when interacting with others.
---
SF • Marin Food Bank Creates Additional Resources
As an essential service, the Food Bank continues evolving its services to meet the growing needs of individuals and families affected by the coronavirus pandemic. Although this dynamic crisis presents challenges to delivering services to the most vulnerable, the SF • Marin Food Bank has launched pop-up food pantries and home delivery services all while supporting existing pantries and focusing on safety during the COVID-19 emergency.  
Marin County residents age 60 and older can call 415-457-INFO to access food services. The County's home delivered meal program has been expanded to include those older adults who are now homebound as a result of the Coronavirus crisis and who do not feel safe going to the grocery store and may not have a friend, family member, or neighbor that can help purchase and deliver groceries. Additionally, certain older or disabled adults who are Medi-Cal eligible may qualify for In–Home Supportive Services. Finally, meal delivery services also exist for Marin residents of any age who have chronic medical conditions and need specialized menu items. More info
---
Your Remote Library 
The San Rafael Public Library is still here for you while you shelter at home. All your favorite library staff are available during regular library hours through our online chat. To learn about all of our remote offerings or to reach us through our chat widget, check out the library website. 
---
Lunes, 30 de Marzo 2020
El sitio web de Marin Health and Human Services MarinHHS ha sido el centro de la información más actualizada sobre la pandemia de coronavirus (COVID-19). Durante el fin de semana, actualizaron sus preguntas frecuentes (FAQ) para reflejar las preguntas más frecuentes formuladas durante la última semana. Se puede encontrar información sobre que oficios pueden seguir trabajando, viajando en transporte público, y qué hacer si se siente enfermo. Lo han ampliado significativamente, si tiene una pregunta, es probable que encuentre la respuesta allí.
MarinHHS también creó un sitio web de datos que muestra un desglose de casos confirmados por edad o género utilizando gráficos simples para representar estos datos, esta información se actualiza al final de cada día.
---
Tiempo 

F

amiliar 

R

emoto
Para algunos de nosotros, el orden de refugio en el lugar ha interrumpido los planes de viaje anticipados para pasar tiempo con la familia. Recuerda que al quedarte en casa, estás protegiendo a los que más amas. 
Aproveche las videollamadas a través de plataformas gratuitas como Zoom, Google Duo o Skype. ¿Necesita ayuda para comenzar con su plataforma de elección? ¡El personal de la Biblioteca Pública de San Rafael está disponible para ayudar a través del chat de la biblioteca! 
---
Distancia

Social y P

arques
Para ayudar mejor a los miembros de la comunidad a comprender la importancia del distanciamiento social y nuestros parques, el Departamento de Policía de San Rafael creó videos informativos en inglés y español. Nos recuerdan que debemos refugiarnos en el lugar, dejando solo para viajes esenciales, como ir al médico o hacer un viaje a la tienda de comestibles. Si desea hacer ejercicio o tomar aire fresco, disfrute de una caminata en el vecindario. Los parques están cerrados al acceso vehicular. Recuerde mantener las pautas de distanciamiento social. 
---
SF • 

Marin

 

Food

Bank C

rea

R

ecursos

A

dicionales
Como un servicio esencial, el banco de alimentos continúa evolucionando sus servicios para satisfacer las crecientes necesidades de las personas y familias afectadas por la pandemia de coronavirus. Aunque esta crisis dinámica presenta desafíos para la prestación de servicios a los más vulnerables, SF • Marin Food Bank ha lanzado despensas de alimentos emergentes y servicios de entrega a domicilio, al tiempo que apoya las despensas existentes y se centra en la seguridad durante la emergencia de COVID-19. 
Los residentes del Condado de Marin de 60 años o más pueden llamar al 415-457-4636 para acceder a los servicios de alimentos. El programa de comidas a domicilio del condado se ha ampliado para incluir a los adultos mayores que ahora están confinados a sus hogares como resultado de la crisis de Coronavirus y que no se sienten seguros al ir al supermercado y es posible que no tengan un amigo, familiar o vecino que pueda Ayudar a comprar y entregar comestibles. Además, ciertos adultos mayores o discapacitados que son elegibles para Medi-Cal pueden calificar para los Servicios de apoyo en el hogar. Finalmente, los servicios de entrega de comidas también existen para los residentes de Marin de cualquier edad que tienen afecciones médicas crónicas y necesitan elementos de menú especializados. 
MÁS INFORMACIÓN, DONAR, VOLUNTARIO
---
Su 

B

iblioteca 

R

emota
La Biblioteca Pública de San Rafael todavía está aquí para usted. Todo su personal de biblioteca favorito está disponible durante las horas regulares de la biblioteca a través de nuestro chat en línea. Para conocer todas nuestras ofertas remotas o contactarnos a través de nuestro widget de chat, visite el sitio web de la biblioteca.