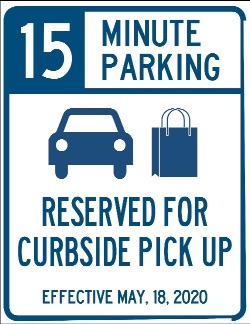 Last Friday it was announced that curbside retail is being permitted in Marin County starting today, Monday, May 18, but as a shopper, what does that actually mean? 
Curbside retail is one of the first steps in reopening our economy and it's a great opportunity for community members to support our local San Rafael retailers and begin engaging with our favorite merchants again. Shoppers participating in retail curbside pickup can utilize designated parking spots along Fourth Street where "RESERVED FOR RETAIL CURBSIDE PICKUP" signs have been installed for your convenience, no payment required. Additionally, if you park in one of our downtown parking garages, the first hour is free! If you drive to the store, make sure to keep streets and bike lanes clear. 
Not all retailers have or will opt into the opportunity to participate in retail curbside pickup, so be sure to contact the business in advance before jumping online to place an order for pickup or showing up to do some window shopping. Yep, that's right! Some businesses are offering their customers the option to browse inventory from the window, select items for purchase, and execute payment from the sidewalk, but that's up to each business. Remember to wear your face covering and avoid congregating to maintain social distancing.  
Check marinrecovers.com/retail/ for shopping guidance as the reopening process continues to expand.  
MARIN RECOVERS:  https://marinrecovers.com/retail/ 
---
Parks and Motorized Access
Have you heard? Good news for all you fans of the great outdoors—many of our Marin parks and open spaces have reopened motorized vehicle access! This means, you can once again drive to and park at some of your favorite trailheads and park facilities. Not all parks have reopened motorized vehicle access; check this list from Marin County Parks before heading out. Additionally, City of San Rafael Parks are all open to vehicular access, but please be aware that amenities like playgrounds and picnic areas are still closed. While enjoying outdoor activities, please remember to stay 6-feet away from people not in your household and bring your face covering. 
MORE INFO: https://www.marincounty.org/main/county-press-releases/press-releases/2020/hhs-covid-motorizedaccess-051520 
---
COVID
-19
 Fi
nancial
 Report 
presented
 to 
City 
Council Tonight
At the last City Council meeting, staff presented a report on preliminary financial impacts that projects revenue losses of almost $12M through July 2021. At tonight's meeting, staff is presenting a draft COVID-19 Economic Recovery Plan; the purpose of the plan is to communicate short- and long-term actions for how the City plans to economically recover from the public health and on-going financial crisis. 
Tune into the City Council meeting at 7 p.m. tonight. Other items on the agenda include capital improvement planning, an annual housing report, Plan Bay Area 2050, and more! Participate live via YouTube or by telephone, using the number provided in the video description.  
MORE INFO: https://www.cityofsanrafael.org/city-council-meetings/ 
---
Reminders