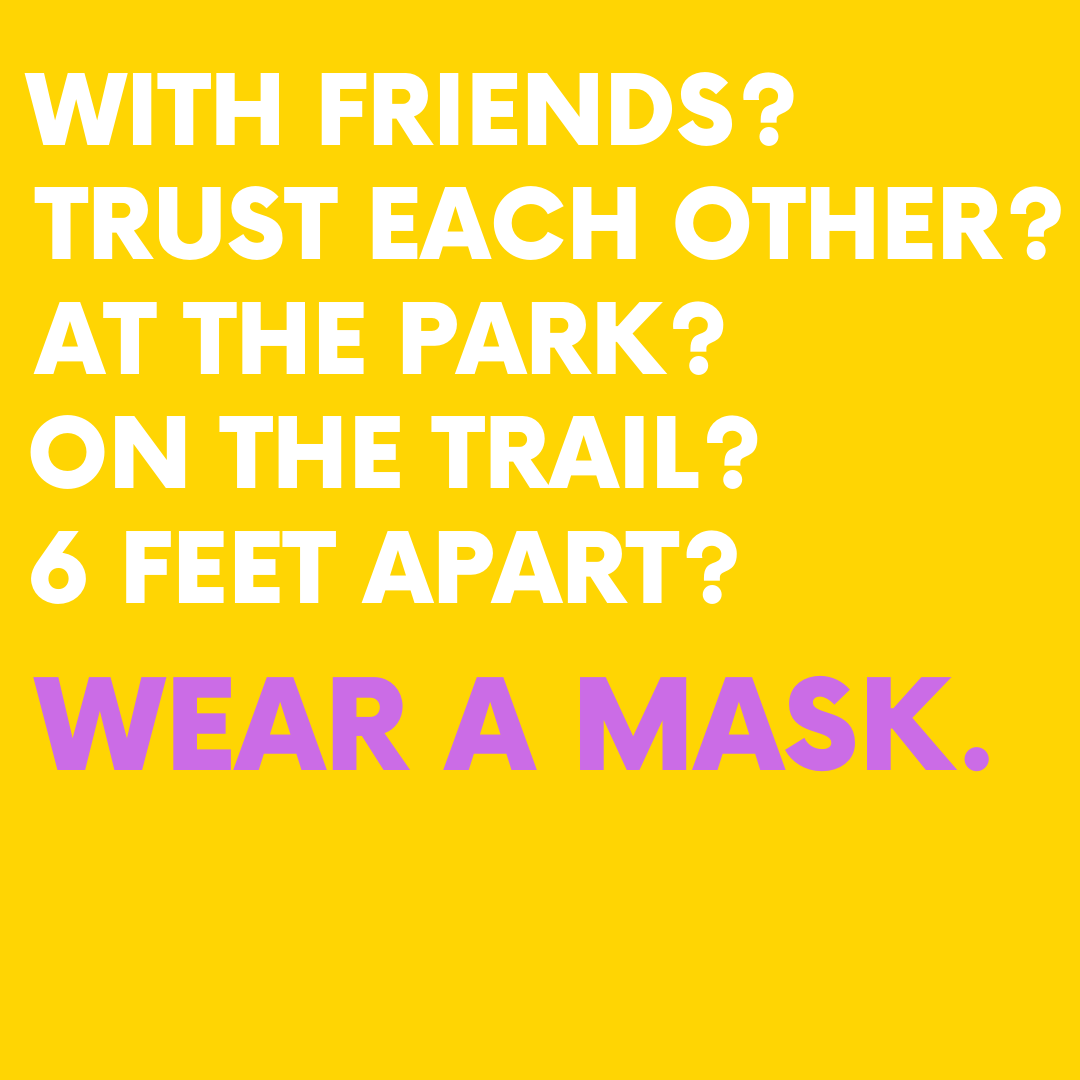 It's no secret that COVID-19 is dynamic, from how long the virus lives on various surfaces to the level at which some are affected by the virus compared to others. It can feel complex and exhausting in the ways in which we must be on guard to protect ourselves and others at all times. COVID-19 safety measures, including wearing a mask, are still more important than ever. 
Remember why you're wearing it
Wearing a mask is an essential part of curtailing this pandemic. You may "feel fine" but could by carrying the virus and wearing a mask protects everyone around you. Invest in a few cloth face masks that are machine washable and keep one in the car or by your front door because every time you wear it, you do your part in helping us overcome the virus. 
Don't just wear it
;
w
ear it right
.
Just putting on your mask might not be enough – are you wearing it correctly? Does it cover both your nose and your mouth? Is it secured to your face so that you don't have to worry about it falling off? Remember that a secure fitting and correctly worn mask is one of the most effective ways to curtail the spread of viral germs in the pandemic, so wear it right. 
---
Coronavirus Telephone Town Hall with Senator Mike McGuire
Senator Mike McGuire will be talking with Public Health Officers from Marin and Sonoma Counties, as well as an infectious disease physician from University of California health system. These medical professionals will provide the latest information on the recent coronavirus surges and will look ahead at what our region should expect with the pandemic in the months to come. 
Who: Senator Mike McGuire; Sonoma County Public Health Officer Dr. Sundari Mase; Marin County Public Health Officer Dr. Matt Willis; and UCLA infectious disease physician Dr. Brewer 
What: Telephone Town Hall providing the latest updates on the coronavirus 
When: Wednesday, August 5 at 6:30pm  
How to attend: Dial 877-226-8216, enter code 1762144 and follow the prompts. You will be connected to the live town hall via telephone and you will be able to listen to the speakers providing critical updates. The town hall will be limited to the first 1,000 participants. 
---
The Eviction Moratorium
The Marin County-wide eviction moratorium has been extended through the end of September 2020. This means landlords may not evict a tenant for non-payment of rent, if the tenant is unable to pay rent due to financial impacts related to COVID-19. No late fees or penalties may be added by landlords for late payments. If you or someone you know is being evicted because they cannot pay their rent due to a COVID-19 related hardship—there's help; call Legal Aid of Marin at 415-492-0230. 
Landlords
If you're concerned about how to pay your mortgage due to the coronavirus national emergency, visit the Consumer Financial Protection Bureau for information on what to do and what your options are for mortgage relief. 
---
State Outlines Criteria for Waivers Allowing Classroom Instruction & Guidance for Youth Sports
On August 3, the California Department of Public Health (CDPH) released detailed criteria for public, private, independent and parochial schools to apply for a waiver of the state's distance learning mandate announced on July 17. If the waiver is approved by the local Public Health Officer, it will enable schools serving students from transitional kindergarten through sixth grade to provide in-person instruction as long as certain criteria have been met. 
Without a waiver, schools in Marin must begin the school year with distance learning per the July 15 recommendations from Marin County Public Health and the Governor's mandate for Marin to be off the state's Monitoring List for at least 14 days. 
Waiver applications will be distributed to schools in Marin on Friday, August 7 and will be due 14 days prior to when the school is requesting to reopen. 
LEARN MORE: https://www.marincounty.org/main/county-press-releases/press-releases/2020/hhs-covid-schoolwaivers-080420 
---
Canal Wi-Fi Project
When schools moved to an online learning model, an immediate need arose to better connect students to the internet and provide them with laptops. A collaborative effort between the County of Marin, the City of San Rafael, Canal Alliance, and San Rafael City Schools has been underway to build a free Wi-Fi network in the Canal neighborhood. At the last City Council meeting, a detailed update was provided on these efforts. 
Installation is underway for the Canal Wi–Fi network. The County and Supervisor Dennis Rodoni were able to secure additional equipment as well as substantial donations from Marin Community Foundation, Mark Pincus and Leighton Hills. DC Electric is also installing the equipment pro bono and community volunteers have helped with the network design.  
This WiFi network is one piece of a big puzzle to address digital equity issues in the Canal. We recently conducted a survey and learned more about the disparities—see what we learned. 
There is more work to be done to close these equity gaps in our community. Help close the digital divide—funds contributed to this campaign will support digital literacy activities and the purchase of computers and hotspots to be distributed to families living in the Canal neighborhood.