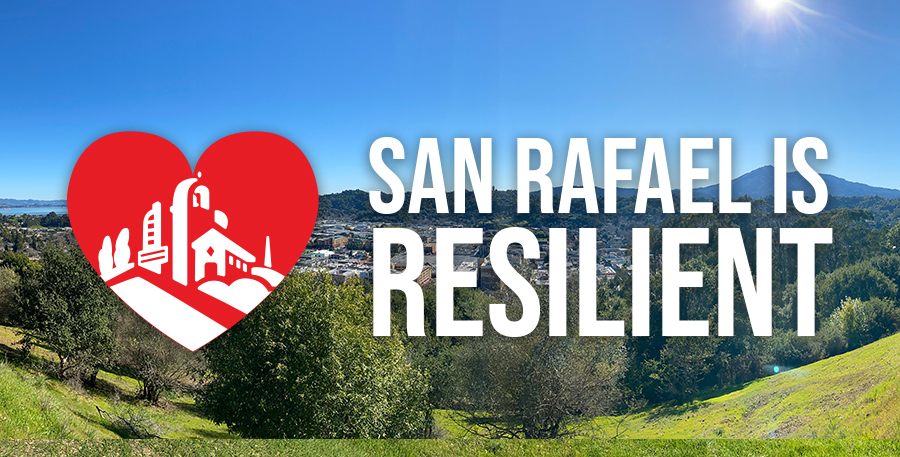 DESPLAZARSE HACIO ABAJO PARA ESPAÑOL
If the days seem like they are stringing together and you lost track of time, Happy Monday! Despite the rain over the weekend, we hope your were able to get out for a walk in your neighborhood, tackle some projects around the house, or eat some great take out from one of our amazing San Rafael restaurants.  
Speaking of take out, have you heard about a new initiative known as The Great American Takeout? The goal is to help support local restaurants and share your love of our fantastic San Rafael restaurants with the world. Just order takeout from a San Rafael restaurant, tell your friends to order too, then post a photo or video of your meal to social media tagged with #thegreatamericantakeout.  
Find a list of open restaurants and businesses on the City website. 
---
City Council Meeting Tonight
Tonight's City Council meeting will again be streamed on YouTube Live. For those unable to participate through YouTube live, we will also provide a phone number you can call in to listen and/or participate. While we cannot allow physical access to the meeting due to the Shelter in Place order, we are offering several ways you can make your voice heard: 
Write to the City Council in advance

Comment live on YouTube during the meeting

Call-in and "raise your hand" if you want to speak during public comment time

 
---
Message from the Mayor
Last Friday we released a video message from San Rafael Mayor Gary Phillips, including updates from County Supervisor Damon Connolly, Kaiser Permanente's Medical Group Administrator Patricia Kendall and Dr. Naveen Kumar, and San Rafael City Manager Jim Schutz. Did you miss it? Over 1,000 people have already watched. Check it out to learn about small business assistance, citywide and countywide response efforts, hospitals, and more. 
Subscribe to our YouTube channel to get a notification when a new video is posted.  
---
Updated Recommendation on Facial Coverings
In light of a new recommendation issued by the California Department of Health, the Marin County Department of Health and Human Services is now recommending that individuals cover their nose and mouth when leaving the home for essential travel. 
Facial coverings filter respiratory droplets that are emitted when individuals cough, sneeze and breathe, which is believed to be the mode in which COVID-19 is spread from person-to-person. Covering our faces helps protect us from breathing in droplets as well as spreading droplets. In addition, facial coverings serve as a visual reminder to social distance and as a reminder to us to not touch our face.    
The Center for Disease Control and Prevention released a video tutorial on making a simple facial covering. Cloth masks, bandanas and neck gaiters are all acceptable options!  
It's important that individuals do not purchase surgical or N95 masks, as there is a current shortage of personal protective equipment (PPE) in hospitals. If you have an excess unopened of PPE (N95 or surgical masks, disposable gowns, latex gloves) learn about opportunities for donation. 
---
Resources for Financial Relief
The Office of California State Treasurer Fiona Ma has compiled some helpful resources for small businesses and individuals, as well as general tax relief information. Find federal, state, local and private relief options for a variety of circumstances, including student loans, unemployment, and childcare. 
RESOURCES FOR SMALL BUSINESSES
---
Emergency Rental Assistance Program
Marin Health and Human Services has launched the Emergency Rental Assistance Program for people who are at risk of homelessness and need rental assistance to prevent eviction due to a loss of income from the COVID-19 pandemic.  For anyone seeking assistance please call 415-473-7191 or email covid-19@marincounty.org. 
More information and resources are available on the Housing First website. 
---
Assembly
m
ember
 Marc Levine to host Series of Town Hall Meetings  
On Tuesday, April 7, 2020 at 4:00pm, Assemblymember Marc Levine will kick off a series of telephone townhalls to discuss issues impacting North Bay families by the COVID-19 pandemic. The first tele-townhall will focus on mental health during the current shelter in place order and feature Dr. Jei Africa, Director of Marin County's Behavioral Health & Recovery Services, who will be available to answer mental health questions from the community. 
Learn how to participate by visiting Assemblymember Marc Levine's website.  
---
Updates on Coronavirus in Marin County
For the most up-to-date information on COVID-19 in Marin County please visit the Marin Health and Human Services Website:  https://coronavirus.marinhhs.org/
Watch Video Updates from Marin HHS:
COVID-19 Video updates from Marin HHS are available on YouTube. Subscribe to be alerted when they post a new video.
COVID-19 Updates   |    FAQs
---
COVID-19 Hotline and Public Health Email
Call: 415-473-7191
Email: COVID-19@marincounty.org
City of San Rafael Coronavirus Information
https://www.cityofsanrafael.org/coronavirus
---
City of San Rafael COVID-19 Business Resources
https://www.cityofsanrafael.org/coronavirus-business-resources/
---
Lunes 6 de A

bril

 de 2020
Si los días parecen estar encadenados y has perdido la noción del tiempo, ¡feliz lunes! A pesar de la lluvia durante el fin de semana, esperamos que haya podido salir a caminar por su vecindario, abordar algunos proyectos en la casa o comer una excelente comida para llevar en uno de nuestros increíbles restaurantes de San Rafael. 
 Hablando de comida para llevar, ¿has oído hablar de una nueva iniciativa conocida como la gran comida para llevar americana? El objetivo es ayudar a los restaurantes locales y compartir su amor por nuestros fantásticos restaurantes de San Rafael con el mundo. Simplemente ordene comida para llevar en un restaurante de San Rafael, dígales a sus amigos que también lo hagan, luego publique una foto o video de su comida en las redes sociales etiquetadas con #thegreatamericantakeout. 
 Encuentre una lista de restaurantes y negocios abiertos en el sitio web de la Ciudad 
---
Reunión del Ayuntamiento Esta Noch

e
La reunión del Ayuntamiento de esta noche se transmitirá nuevamente en YouTube Live. Para aquellos que no pueden participar a través de YouTube en vivo, también les proporcionaremos un número de teléfono al que pueden llamar para escuchar y/o participar. No podemos permitir el acceso físico a la reunión debido al pedido de Refugio en el lugar, pero ofrecemos varias formas en las que puede hacer que se escuche su voz: 
Escribir al Ayuntamiento de antemano

 

C

omenta en vivo en YouTube durante la reunión

Llame y "levante la mano" si desea hablar durante el tiempo de comentario público

 
---
Mensaje

del Alcalde 
El viernes pasado, publicamos un mensaje en video del alcalde de San Rafael, Gary Phillips, que incluía actualizaciones del supervisor del condado Damon Connolly, la administradora del grupo médico de Kaiser Permanente, Patricia Kendall y el Dr. Naveen Kumar, y el gerente de la ciudad de San Rafael, Jim Schutz. ¿Te lo perdiste? Más de 1,000 personas ya han visto. Compruébelo para obtener información sobre asistencia para pequeñas empresas, esfuerzos de respuesta en toda la ciudad y el condado, hospitales y más. 
Suscríbase a nuestro canal de YouTube para recibir una notificación cuando se publique un nuevo video. 
---
Recomendación Actualizada Sobre Revestimientos F
aciales
A la luz de una nueva recomendación emitida por el Departamento de Salud de California, el Departamento de Salud y Servicios Humanos del Condado de Marin ahora está recomendando que las personas se cubran la nariz y la boca cuando salgan de la casa para un viaje esencial. 
Los revestimientos faciales filtran las gotitas respiratorias que se emiten cuando las personas tosen, estornudan y respiran, lo que se cree que es el modo en que COVID-19 se transmite de persona a persona. Cubrir nuestros rostros nos ayuda a protegernos de respirar gotas y de esparcir gotas. Además, los revestimientos faciales sirven como un recordatorio visual de la distancia social y como un recordatorio para que no nos toquemos la cara. 
Es importante que las personas no compren máscaras quirúrgicas o N95, ya que existe una escasez actual de equipo de protección personal (EPP) en los hospitales. Si tiene un exceso de EPP sin abrir (N95 o máscaras quirúrgicas, batas desechables, guantes de látex), conozca las oportunidades de donación. 
---
Recursos Para Ayuda Financiera
La Tesorera del Estado de California, Fiona Ma, ha compilado algunos recursos útiles para pequeñas empresas y particulares, así como información general sobre desgravación fiscal. Encuentre opciones de ayuda federales, estatales, locales y privadas para una variedad de circunstancias, incluidos préstamos estudiantiles, desempleo y cuidado de niños. 
RECURSOS PARA PEQUEÑAS EMPRESAS
RECURSOS PARA ALIVIO DE IMPUESTOS
---
Programa

de A

sistencia

de A

lquiler

de E

mergencia

 
El Departamento de Salud y Servicios Humanos del Condado de Marin ha lanzado el Programa de Asistencia de Alquiler de Emergencia para personas que están en riesgo de quedarse sin hogar y necesitan asistencia económica para evitar el desalojo debido a la pérdida de ingresos de la pandemia COVID-19. Para cualquier persona que busque ayuda, llame al 415-473-7191 o envíe un correo electrónico a covid-19@marincounty.org.
Más información y recursos están disponibles en el sitio web de Vivienda Primero. 
---
El asambleísta Marc Levine Será el Anfitrión de la Serie de Reuniones del Ayuntamiento 
El martes 7 de abril de 2020 a las 4:00 pm, el asambleísta Marc Levine dará inicio a una serie de ayuntamientos telefónicos para discutir los problemas que afectan a las familias de la bahía norte  por la pandemia COVID-19. El primer tele-municipio se centrará en la salud mental durante el pedido actual de refugio y presentará al Dr. Jei África, Director de los Servicios de Salud y Recuperación del Comportamiento del Condado de Marin, que estará disponible para responder preguntas de salud mental de la comunidad.  
 Aprenda cómo participar visitando el sitio web del asambleísta Marc Levine. 
---
Actualizaciones sobre Coronavirus en el Condado de Marin
Para obtener la información más actualizada sobre COVID-19 en el condado de Marin, visite el sitio web de Marin Health and Human Services: https://coronavirus.marinhhs.org/
Ver actualizaciones de vídeo de Marin HHS:
 
 COVID-19 Actualizaciones de vídeo de Marin HHS están disponibles en YouTube. Suscríbete para recibir alertas cuando publiquen un nuevo vídeo.
Actualizaciones de COVID-19 ?  Preguntas frecuentes
---
Línea directa COVID-19 y correo electrónico de salud pública
Llame al: 415-473-7191
Correo Electrónico: COVID-19@marincounty.org
---
Información de la ciudad de San Rafael Coronavirus
 https://www.cityofsanrafael.org/coronavirus
---
Ciudad de San Rafael COVID-19 Recursos Empresariales
  https://www.cityofsanrafael.org/coronavirus-business-resources/