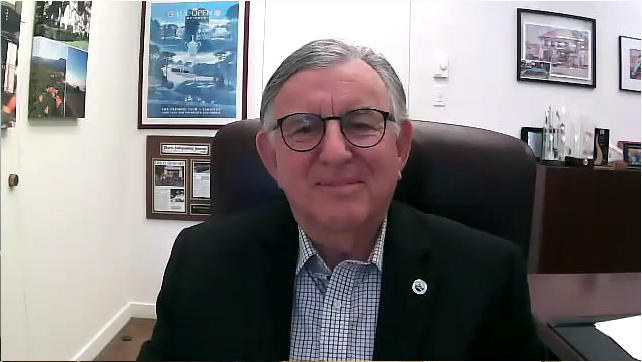 DESPLAZARSE HACIO ABAJO PARA ESPAÑOL
Message from the Mayor
A video message from San Rafael Mayor Gary Phillips, including updates from County Supervisor Damon Connolly, Kaiser Permanente's Medical Group Administrator Patricia Kendall and Dr. Naveen Kumar, and San Rafael City Manager Jim Schutz. Check it out to learn about small business assistance, citywide and countywide response efforts, hospitals, and more. 
Subscribe to our YouTube channel to get a notification when a new video is posted.  
---
Opportunity to Donate
 Protective Equipment
The County has created an online donation form for companies or other entities that have excess inventory (e.g., maybe you stocked up on N95 or other masks or equipment after the North Bay fires) and wish to donate.  This form is managed by the County EOC and donations will be used to fill personal protective equipment resource orders as appropriate.   
The following items are being accepted in new, unopened boxes only: 
N95 masks

 

Surgical and/or isolation masks

 

Disposable gowns

 

Latex gloves

 
MORE INFO: https://www.cityofsanrafael.org/personal-protective-equipment-donations/ 
---
Reminder
: 
Recreational Amenities Closed
All parks, sports fields, and open space are closed to motorized access. Playgrounds, basketball courts, and picnic and barbeque amenities are completely closed. Community members may walk or bike to nearby parks and pathways for necessary exercise, while maintaining social distancing. People with disabilities that affect mobility may access parks by motorized means as needed. 
This weekend, please stay home as much as possible except for trips for essential services.  
These social distancing restrictions are the most powerful tool for slowing the spread of the COVID-19 virus. Stay home. Save lives. 
---
Highlights
---
Men

saje del Alcalde

 
Un mensaje del alcalde de San Rafael Gary Phillips, incluyendo actualizaciones del supervisor del condado Damon Connolly, la administradora del grupo medico de Kaiser Permanente, Patricia Kendall y el Dr. Naveen Kumar, y el gerente de la ciudad de San Rafael, Jim Schutz. Vean el video para obtener mas información sobre la asistencia para pequeñas empresas, los esfuerzos de respuesta de toda la ciudad y el condado, los hospitales y mucho mas.  
Suscríbete a nuestro canal de YouTube para recibir una notificación cuando se publique un nuevo video.  
---
Oportunidad de Donar Equipo de P

rotección
El Condado ha creado un formulario de donación en línea para empresas u otras entidades que tienen exceso de inventario (por ejemplo, tal vez acumuló mascaras N95 u otras mascaras o equipos después de los incendios del Norte de la Bahía) y desea donar. 
Los siguientes elementos solo se aceptan nuevos en paquetes y sin abrir: 
Mascaras N95

Mascaras 

quirúrgicas

 y/o de aislamiento

 

Batas desechables

 

Guantes de 

látex

 
MAS INFORMACION: https://www.cityofsanrafael.org/personal-protective-equipment-donations/ 
---
Recordatorio: Servicios Recreativos E

stán

Cerrados

 
Todos los parques, campos deportivos y espacios abiertos están cerrados al acceso motorizado. Los parques infantiles, canchas de basquetbol, y las comodidades de picnic y barbacoa están completamente cerrados. Los miembros de la comunidad pueden caminar o andar en bicicleta a los parques y caminos cercanos para hacer el ejercicio necesario, mientras continúan manteniendo la distancia social. Las personas con discapacidad con problemas de movilidad pueden acceder a los parques por medio de carro según sea necesario.  
 Este fin de semana, favor de mantenerse en casa lo mas posible, excepto para viajes para servicios esenciales.  
 Estas restricciones de distanciamiento social son la herramienta mas poderosa para frenar la propagación del virus COVID-19. Quédese en Casa. Salve Vidas. 
---
Puntos Importantes:

 
La 

fecha para presentar sus impuestos federales a sido extendida

 del 15 de abril al 15 de Julio.

 

El Condado de 

Marin

 esta ofreciendo una 

exención

 de 

penalización

 por no poder pagar los impuestos de propiedad por razones relacionadas con COVID-19.

 Entre el 10 de abril y el 15 de mayor, usted puede presentar una 

S

olicitud de 

Exención

 de 

Penalización

 de COVID-19

. Visite la página web de 

Impuestos a la Propiedad y Covid-19

 para conocer las pautas de exención de penalización y las preguntas frecuentes sobre los pagos de impuestos sobre la propiedad.