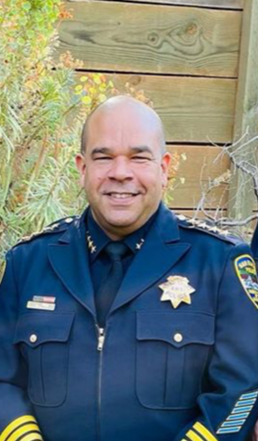 Phone
Position
Chief of Police
David Spiller
Dave's public service started in the late 1980's with the San Diego Police Department, where he worked as a patrol officer for a short time before joining the Mountain View Police Department in Northern California.  With well over a decade of service in various department operations with the Mountain View Police Department, Dave earned a strong reputation as an effective problem solver and collaborator.   
Dave later sought out a position with the City of Pleasanton and joined the Pleasanton Police Department as the Administrative Lieutenant.  After being appointed to the rank of Captain in 2003, Dave had rotated to manage both major divisions of his department, which includes the Patrol Division as well as the Investigations and Support Services Division.  Dave moved on to the position of Police Chief in 2011 to provide overall leadership to the organization and worked to oversee all aspects of Police Department operations as Pleasanton's sixth Police Chief.   
In the wake of serving the Pleasanton community, Dave went on to serve the California Department of Corrections and Rehabilitation, Office of Internal Affairs as a member of the organization's Deadly Force Review Board as well as the City of Menlo Park as the Interim Police Chief.   
In early 2021, Dave continued his professional law enforcement career being appointed to the position of Police Chief for the City of San Rafael, where he currently serves to lead the organization. 
Dave has an Associate's Degree in Administration of Justice from De Anza College in Cupertino, a Bachelor's Degree in Organizational Behavior from the University of San Francisco as well as a Master's Degree from Saint Mary's College in Public Sector Leadership.  Dave is a graduate of the Senior Management Institute for Police through the Police Executive Research Forum and he is a graduate of the California POST Command College. 
Dave is very involved in his community and in his profession – he serves as an advisory board member on the Administration of Justice Board at Las Positas College, where he also serves as an adjunct faculty member. Dave serves as a member of the International Criminal Justice Board at the University of San Francisco – and he is an independent, contract trainer and group facilitator serving non-profit organizations and municipal government.