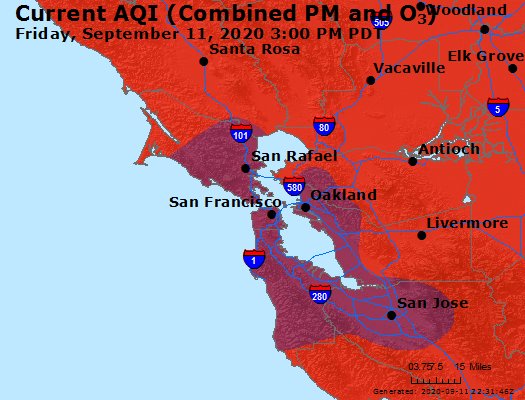 Location: 618 B Street, San Rafael Community Center
When: Sat, 09/12 – Sun, 09/13
Time: 1PM – 5PM
The City of San Rafael has opened a Clean Air Center Saturday, September 12th through Sunday, September 13th at the 618 B Street Community Center. This Clean Air Space will help to protect the health and well-being of those who are continually exposed to very unhealthy air quality due to wildfire smoke and unable to shelter in their residence. 
According to the Bay Area Air Quality Management District, unhealthy air levels in Marin County are expected to remain through Sunday, September 13th. All residents are encouraged to minimize outdoor exposure when air levels are unhealth.  
Those visiting the Clean Air Space will be required to wear a mask and practice social distancing. If you come with other members of your household, please stay within that group and distance from other individuals or groups. Individuals showing symptoms of COVID-19 (i.e., fever, cough, shortness of breath), should contact their medical provider for alternative options. 
Visitors are welcome to enjoy this air-conditioned facility with access to drinking water, restrooms and seating.  If you have or someone you know has health issues that could be exacerbated by unhealthy air quality and you are unable to access shelter, please come to the San Rafael Community Center at 618 B Street.  Service pets are allowed. Other animals are not permitted at this time. 
The City will continue monitor this situation to determine whether this Clean Air Space will reopen throughout the week.  
For additional information on air quality forecasts and health advisories, please visit the Bay Area Air Quality Management District's website.