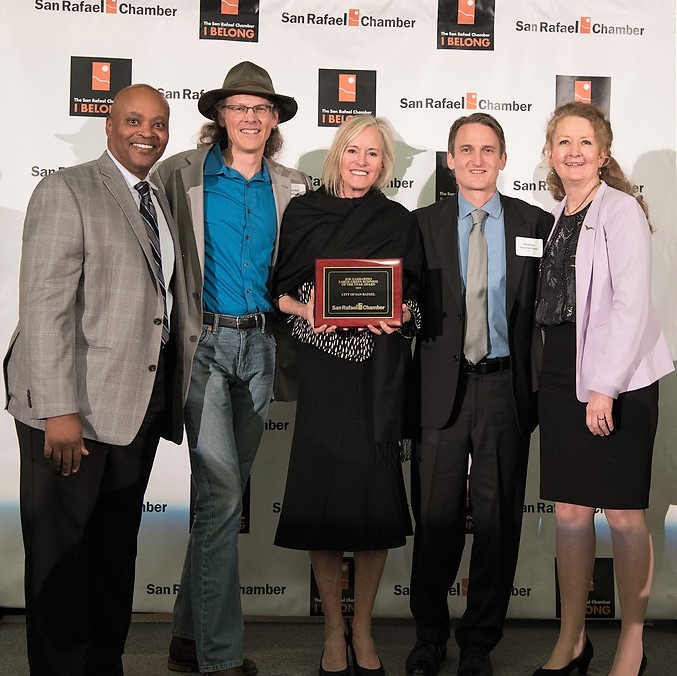 At last week's annual State of the City Dinner, we were so excited and honored to receive the Joe Garbarino Large Green Business of the Year award. Designated by the San Rafael Chamber of Commerce, award recipients are chosen based on their demonstrated extraordinary efforts to imbed sustainable principles in their business operations and philosophy. While we are humbled to have received this award (the other nominees were fantastic), I'd like to highlight some of the work accomplished through the leadership of our City Council and hard work of our City staff and our residents. For example, in 2009 the City Council adopted a Climate Change Action Plan for achieving a 25-percent reduction of greenhouse gas (GHG) emissions by 2020, and an ambitious 80-percent reduction by 2050 (and we're working on an update for 2030). Following that, in 2012, the City Council adopted ordinances banning the use of Styrofoam and single-use plastic bags and approved a robust green purchasing policy that promotes local, green purchasing. Additionally, over the past several years, we've taken extensive measures to green our operations, including the following:
Providing recycling for all City departments and composting at several facilities

Prohibiting the purchase of plastic bottled water for other than emergency supplies

Retrofitting facilities with low-flow sinks and toilets.

Replacing incandescent bulbs and older fluorescents with energy efficient fluorescents in offices and parking garages.

Replacing almost all of our 4,400 street lights and all traffic signals with energy efficient lighting

Installing solar panels at City facilities and parking garages (and adding electric vehicle charging stations, too)
We look forward to working with you to continue to develop the programs and actions needed to reduce greenhouse gas emissions and ensure a sustainable future. To receive updates on our Climate Change Action Plan 2030 efforts, subscribe to our email distribution list or visit our website.