The National Weather Service issues a Red Flag Warning when a combination of warm temperatures, very low humidity, and strong winds puts a community at extreme risk of wildfire.
A Red Flag Warning for the North Bay Mountains, interior valleys, and other parts of the Bay Area is in effect from Noon Wednesday, October 23 through 6 PM Thursday, October 24.  The affected area includes both lower and higher terrain areas of Marin, and neighboring counties.
Due to elevated risk and fire danger, all City of San Rafael open space areas are closed to the public for the duration of the Red Flag event.  If the current Red Flag Warning is extended, the City will extend the open-space closure.  This action is done to ensure public safety, prevent fires,  and to provide first responders with faster and easier access to open space areas in case of a fire.
Working with you for a fire safe community.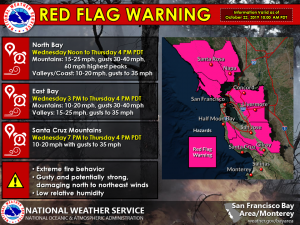 Please contact the San Rafael Fire Department at (415) 485-3304 with questions. You may also visit us on the Internet at http://www.cityofsanrafael.org/departments/fire/ or stop by your neighborhood Fire Station at any time.