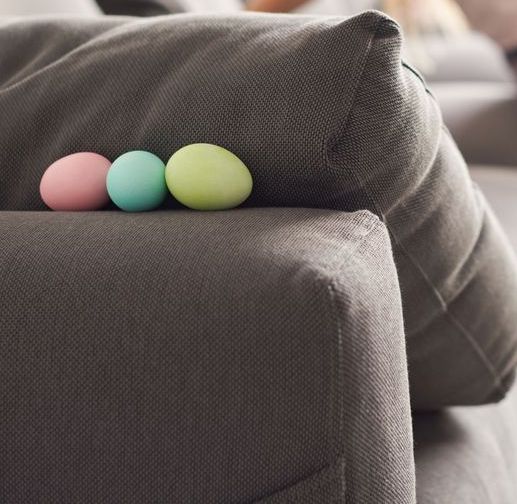 Virtual Easter activities with friends, family and loved ones
It will take a little bit of planning but you can still share Easter love and fun through a video-call on Zoom, FaceTime or if you're sharing video between Androids and Iphones use Duo.
Call, email, text, use an Evite or post to your specific group on Facebook with an invite that provides the times for activities, including cooking the meal together, sharing the meal and of course, a virtual egg hunt!
Tips for planning a virtual egg hunt
Work out the technology ahead of time.
FaceTime, Duo and Zoom are the easiest to use, depending on how many people are attending your Easter egg hunt. For a larger group, use Zoom but if you're only connecting with one other person or family, use FaceTime or Duo on your phones.
Run a test call a few days before with the people who are joining your video  on Easter to make sure everyone has access and can run the programs on their computers or phones. This way you'll know that everyone can show up for Easter Sunday.  In your own home, figure out where to place the camera as you prepare your meal and sit down for Easter Sunday brunch, lunch or dinner.
Engage children with pre-Easter decorating and egg-dyeing activities. For the day of the Easter egg hunt, place colorful eggs around your home or outside – don't really hide them because they'll need to be visible with your phone or computer camera as you each act as tour guides during the event. When everyone is ready,  each person, during their scheduled time, can walk slowly and face their phone or computer camera to see what they're  seeing and narrate the scene.
As the kids on the other end of the video-call see the eggs they can call out where they see them "hidden" and  the person with the camera can move closer and show his/her hand picking  up  the eggs or he/she could have an assistant (significant other) and pick it up and place it in that kid's designated basket. This will make the video call fun and interactive. Be creative–  bunny  ears or a bunny suit can help anyone get into the role of hunt leader. Then can count up how many eggs in the baskets and parents can share  Easter treats with the kids in their households.
Another way is to have each individual family run around with their children showing the kids finding eggs and placing them in their baskets. It's all about sharing smiles and laughter so have some fun and enjoy the social connection!