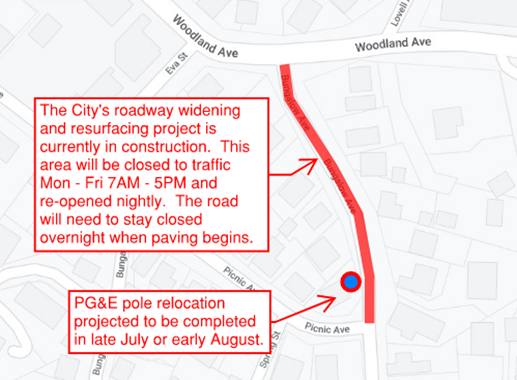 Construction work on the final section of the Bungalow Ave project began late last month.  This section of Bungalow Ave being reconstructed is the area between Woodland Ave and Picnic Ave, often referred as "lower Bungalow."   The City's contractor, Ghilotti Bro's Inc (GBI) has been making great progress.   GBI has been accommodating folks in the neighborhood who needed access to their driveways during construction.  Metal plates are in place of some driveways to ensure continued access for the residents.
The full scope of the project includes removal of steep gutters and widening of the roadway.  New curb and gutter are now complete on the East side of lower Bungalow.  Demolition began this week on the West side of lower Bungalow.  Concrete is projected to be poured on Friday, 7/8.
PG&E is projected to relocate their utility pole late July or early August.  This pole relocation will determine when GBI will be able to pave the road.
JC Agcaoili, EIT
Assistant Engineer