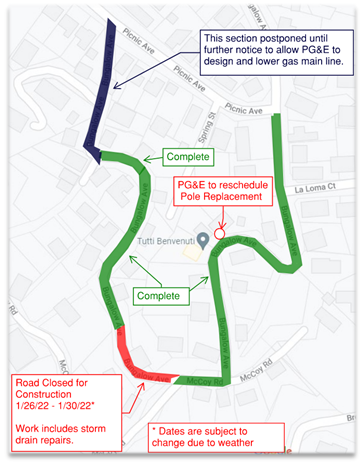 Project Engineer: JC Agcaoili
Over the past couple of months Ghilotti Bros Inc. (GBI) has worked efficiently to remove and replace over 6,500 square feet of concrete road on the Bungalow Avenue Loop.  Both Public Works and GBI have also worked diligently to coordinate with residents in the neighborhood to minimize interruptions to garbage pick- up, deliveries, etc.   The section of work shown in red on the map has been pushed back to next week due to supplier delays.  We now plan to begin construction on this section starting Wednesday, January 26th and the road will re-open by Sunday, January 30th.    As some of you may have received the Nixle alerts back in early December, the contractor discovered a shallow PG&E gas line along the dark blue section on the map. This section of concrete work will be postponed until PG&E finishes their design to lower the main gas-line and complete the construction.
Depending on weather, paving on Woodland Avenue from Bayview to Lindaro is projected the week of President's Day, February 21st, when Davidson Middle School and Laurel Dell Elementary School begin their mid-Winter Break.