Eligibility for the Program
To qualify as a standard applicant...
You must be a property owner within incorporated San Rafael (applications may not be submitted by renters). Each property (APN) is able to submit one application. If one property owner owns multiple properties within San Rafael, each property may apply for the program separately.
Property owners who have caused sidewalk damage due to private construction improvements (cut, removal, etc.), where the pre-construction sidewalk was not in need of replacement, do not qualify for the program.
To qualify as a low-income applicant...
Same qualifications as the standard applicants, plus:
You must submit with your application, proof of current affiliation with a government or utility administered program for low-income individuals or families. Eligible programs include:
PG&E California Alternate Rates for Energy (CARE) Program
PG&E Family Electric Rate Assistance (FERA)
Low-Income Home Energy Assistance Program (LIHEAP) – U.S. Office of Community Services
Marin Housing Authority Below Market Rate (BMR) Housing
Marin Housing Authority Residential Rehabilitation Loan Program
Section 8 Housing Choice Voucher Homeownership Program
CalFresh
Market Match, Agricultural Institute of Marin
Women, Infants, and Children (WIC)
Marin Center for Independent Living Client Assistance Funds
Other (must describe program and upload proof or affiliation)
What will the City contribute towards my sidewalk repair?
Sidewalk = Sidewalk not connected to a driveway
Total sidewalk work: 50-50 cost share with City up to $1,000 City Contribution
Sidewalk apron = Sidewalk connected to a driveway
Driveway apron = Concrete approach in between sidewalk apron and curb
100% property owner
Curb and gutter = Concrete drainage directly lining roadway
Adjacent to driveway apron: 100% property owner
Not adjacent to driveway apron: 100% City up to $4,000, then 100% property owner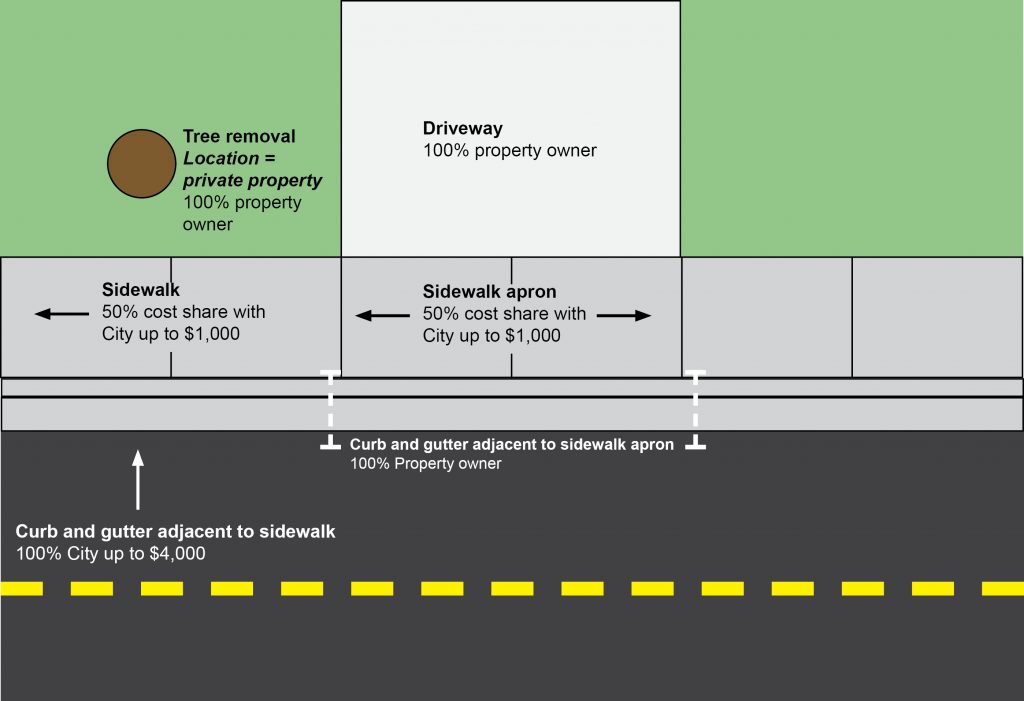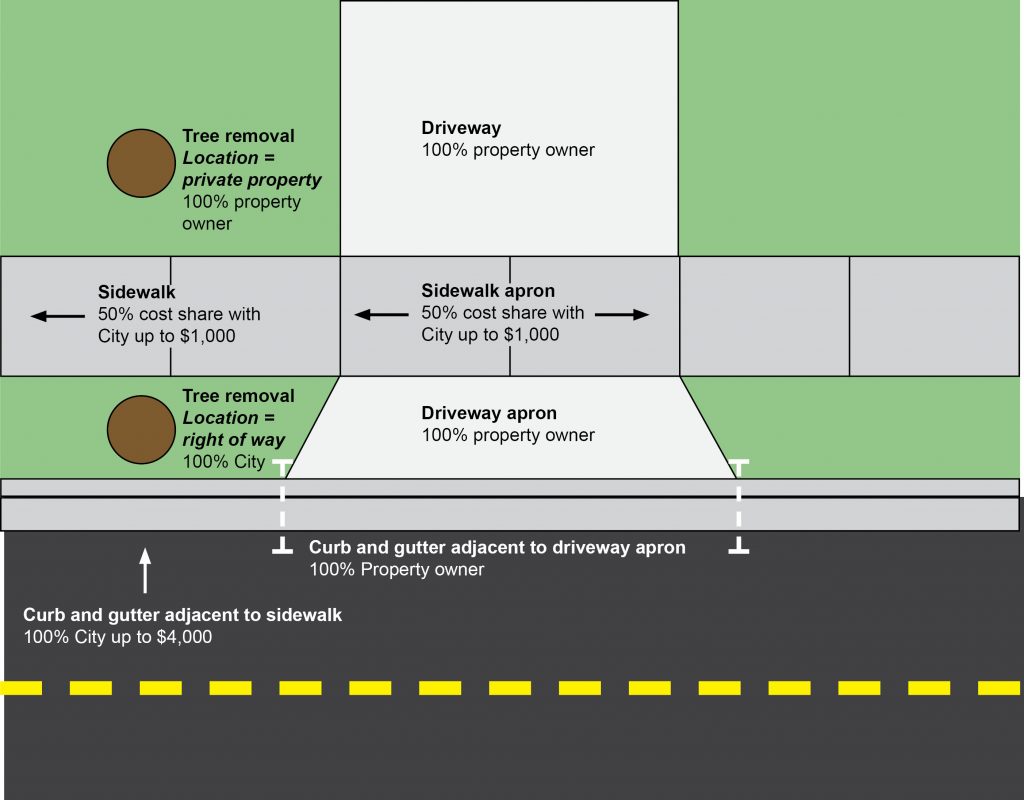 It is important to note:
Maximum total City contribution for Commercial properties = $2,000
Maximum total City contribution for Residential properties = $5,000
Cost of sidewalk construction under the program
| | |
| --- | --- |
| |  Van Midde and Son Concrete |
| 4" Sidewalk | $18/ sq. ft |
| 6" Sidewalk apron | $21/ sq. ft |
| 6" Driveway apron | $21/ sq. ft |
| 8" Sidewalk apron* | $24/ sq. ft |
| 8" Driveway apron* | $24/ sq. ft |
| Curb and gutter | $65/ sq. ft |
*Most residential and commercial properties have 6" sidewalk and driveway aprons. A small number of properties which serve industrial vehicles and equipment may have 8" aprons.
Pricing, timelines, and background information
As a part of the pre-construction inspection conducted by the City...
You are required to repair all sidewalk, curb and gutter as identified by the City.
The City will inspect your property and any sidewalk that is deemed to be a tripping hazard will be marked for replacement and indicated as such on the pre-construction inspection survey. Participants at minimum must repair all sidewalks, curb and gutter identified by the City but may choose to replace more at full cost to the property owner.
All work performed will need to comply with ADA (Americans with Disabilities Act) Standards
The City will note in your sidewalk pre-construction inspection form that all work must be ADA compliant (slope of sidewalk, grade, etc.). If the sidewalk repair involves a corner where an ADA ramp is not in place, one will need to be installed. In the event of an ADA curb-ramp installation, the City will bear full cost of the ramp.
The City arborist will make all determinations about trees involved
The City arborist will determine if a tree can survive  root trimming (as a part of the sidewalk replacement) or if it must be removed in order to replace the sidewalk. The arborist may also recommend removal of the tree in the case where the roots may be trimmed, but it is anticipated that the tree would uplift the sidewalk again within several years. In the case that...
A tree cannot survive a root trimming, and must be removed in order to replace the sidewalk
The property owner will be notified prior to removal of the tree in order to proceed with repairs
A tree can survive a root trimming
Root trimming will occur per City arborist recommendations
If your tree is removed as a part of the sidewalk repair...
The City will fund the purchase and perform the planting of a replacement tree, from the list of City-approved street trees.
It is important to note that tree replacement plantings performed by the City may occur up to 12 months after the repair is complete. A new tree will not necessarily be planted right away.
In order to minimize future sidewalk damage and encourage the roots to go deep into the soil away from paved surfaces, all new trees planted must be watered by the property owner to City specifications. This will be coordinated between the property once the sidewalk repairs are complete.