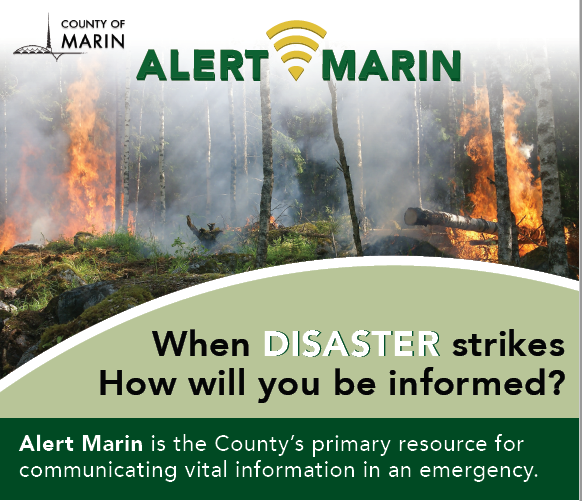 About Alert Marin
If you live, work or go to school in Marin County and are 18 and over, you may now register your cell phone or VoIP (voice over internet protocol) phone to receive emergency alerts sent by call, text, email, or smartphone application from the County of Marin.
Listed and unlisted/blocked Marin County landline phone numbers are already included in our emergency notification system. Cell phone and VoIP numbers are not included and will require your registration in our Self-Registration Portal.
The caller ID for AlertMarin is 415-473-6376. Many smartphones allow you to create "favorites" and set preferences for those callers. Consider making AlertMarin a favorite on your mobile device. AlertMarin also sends emergency notifications via SMS (Text). The two SMS short codes used by our system are 87844 and 89361.
Help us get the word out. Download our "Get Emergency Alerts" poster today !
Register Multiple Marin Locations
Perhaps you live in Marin, but work outside the County. Or you work and go to school in Marin, but live outside the County. You may list up to five addresses per profile where you wish to receive notifications such as home, work, child's school, or relatives home. Your profile may contain up to 2 SMS (text) devices, two email addresses, a TTY device, four phone numbers (including a mobile phone) and a work phone. You may also download the Everbridge application from your Apple iOS or Android device.
Do you need to update your locations? We have created a guide to help you through the process. The guide can be found here.
Be Sure You are Registered to Get the Emergency Call, Text & Email
Emergency officials use the AlertMarin Emergency Notification System to deliver incident-specific information or potentially life-saving instruction to the precise geographic area(s) affected. Emergency situations may include:
flooding, wildfires, and subsequent evacuations;
public safety incidents including crimes that affect your neighborhood;
post-disaster information about shelters, transportation, or supplies.
To register for any city/area listed below, please click on the "Register Now" button above
Belvedere
Corte Madera
Fairfax
Larkspur
Mill Valley
Novato
Ross
San Anselmo
San Rafael
Sausalito
Tiburon
Unincorporated Areas