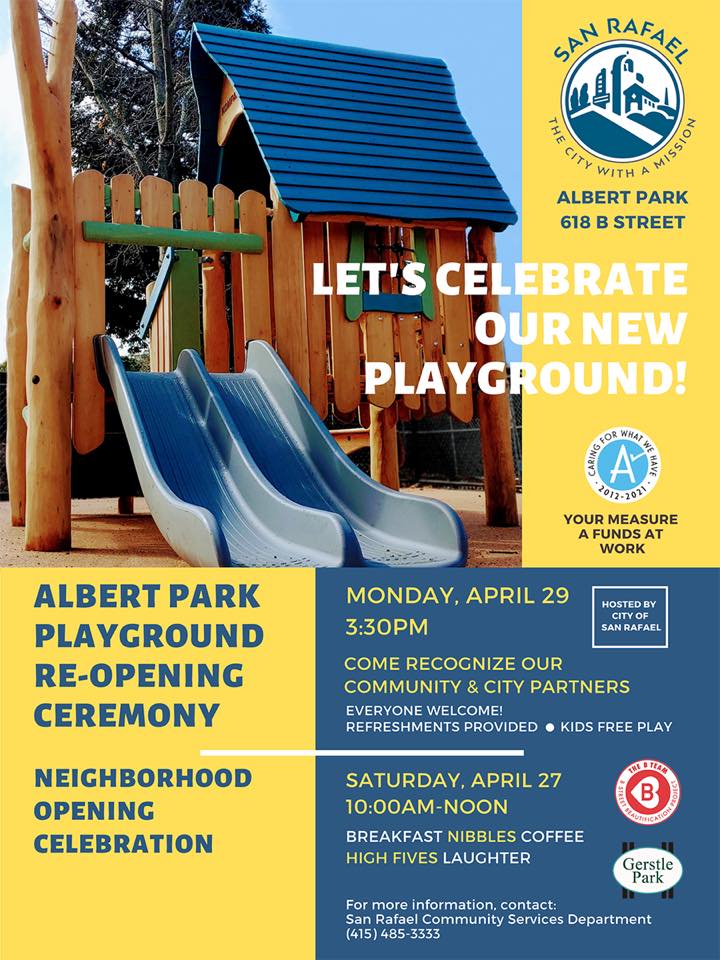 SAN RAFAEL, CA: The City of San Rafael will host a re-opening ceremony for the new Albert Park playground, located at 618 B Street, on Monday, April 29, 2019 at 3:30 p.m. This event will celebrate the completion of a multi-year endeavor to bring new and inclusive playground equipment to Albert Park. The ceremony will include a short ribbon-cutting ceremony and refreshments.
The playground includes equipment for both preschool and school-aged children, with swings, parkour equipment, a boat, two playhouses and a slide. The playground's natural wood theme reflects the beautiful surroundings of Marin County and will encourage imaginative play.
"Parks and their amenities bring people together," said Mayor Gary O. Phillips. "The improvements to the Albert Park playground will support the community and visitors in being even more active and connected to the neighborhood," he added.
"I'm excited about the re-opening of the new playground and the revitalization of Albert Park," said Susan Andrade-Wax, Community Services Director. "This park is a great place for kids and families to play and will also serve visitors to the San Rafael Community Center and children at Parkside Preschool."
The playground improvements are made possible through funding sources including Measure A, Parkland Dedication and Building Fund dollars in the amount of $720,160 and donations of more than $40,000 from community partners including the B Team, Gerstle Park Neighborhood Association, local businesses, and neighbors. The community also provided in-kind donations of hardscape removal and trash removal during community clean up events.
"This project serves as a wonderful model for community-City collaboration. Together we transformed an underused space into an area that we can all be proud of," said Ashley Howe, Senior Recreation Supervisor.
For more information regarding the re-opening ceremony, please call Senior Recreation Supervisor Ashley Howe at (415) 485-3343.