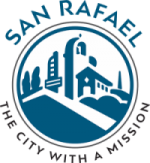 This project consists of all the associated work described in the attached specifications and plans and the provisions of this document for excavation, removal of existing asphalt concrete paving, tree removal, clearing and grubbing; construction of new concrete paving, rubber safety surfacing, installation of play equipment, miscellaneous site furnishings, chain link fencing, planting and irrigation; new prefabricated restroom, light standards and electrical work.
Each bid shall be in accordance with the plans and specifications, and other contract documents, now on file with the City Clerk, City Hall, San Rafael, California. Contract documents may be examined at the Department of Public Works, 111 Morphew Street, San Rafael, CA 94901; Public Works will not sell hard copies of the contract documents.
Bidders shall obtain copies of the contract documents by logging on to BPXpress Reprographics, calling (510) 559-8299 or emailing Richmond@blueprintexpress.com. Cost of contract documents shall be Twenty-five Dollars ($25.00) per set, non-refundable. Shipping and handling costs are extra and prices range depending on the delivery method. At the bidder's request and expense, the contract documents can be sent by overnight mail. Bidders can supply their shipper account number to expedite processing. Electronic contract documents (PDF format) can also be ordered for a non-refundable fee of $25 per set. All bidders must purchase a complete set of contract documents (hard copy or PDF format) from BPXpress Reprographics to be included on the planholder's list and to receive addenda notifications. It is the responsibility of each prospective bidder to confirm his/her firm is on the planholder's list held at BPXpress Reprographics to ensure receipt of any subsequent communications, including addenda. Partial sets of contract documents are not available from the City.
Bidders are hereby notified that pursuant to Section 1770 of the Labor Code of the State of California, the City of San Rafael has ascertained the general prevailing rate of per diem wages and rates for legal holiday and overtime work in the locality where the work is to be performed for each craft or type of workmen or mechanics needed to execute the contract which will be awarded the successful Bidder. The prevailing rates so determined by the City are on file in the office of the City Clerk, copies of which are available to any interested party on request.
Each bid shall be made out on the forms incluced in the Contract Documents and shall be accompanied by cash, certified check or bidder's bond for ten percent (10%) of the amount of bid, made payable to the order of the City of San Rafael; shall be sealed and filed with said City Clerk, 1400 Fifth Avenue, City Hall, Room 209, San Rafael, California 94901 on or before AUGUST 16, 2018 at 10:00 am.
Specifications & Contract Documents