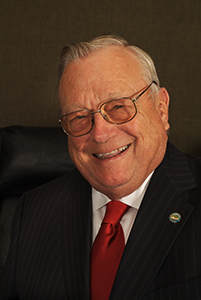 For more than 4 decades, Albert J. Boro served his community tirelessly, with distinction and unmistakable flair. From 1971 until his retirement in 2011, Al spent 16 years on the San Rafael Planning Commission, 4 years on the City Council, finally graduating to Mayor in 1991. He was consistently listed as one of the "top 10" mayors in the State of California. Al's vision and leadership helped make San Rafael a better place to live, work and visit, particularly through the development of such landmark projects as the Rafael Film Center, the Rafael Town Center, the San Rafael Corporate Center, Parkside Childcare, the West End Village and others, Mayor Boro and the community are particularly proud of the renovation of the Pickleweed Community Center and Library, which introduced City services to a San Rafael neighborhood that had previously been underserved.
Al generously contributed time and energy to diverse projects in San Rafael and throughout Marin County. In addition to his role as Mayor, he simultaneously served on a wide variety of County and regional boards, which included the Golden Gate Bridge, Highway and
Transportation District, Sonoma -Marin Area Rail Transit, the Central Marin Sanitation Agency, and the Merin County Parks and Open Space District. Last among equals is the Marin County Fair Board, a widely loved local tradition close to his heart.
Mayor Boro embraced numerous challenges over his years of service, and approached them with common sense, humor and in the best interest of San Rafael residents, businesses and visitors. Al skillfully managed innumerable public hearings and meetings, participated in countless civic events, both large and small, all with a caring style and a firm grasp of inclusive governance. His leadership was marked by a firm understanding of City's residents, local business community, neighborhoods, civic organizations and City staff.
The breadth of Mayor Boro's contributions to the community are well documented. His legacy was clearly acknowledged at Al's retirement party in December 2011, attended by over 500 people, all celebrating Al for his 40+ years of service to the community, and thanking him for his role as a mentor, community leader and an all-too-rare example of excellence in the municipal arena.
The San Rafael City Council expresses its appreciation to Al Boro's efforts on behalf o his community and hereby awards him the Richard O'Brien and the Mary Ferrario O'Brien Citizen of the Year Award.