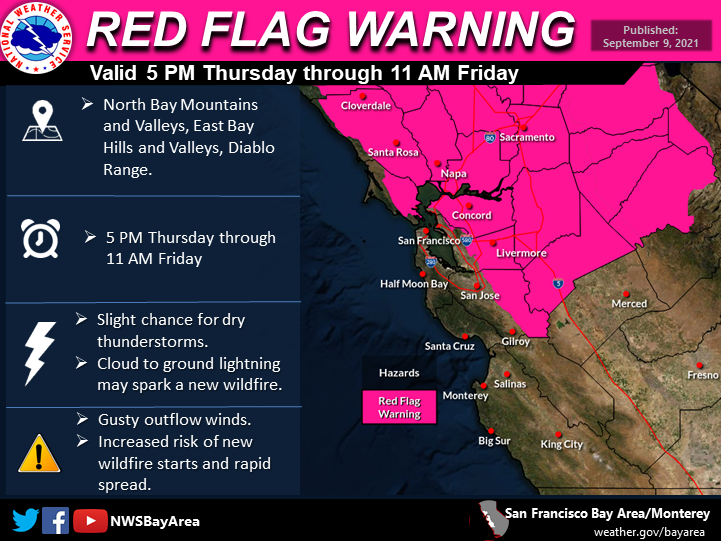 Marin County, CA — The National Weather Service has issued a Red Flag Warning for large portions of California including the North Bay Mountains in Marin County for predicted lighting effective today (Thursday) at 5pm through Friday at 11am.
A Red Flag Warning means that critical fire weather conditions are expected during this time frame.
Thunderstorms are forecast to develop over the Bay Area Region this afternoon and last into Friday morning with dry lightening as well as gusty/erratic wind potential.
Not all locations will see thunderstorms, but any lightning strikes will likely lead to new fire starts given the current drought conditions and dry fuels.
For any land use restrictions or closures contact the appropriate land management agency:
The National Park Service Point Reyes National Seashore is 415-464-5100
The Mount Tamalpais State Park information number is 415-388-2070.
The Marin Municipal Water District information number is 415-945-1195.
The Marin County Fire Information Hotline number is 415-473-7191.
Residents are advised to exercise extreme caution during the Red Flag Warning because a simple spark could cause a major wildfire, including the use of equipment and machinery as well as smoking.
Defensible space is essential to improve your home's chance of surviving a wildfire.
To register for emergency alerts, visit www.alertmarin.org. To learn more about preparing for wildfire, visit www.firesafemarin.org.
What is it?
A red flag warning is an alert issued by the National Weather Service (NWS) when:
winds are strong
the air is dry, and
moisture in vegetation is exceedingly low
Do your part to ensure new fires don't start! ⁠⠀⁠
🚭Properly dispose of cigarette butts⁠
🚗Keep vehicles off dry grass ⁠⠀⁠
🚫Avoid activities with open flames or sparks ⁠⠀⁠
🏗️Avoid power equipment that creates sparks ⁠⠀⁠
🏕️Do not light campfires ⁠⠀⁠
🍁Do not burn vegetation/debris