In the early days of the City's homelessness blog, we posted a series of interviews with local stakeholders to help the public meet the various people involved with this important issue. Those interviews included: the City of San Rafael's Mental Health Outreach Liaison Lynn Murphy, the Ritter Center's Director of Case Management Colin McDonnell, and the County of Marin's Homelessness Policy Analyst Ashley Hart McIntyre.
We want to bring these stories back, but this time, do so at an organizational level. Inspired by a recent article in the San Francisco Chronicle detailing 24 hours of homelessness in San Francisco, we are profiling each of our local homeless service providers to illuminate "A Day in the Life" of these organizations. A big thank you goes to Homeward Bound of Marin for graciously agreeing to go first. All photos are courtesy of Stuart Lirette.
8:00 A.M. – Mill Street Shelter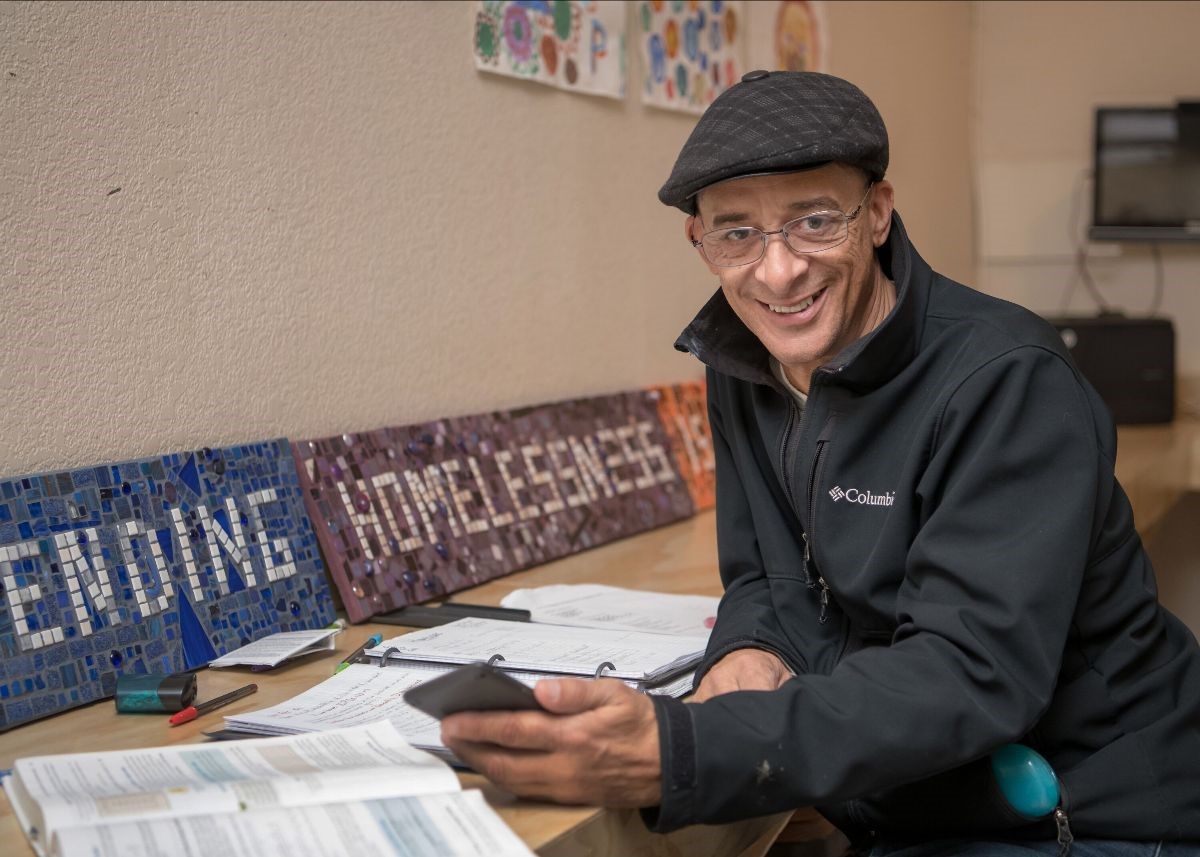 Homeward Bound is Marin County's only emergency shelter provider. Compared to many communities, which simply provide shelter as a respite from the elements, Homeward Bound operates a "housing-focused" shelter. That means residents actively work with staff to regain housing. In San Rafael, Homeward Bound operates a 9-unit family shelter, as well as a 55-unit single adult shelter called Mill Street.
On this particular morning, Steve F. finds himself finishing homework before a 9 a.m. college statistics class. The Novato High graduate wants to earn his two-year associate's degree and works part-time as a shuttle driver for Whistlestop, a nonprofit serving seniors. While roughly half of Mill Street's residents transition to other Homeward Bound programs, the majority of others leaving Mill Street find market rate housing, subsidized housing or reconnect with friends and family. For Fiscal Year 18-19, Mill Street served 394 individuals.
10:00 A.M. – Housing at Last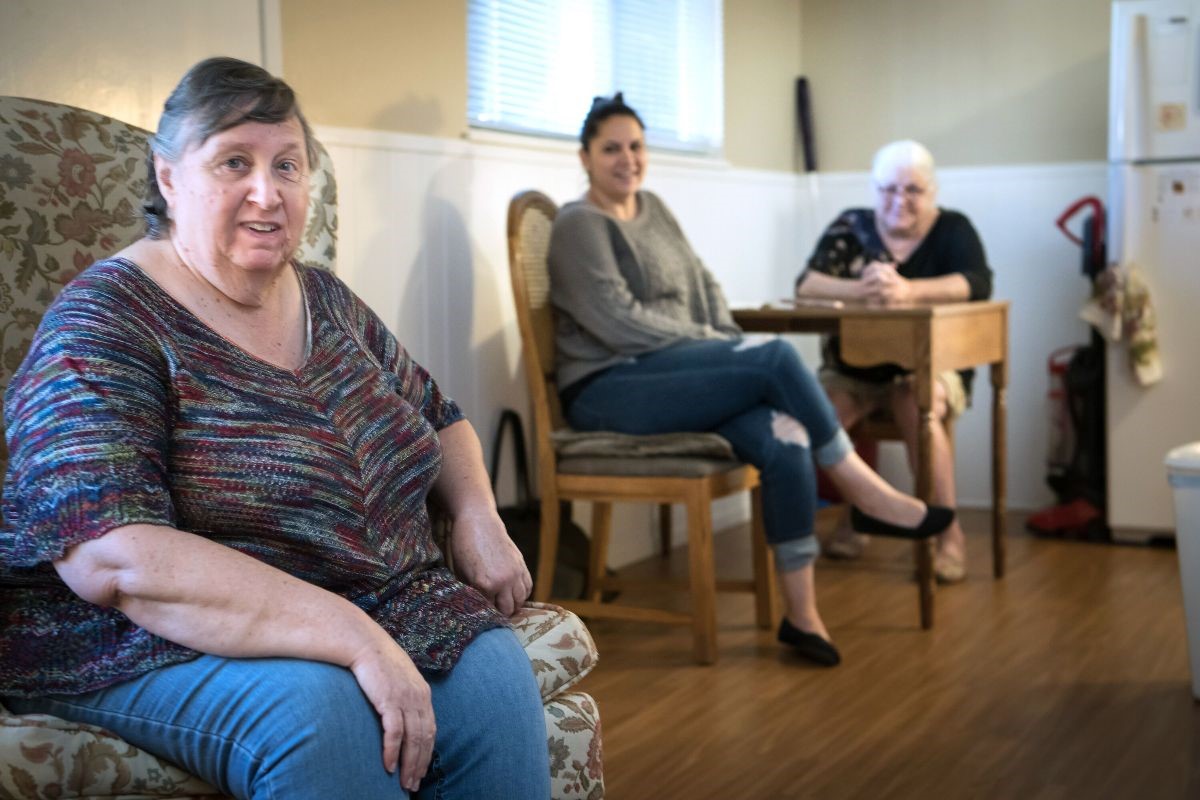 Joyce G. is enjoying a quiet morning at home in Novato with her roommate, Kathleen. After five years of living in her van, she is close to her first anniversary in her new apartment. Joyce is an excellent example of how our new "Coordinated Entry System" is prioritizing the most vulnerable people in Marin County and then connecting those folks with supportive housing at local service providers like Homeward Bound.
"I had a job but the rent kept rising and the wages didn't," Joyce says. With her belongings packed in the back of her van, she used to park near the Novato train tracks among other people in similar circumstances."It's very humbling," Joyce says. A nearby gas station let her hook up a shower hose to the bathroom faucet to wash and a fast food restaurant gave her food in exchange for cleaning the parking lot. When Downtown Streets Team's Marin Mobile Care mobile shower program opened, she visited almost daily. An outreach team assessed Joyce, and now she's in Homeward Bound's "Housing At Last" program, which assists people who have experienced chronic homelessness.
11:30 A.M. – Fresh Starts Culinary Academy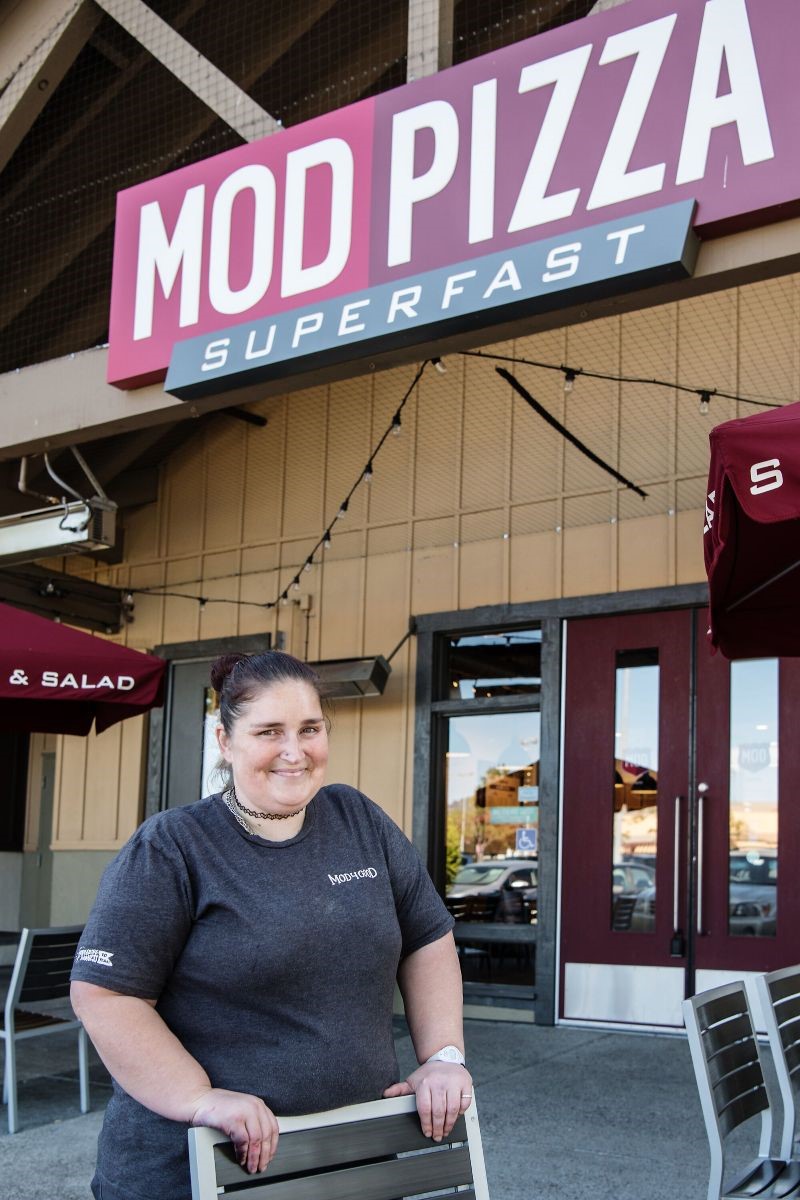 Jayme is about to start her shift at MOD Pizza in Novato. In January she graduated from Homeward Bound's 10-week Fresh Starts Culinary Academy, and she's now been working at the restaurant for over six months. Last year, 84% of Fresh Starts graduates were employed by the end of the year.
This job marks a dramatic turn after seven years of homelessness on the streets of San Rafael, where she remembers a daily confrontation with the elements. "It's the cold or the heat, always the weather," Jayme says. "Plus you always worry about someone bothering you or stealing your stuff."
During the program, "I learned how to be somewhere on time," Jayme says. "It's a long, focused day. I tried very hard not to miss anything." She puts her skills to use now on the job, where she's charged with opening or closing the restaurant on a regular basis. Thanks to her new income, she's living in her own  apartment in Novato, where she's adopted a Chihuahua named Theodore for company.
3:00 P.M. – Designing the Future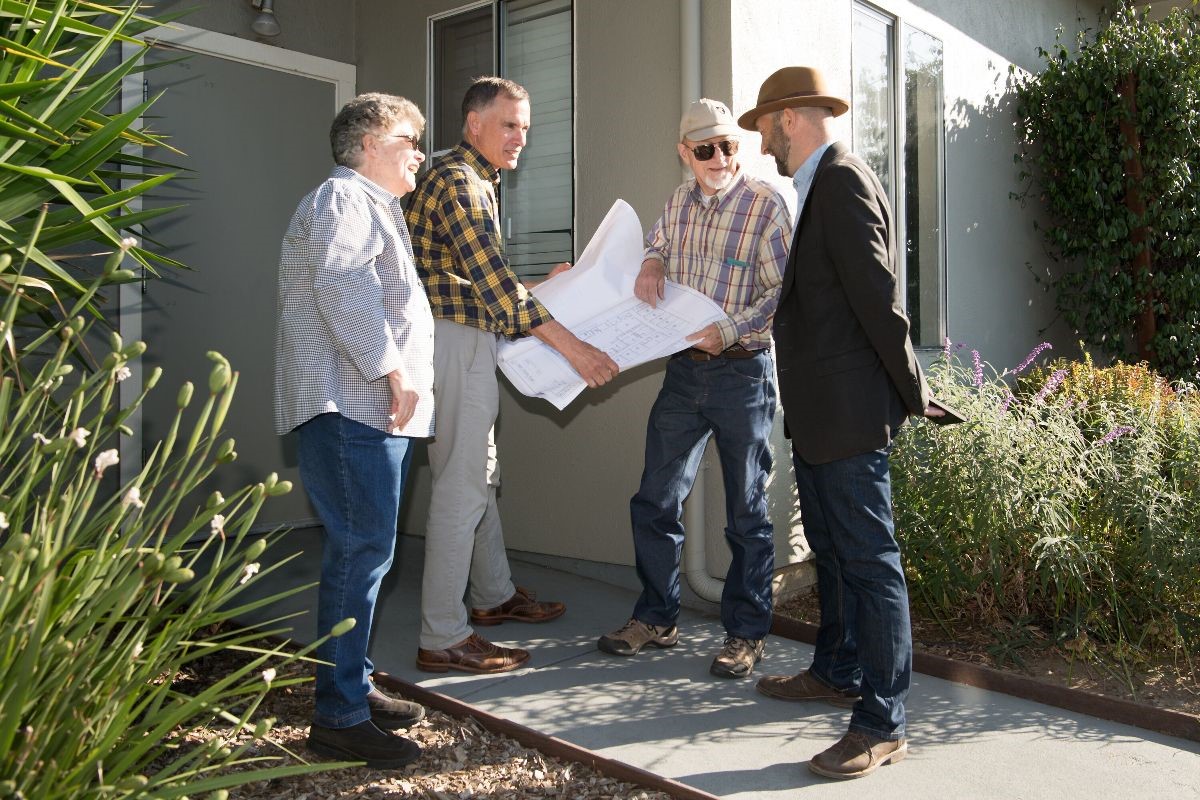 While Mill Street is the gateway to many of Homeward Bound's programs, Executive Director Mary Kay Sweeney and Deputy Director Paul Fordham have a bigger vision for what's possible at the current site. A new proposal reimagines Mill Street Center as a four-story structure with parking, shelter and supportive housing. This plan has been formally submitted to the City and is currently working its way through the planning and review process.
San Rafael-based architect Fredric Divine got involved two years ago to lead the design, his fifth project for Homeward Bound of Marin, with partner Pat Cousens. According to May Kay, "We have nothing like this now in Marin, made for people who have been the hardest to serve. We'll be able to offer more privacy and independence for tenants but still have 24-hour staff and individual support on-site."
Over the past 11 years Homeward Bound has developed the following housing programs in response to the lack of affordable housing in Marin:
Next Key Center, Novato – 32 apartments for homeless adults
Oma Village, Novato – 14 apartments for homeless families
Yellow Hallway, San Rafael – In partnership with the Dominican Sisters, shared housing for two homeless single mothers and their children
King Street Senior Housing, Larkspur – 12 units for homeless seniors
4:30 P.M. – Back at Mill Street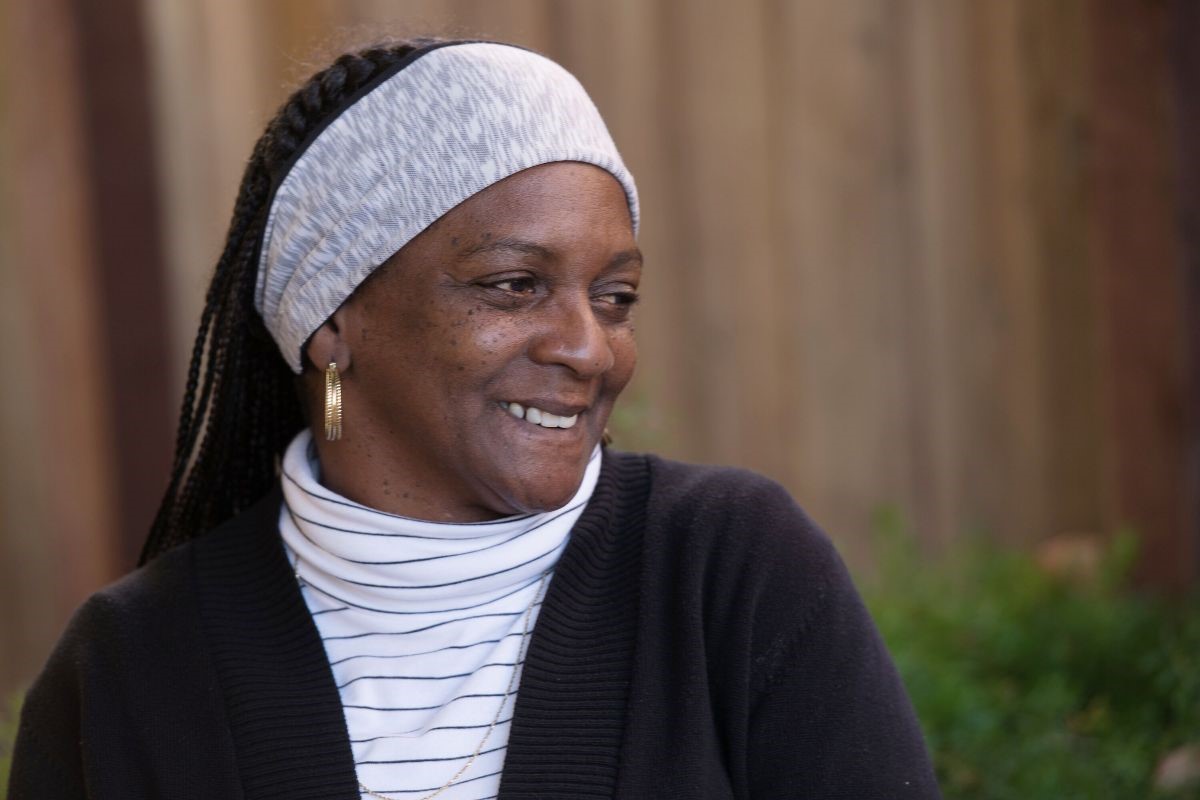 People have begun checking into Mill Street Center for the evening. Lavedtra W. and other staff members greet them, answering questions for newcomers and listening to the day's events.
"I can remember where I came from," says Lavedtra, who became homeless as a young mother with three children, drifting from friend's house to friend's house in Marin. "When people come in for the first time and they're afraid, I'll sit with them and hear their stories. I want to reach out and tell people, 'I got you. You don't need to go through this alone.' "
Her own experience of homelessness ended more than 10 years ago, following a stay at Homeward Bound's family shelter and two years in transitional housing. Shortly after, she enrolled in a social services training program and soon joined the Mill Street staff. Like Lavedtra, 30% percent of staff members at Homeward Bound of Marin have lived through an episode of homelessness in their own lives.
"We have to talk about some hard realities with people but we always reach out with love," Lavedtra says. "I've cried with so many clients." She looks forward to seeing an expanded Mill Street Center of the future. "We could serve so many more who need help," she says. "We fill up fast."