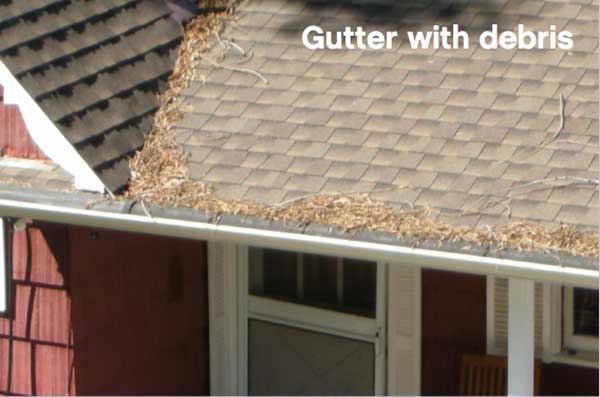 We hope everyone is staying safe and well at home. While we adjust our daily lives to minimize the impact of the COVID-19 pandemic, fire season is still fast approaching. Over the next seven weeks, we will be sending out one tip per week that you can tackle to make your home more fire safe for the upcoming season!
You may follow along with us each week or check out all seven weeks at FIRESafe MARIN's website. And before you ask, Yes, you are still allowed to work on your own landscaping and wildfire mitigation work during the Shelter in Place order. For those that need assistance from someone outside your home, you may qualify for an exemption from the shelter in place to maintain wildfire safety- please contact us to learn more.
This week, our focus is on the roof and gutters. The roof can be the most vulnerable part of your home in the event of a wildfire. Windblown embers have the potential to land and ignite the leaves, needles and other vegetation nestled in your gutters or pockets of the roof.
Please, be safe, take a look at the link below, and work to do your part to make the community safer and more resilient from wildfires.
We ask that you read the entire page before you begin for additional information and safety tips!
If you have any questions you can reach our office by using the Contact Fire Department Form below or calling 415-485-3308.
COVID-19: Gardening & Landscaping at Home
Wondering what types of gardening and landscaping that can be done during the shelter-in-place order?
The County urges non-essential outdoor services to be deferred to minimize risk of transmission.  However, there are some outdoor services that would be considered essential and are permitted under this Order, including fire reduction work, maintaining growth along curbs and medians in order to ensure visibility along roadways, minimum basic operations necessary to maintain the value of a business, and other tasks that are essential to the health and safety of the public.
Hiring a contractor
Contractors may be hired to perform fire fuel reduction work deemed essential at your personal home or place of business.
The following activities qualify as vegetation management specific to fire fuel reduction work and are deemed essential:
Removal of dead and down vegetation on the property within 30' of the home
Mowing of seasonal grasses to 3" or less (this does not include irrigated lawns)
Cleaning of organic material in gutters and on roof
Hazard tree removal (trees that are dead or to improve thinning of forest within 100' of home)
Removal of limbs on trees within 6-10' of the ground
Removal of limbs that overhang the home or within 10' of the chimney
Removal of all piles of dead vegetation
Clear vegetation 14' overhead and 10' from sides of roads and driveways
Any items identified in a specific fire agency property evaluation or correction notice
Non-essential vegetation management / fire fuel reduction:
Lawn Mowing
Blowing
Ornamental bush trimming
Cosmetic weeding in irrigated home gardens
Work on irrigation system for lawns, ornamental vegetation etc.
Doing the work yourself
All essential and non-essential work may be performed on your own, without the assistance of a contractor/gardener/landscaper. You may not hire a contractor/gardener/landscaper to perform the following non-essential work:
Lawn Mowing
Blowing
Ornamental bush trimming
Cosmetic weeding in irrigated home gardens
Work on irrigation system for lawns, ornamental vegetation etc.