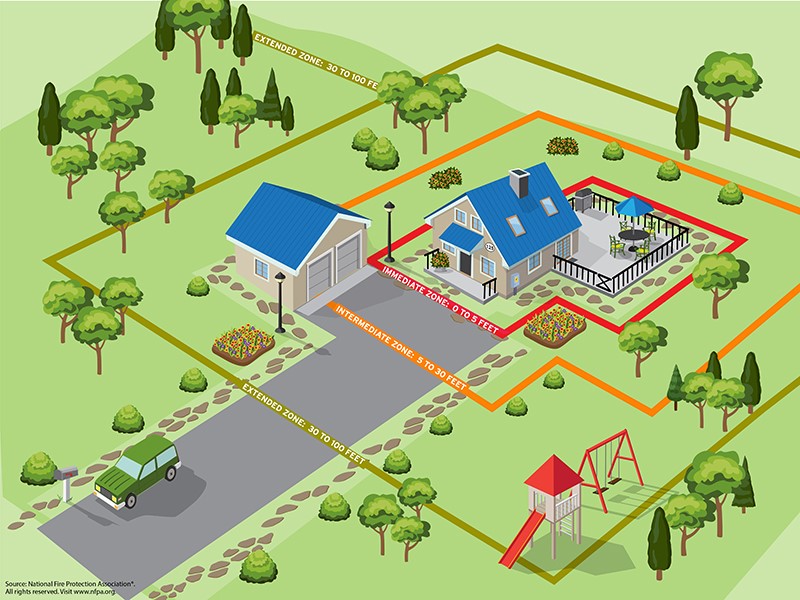 Happy Friday San Rafael! This is week four of tackling one fire safe tip per week to make your home, drum roll please, more fire safe! This week we'll be working on how to choose fire safe landscaping while maintaining your defensible space.
We aren't looking to get rid of all plants, don't be crazy! The goal is to identify landscaping that both makes you proud of your yard and is fire resistant, diminishing the chances of ignition in the event of a fire. So, let's stray away from labeling plants as good and bad 😊.  It's common that most plants you have around the yard will need to be maintained year round, no matter what type they are. If you're getting ready to put some new plants in the ground we recommend that you avoid planting close to the home (within 5 feet of any structure). We also recommend addressing any vegetation that touches your home or is close to it, before you start working on the rest of the yard. Everyone in the Wildland Urban Interface (WUI) of San Rafael is required by law to maintain 100 feet of defensible space or to their property line to help make our community safer. And since fire knows no boundaries, we recommend this practice for our neighbors outside of the WUI too, teamwork makes the dream work 🙂
Not sure if you're property is in the WUI? No problem! Use this super cool map tool to find out.
FireSafe Marin provides a great basic list of recommend plants and those that should be avoided. Remember, in WUI (Wildland Urban Interface) areas of San Rafael, Bamboo and Juniper are not allowed to be planted and any Bamboo or Juniper within 15 feet of the home must be removed. This is due to the fact that they are highly pyrophytic and ignite easily!
You may also look into the Marin Master Gardeners. They have loads of great information, especially relating to residential fire safe planting, so be sure to check out their website or watch this fire smart landscaping video crated by Marin Masters Gardeners and FireSafe Marin!
Fire Safe Marin's website also offers a great description of the different zones around the home and what should and should not be planted in each—the more you know!
If you have any questions you can reach our office by using the Contact Fire Department Form or calling 415-485-3308.