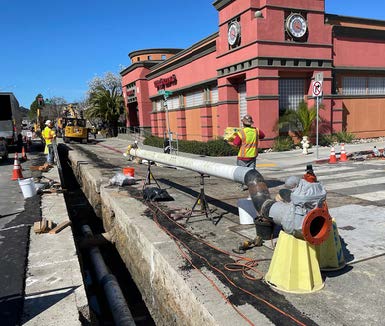 The San Rafael Police Department, in partnership with the Department of Public Works will be implementing a 25 MPH construction speed limit while construction is taking place for the Third Street Improvement project.
After receiving complaints from citizens and neighbors, in addition to concerns expressed by those working on the project and observations made by the police department, it was determined that speeds along the construction corridor needed to be reduced to increase the safety of everyone in the construction zone.
The special 25 MPH construction zone speed limit will be in place along eastbound Second Street from Marquard Avenue to Shaver Street.  Motorists who are used to traveling through this area, during pre-construction times, at the posted 35 MPH zone will now need to be aware of the adjustment and change their driving habits to not violate the new speed limit.
There will be changeable message boards posted before the construction speed limit zone advising drivers of the change and that it will be enforced.   There will also be construction zone speed limit signs posted along the roadway.
The construction zone speed limit will also be applied to westbound Third Street from Grand Avenue to Fourth Street, which is already a posted 25 MPH zone.
Drivers who violate the construction zone speed limit are subject to citation, which may carry higher penalties.  Under state law, local authorities, agencies, and their hired contractors have the authority to reduce speed limits in construction zones where passing traffic may endanger construction workers.
The San Rafael Police Department is asking for the cooperation of the motoring public to improve safety along the construction corridor; however, if drivers fail to exercise caution, then enforcement action will be taken.
For any questions or inquiries, please contact the Department of Public Works.