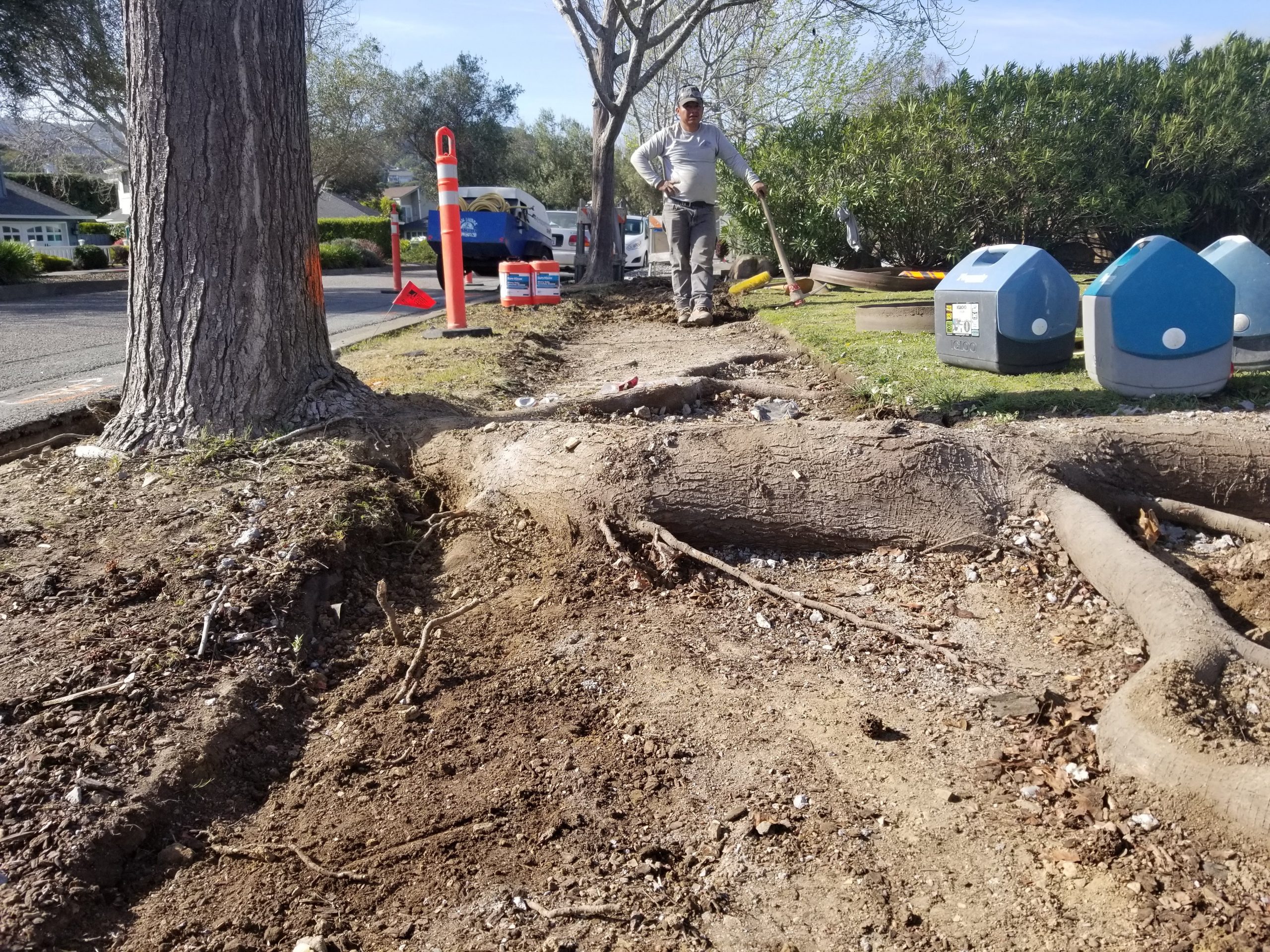 Gerstle Park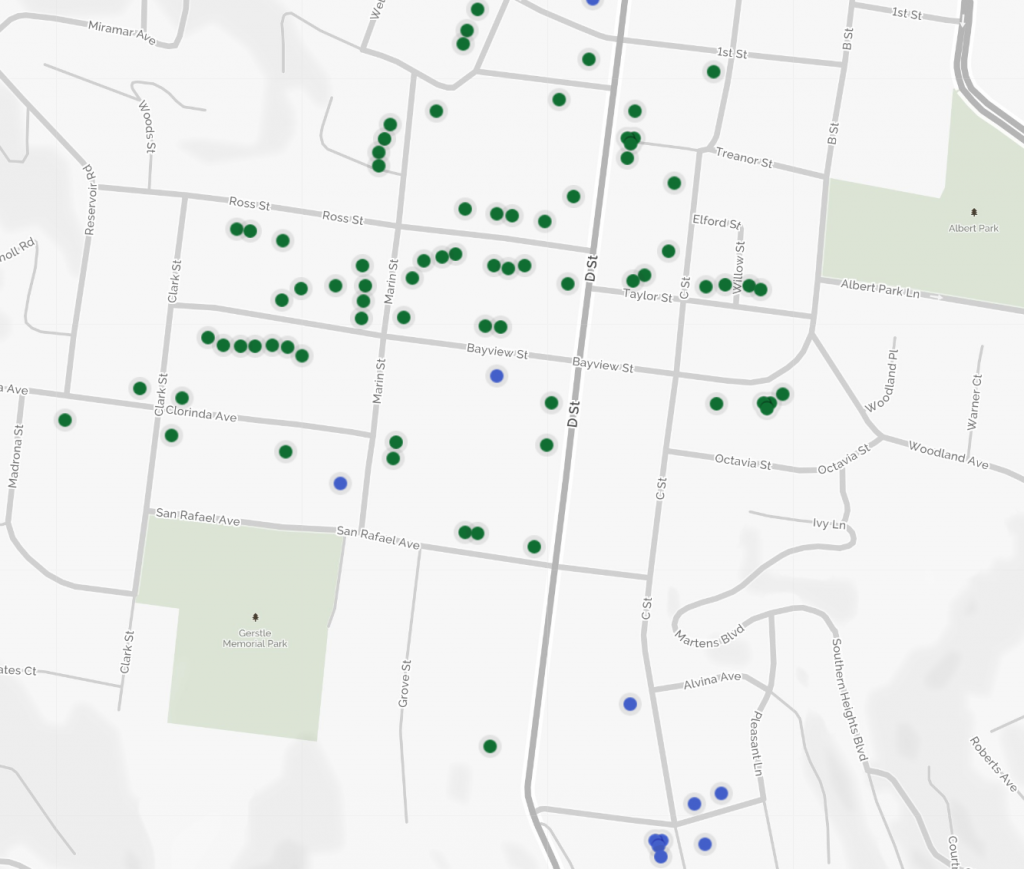 The 2018 Sidewalk Repair Program completed work in Gerstle Park this last week. The City completed 11,000 square feet of new sidewalk and 1,200 feet of new curb and gutter at 88 properties in Gerstle Park. That's the equivalent of over a ½ mile of new sidewalk in the area or enough sidewalk to go from First St to Antonette down D St. No Sycamore/London Plane trees were removed in the process and all locations that had a trees removed will have a tree replanted in mid-April. The City will be planting more trees than were removed in the project.
For participants that signed up in 2019, the City will return to Gerstle Park upon completion of 2018 participants in other neighborhoods.
East San Rafael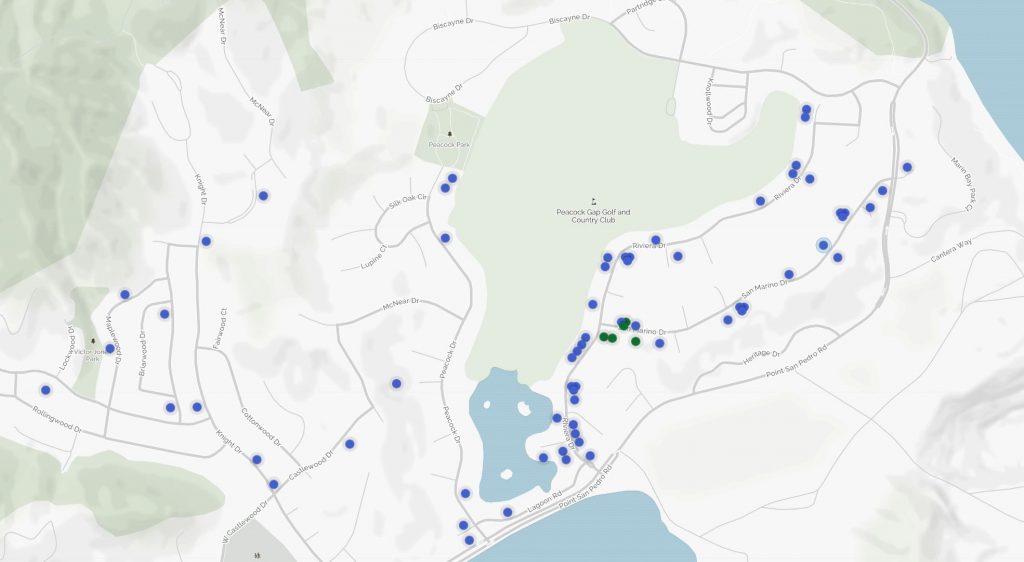 Work in East San Rafael has started on San Marino and Riviera Drive. Work will continue in that neighborhood for a few months and head west towards downtown before turning north to Terra Linda. There are currently 65 properties signed up for sidewalk replacement in this neighborhood.
For more information or to sign-up to be notified of the 2020 Sidewalk Repair Program visit our website at www.cityofsanrafael.org/sidewalks
Thank you to the following community partners who repaired their sidewalk through the Sidewalk Repair Program in Gerstle Park
| | | | | |
| --- | --- | --- | --- | --- |
| 10 ANTONETTE | 127 C ST | 202 C ST | 310 BAYVIEW ST | 35 ROSS ST |
| 100 CLARK ST | 127 ROSS ST | 211 D ST | 310 FIRST ST | 36 ROSS ST |
| 101 FIRST ST | 135 ROSS ST | 216 BAYVIEW ST | 317 BAYVIEW ST | 39 ROSS ST |
| 101 MARIN ST | 137 ROSS ST | 219 MARIN ST | 319 BAYVIEW ST | 417 D Street |
| 102 CLORINDA AVE | 14 TAYLOR ST | 222 BAYVIEW ST | 32 ROSS ST | 504 C ST |
| 103 MARIN ST | 144 C ST | 223 MARIN ST | 320 BAYVIEW ST | 509 C ST |
| 105 MARIN ST | 15 BAYVIEW ST | 227 MARIN ST | 321 BAYVIEW ST | 51 CLORINDA AVE |
| 107 MARIN ST | 15 ROSS ST | 229 C ST | 322 BAYVIEW ST | 511 D ST |
| 108 MARIN ST | 152 C ST | 23 ROSS ST | 323 BAYVIEW ST | 527 C ST |
| 11 BAYVIEW ST | 17 BAYVIEW ST | 230 MARIN ST | 327 D ST | 532 D ST |
| 110 TAYLOR ST | 19 CLORINDA AVE | 231 MARIN ST | 33 ROSS ST | 536 D ST |
| 114 SAN RAFAEL AVE | 19 ROSS ST | 231 MARIN ST | 330 FIRST ST | 538 D Street |
| 12 ROSS ST | 20 MARIN ST | 24 MARIN ST | 333 BAYVIEW ST | 540 D ST |
| 12 TAYLOR ST | 19 ROSS ST | 24 ROSS ST | 337 BAYVIEW ST | 603 D ST |
| 120 TAYLOR ST | 20 MARIN ST | 240 BAYVIEW ST | 339 D ST | 609 E ST |
| 121 CLORINDA AVE | 20 ROSS ST | 27 BAYVIEW ST | 341 BAYVIEW ST | 613 E ST |
| 122 SAN RAFAEL AVE | 20 TAYLOR ST | 301 D ST | 35 MARIN ST | 619 E ST |
| | | | | 9 FRANCES ST |