Weekly Synopsis
Dry and seasonably cool weather is forecast through this afternoon. Unsettled weather conditions return late tonight into Tuesday as a storm system approaches the central California coast.  This is a lighter storm with a predicted total of about 0.65" Monday-Tuesday and then about a 0.25"  Wednesday-Thursday.  Dry conditions are expected to return by Friday.  Then, light rain is expected over the North Bay this weekend with another chance of widespread rainfall early next week.
Tide peaks of concern at Galinas Creek confluence with the Bay are as follows:
Tue 12/4, 10:16 AM, 6.5-ft
Wed 12/5, 10:53 AM, 6.5-ft
Thu 12/6, 11:27 AM, 6.5-ft
Last week's storm produced a tide residual of up to 8-inches above the predicted peak.  If the similar conditions occur with this storm we could see tide peaks above 7-ft.  If so, we may expect flooding in lower elevations along the bay and in low-lying areas along creeks that are tidally influenced.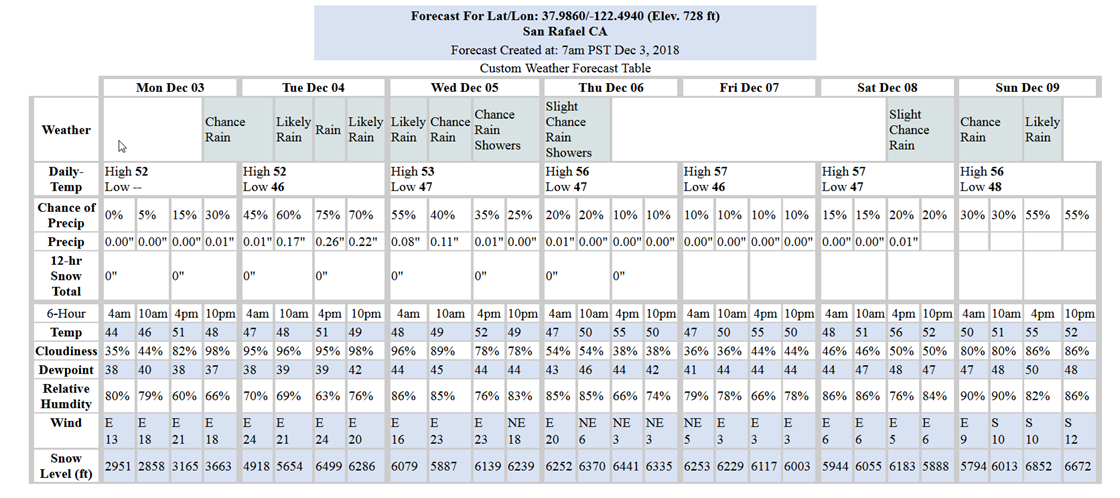 Weather Websites of interest:
https://forecast.weather.gov/MapClick.php?lat=37.9746&lon=-122.5325#.Wbah2saQy3c
https://www.cnrfc.noaa.gov/ol.php
https://www.ssd.noaa.gov/goes/west/weus/flash-wv.html
https://tidesandcurrents.noaa.gov/noaatidepredictions.html?id=9414290&units=standard&bdate=20181119&edate=20181125&timezone=LST/LDT&clock=12hour&datum=MLLW&interval=hilo&action=dailychart